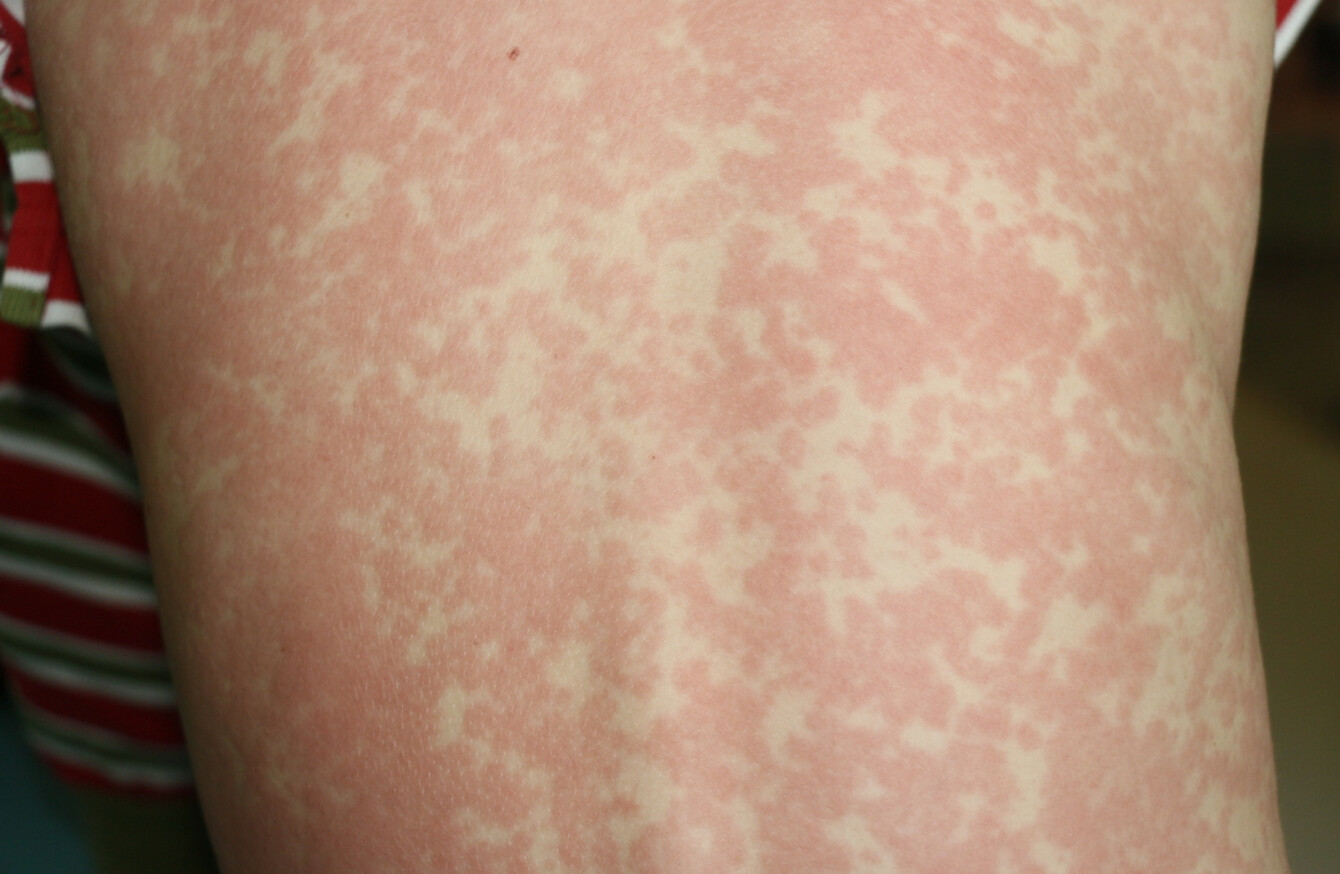 Image: DonyaHHI via Shutterstock
Image: DonyaHHI via Shutterstock
MEASLES IS CIRCULATING in communities in Dublin and Meath and people who think they may have the disease are being advised to isolate themselves as it's highly contagious.
Seventeen people have contracted the infection which spread from north Dublin to Meath in recent months. Twelve cases have been confirmed in Dublin and five in Meath.
Speaking to Morning Ireland on RTÉ Radio 1, HSE director of public health for Dublin, Kildare and Wicklow, Doctor Deirdre Mulholland said:
"This is a very serious disease and can have very serious consequences and it is also a very contagious disease.
It can lead to serious chest infections, ear infections, swelling of the brain and in some circumstances, brain damage.
Mulholland said, "It had started in children but we now have cases confirmed in adults, the best protection against measles is MMR."
When asked what group is most vulnerable, she said, "We would find that the most vulnerable tend to be the younger children."
She also added that people whose immune systems are not as strong are also at high risk.
Mulholland said the length of time the disease takes varies. "Some people can weather it quite well whereas we can have other people who become seriously ill with it and can develop other complications and end up in hospital."
"From first exposure, it would usually show up within 14 days but it can take up to 21 days."
Mulholland added that when people develop the rash "they're actually infectious for four days before the rash and four days after the rash starts – that's the real infectious period that people need to be very aware of".
As the disease is highly infections, people who think they may have it should isolate themselves.
If you think you have any of the symptoms at all, don't go into work or send children into a creche or school. Contact your GP by phone, don't turn up at the GPs or a hospital.
The symptoms can present as red eyes, a runny nose, a high temperature and a rash that starts in the head and then spreads down the body.
Vaccine
Mulholland added that nationally the take-up of the MMR vaccine "isn't too bad".
#Open journalism No news is bad news Support The Journal

Your contributions will help us continue to deliver the stories that are important to you

Support us now
"We're up in the 90s but we need 95% for a good immunity. We are finding that the cases that are coming forward, most of them have not being vaccinated or are unsure about their vaccination status.
So we would be concerned about pockets in our communities that are not fully vaccinated that have low uptake in relation to MMR.
She added that if a high enough percentage of people in the community are vaccinated, it can stop measles spreading further.
"We would be encouraging everybody in the groups that should be getting the vaccine, to get the vaccine.
It doesn't just protect yourself, it protects your family and your community and the vulnerable people in the community.
When asked why there can be a low uptake in the vaccine, Mulholland said:
"A lot of the cases are in children who are too young to be vaccinated, then there are some cases where there's an issue of access and that might be more that people don't understand or haven't got the information available to them to understand that they need the vaccine. There can be access issues in some of our more disadvantaged groups.
"A vaccination may not be seen by some people as a priority – they have lots of other things, they have busy lives or other issues – but we would say very clearly, measles is circulating in the community and it is a priority for parents to get their children vaccinated."