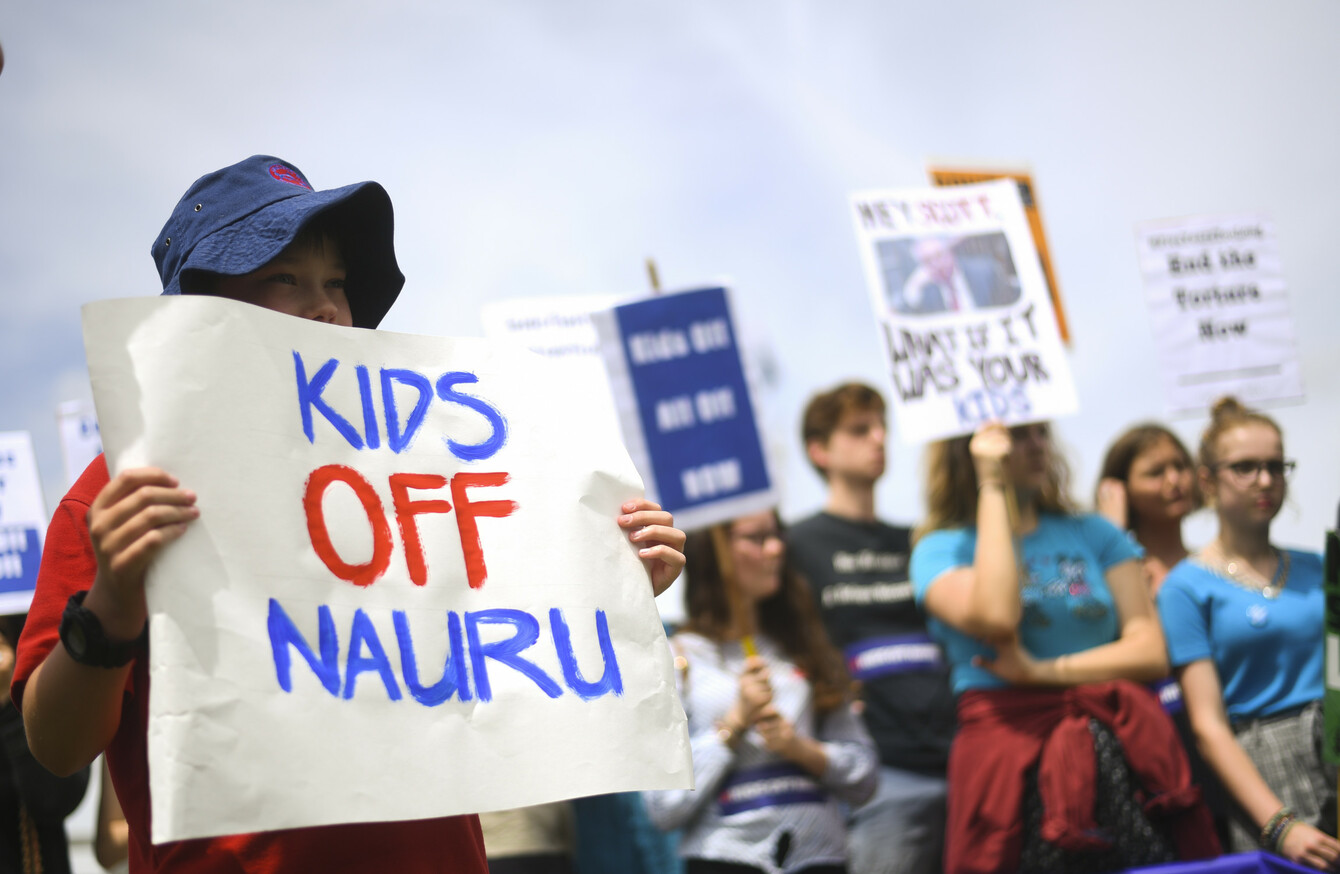 Protesters hold up signs during a rally demanding the resettlement of kids held on Nauru outside Parliament House in Canberra, Australia.
Image: AAP/PA Images
Protesters hold up signs during a rally demanding the resettlement of kids held on Nauru outside Parliament House in Canberra, Australia.
Image: AAP/PA Images
NEW DATA FROM Médecins Sans Frontières (MSF) has shown that the mental health among refugees and asylum seekers detained on the island nation Nauru is among the most severe ever seen by the medical NGO.
According to the recent report by MSF, of the 208 asylum seekers that it treated on Nauru, 60% had suicidal thoughts while 30% had attempted suicide. These figures include children as young as 9-years-old. 
"The mental health suffering we measured in Nauru is among the worst we have ever seen, including in projects providing care for victims of torture," MSF said in a statement. 
MSF had provided free psychological and psychiatric treatment to Nauruan nationals as well as refugees and asylum seekers sent to the island under the Australian policy of 'offshore processing' for 11 months, before being asked to leave by the Nauruan government in October of this year. 
Under a policy meant to deter asylum-seekers from reaching Australia by boat, Canberra sends arrivals to remote Pacific camps on Nauru and Papua New Guinea's Manus Island for processing, barring them from ever resettling in Australia.
This policy is directly related to the high level of mental health distress, MSF says. 
The way in which Australia administers its resettlement policies is widely perceived as opaque and unjust, adding to people's sense they have no control over their lives; a perception that was associated with major psychiatric diagnoses.
Almost two-thirds of MSF's 208 refugee and asylum seeker patients were diagnosed with moderate or severe depression, while a total of 12 adult and children patients were affected by resignation syndrome, a rare psychiatric condition where people enter a semi-comatose state, unable to drink or eat.
23% of refugee and asylum seeker patients had reported experiencing violence on Nauru. MSF's data shows that these patients were more likely to require psychiatric hospitalisation, although this was not always possible because there were insufficient beds.
Nauruan patients
"Our Nauruan patients' mental health improved in a way that was not mirrored in our asylum seeker and refugee patients, despite receiving the same quality of care. This illustrates that living under a policy of indefinite processing creates a perpetual state of despair, making it impossible for asylum seekers and refugees to recover," Dr Stewart Condon, MSF Australia President said. 
The current mental health crisis on Nauru is tragically predictable. After five years of arbitrary deprivation of liberty, the situation is desperate. The Australian government must stop this brutal policy and immediately evacuate all refugees and asylum seekers from Nauru, as well as Manus island. There is no time to waste.
The report found that MSF's Nauruan patients overall had extremely poor mental health. At the initial assessment, 31% of them were identified as requiring psychiatric hospitalisation while 95% of them were recommended for follow-up treatment.
A total of 17 (27%) of MSF's Nauruan patients appeared to have been neglected in term of medical care, mainly due to a lack of available mental healthcare prior to MSF's arrival.
Almost one-third of Nauruan patients reported having experienced traumatic events, particularly domestic violence and sexual violence.
"The medical data we release today confirms the heart-breaking reality that I witnessed on Nauru," Dr Christine Rufener, MSF Mental Health Activities Manager said. 
Every day I worried which of my patients might attempt to take their own lives because after five years of waiting people had lost all sense of hope.
MSF has said that the Nauruan health system is ill-equipped to manage the current mental health crisis on the island.
"The system is under-resourced, with no inpatient facilities at the Republic of Nauru hospital and insufficient mental health staffing," the report said. 
While MSF doctors recorded an improvement in the mental health of more than half of the Nauruan locals, they only saw an improvement in 11% of the asylum seeker and refugee patients. 
The medical NGO is now calling for an end to Australia's offshore processing policy and the immediate evacuation of all asylum seekers and refugees.