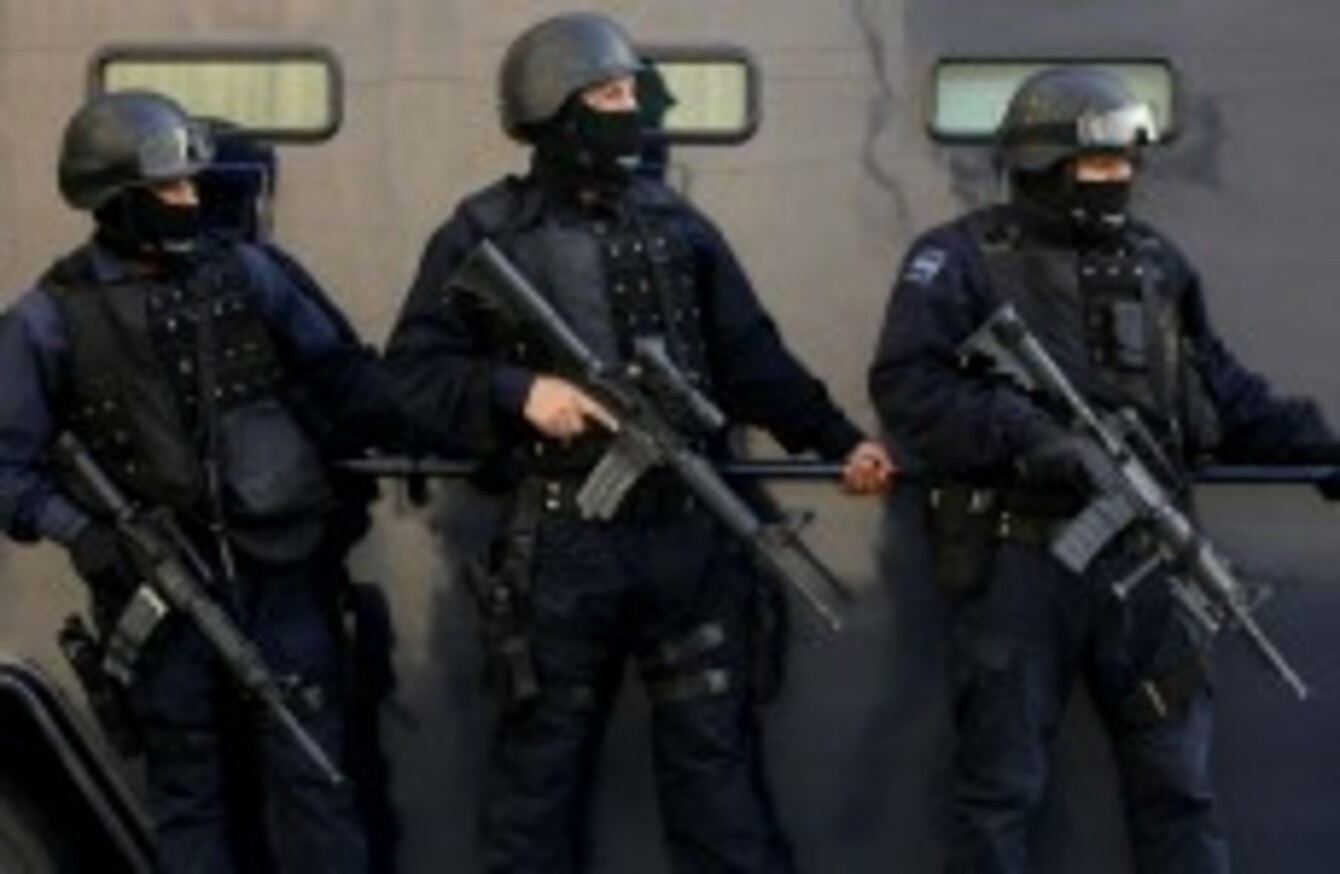 Mexican federal police (File photo)
Image: Eduardo Verdugo/AP/Press Association Images
Mexican federal police (File photo)
Image: Eduardo Verdugo/AP/Press Association Images
THE MEXICAN NAVY said late last night that the leader of the Zetas, a powerful drug cartel implicated in a grisly string of mass killings, was apparently killed in a shootout near the US border.
The navy said in a statement that it was still awaiting final forensic results, but that the body appeared to be Heriberto Lazcano, aka "El Lazca," the leader of the feared cartel made up of former commandos.
The shootout reportedly occurred in Coahuila, one of the border states that have been at the epicentre of Mexico's vicious drug war, believed to have claimed some 60,000 lives since the launch of a military crackdown in 2006.
"Two suspected criminals were killed during an assault with grenades and firearms against naval personnel" on patrol Sunday in the small town of Progreso in the northern border state, the navy said in its statement.
It added that after the shootout troops recovered a grenade launcher, a tube used for firing rockets and 12 grenades.
Lazcano is one of the two main leaders of the divided cartel and one of Mexico's most wanted men, with a $2.6 million reward for information leading to his capture. The United States has set the award at $5 million.
Mexican federal prosecutors have said Lazcano broke with the other leader, Miguel Trevino Morales, aka "Z-40″ — known for cruelly dispatching his enemies — leading to a schism in the cartel.
Immigrant massacre
Earlier, Mexican authorities had announced the arrest of a Zetas commander allegedly linked to the massacre of 72 immigrants, the murder of an American and two massive jail breaks.
Salvador Alfonso Martinez Escobedo was presented to the press by the Mexican navy along with five alleged accomplices. They were captured Saturday in Nuevo Laredo, a border city in the northern state of Tamaulipas.
Martinez was the "presumed intellectual author" of a massacre of 72 illegal immigrants whose bodies were found in San Fernando, Tamaulipas in August 2010, Navy spokesman Jose Luis Vergara said.
More than 60,000 people have died in drug-related violence in Mexico since December 2006, when President Felipe Calderon put the military in charge of a campaign against organized crime.
US authorities say the Zetas are one of Mexico's most powerful gangs alongside the Pacific region's Sinaloa federation, led by fugitive billionaire Joaquin "El Chapo" Guzman.
Much of the northeast is in the clutches of the Zetas cartel, which was founded by former Mexican special forces soldiers who went rogue and are known for decapitating and dismembering their enemies.
The Zetas were originally hired as enforcers for the Gulf Cartel but turned on their employers and have fought them for control of lucrative drug routes to the United States.