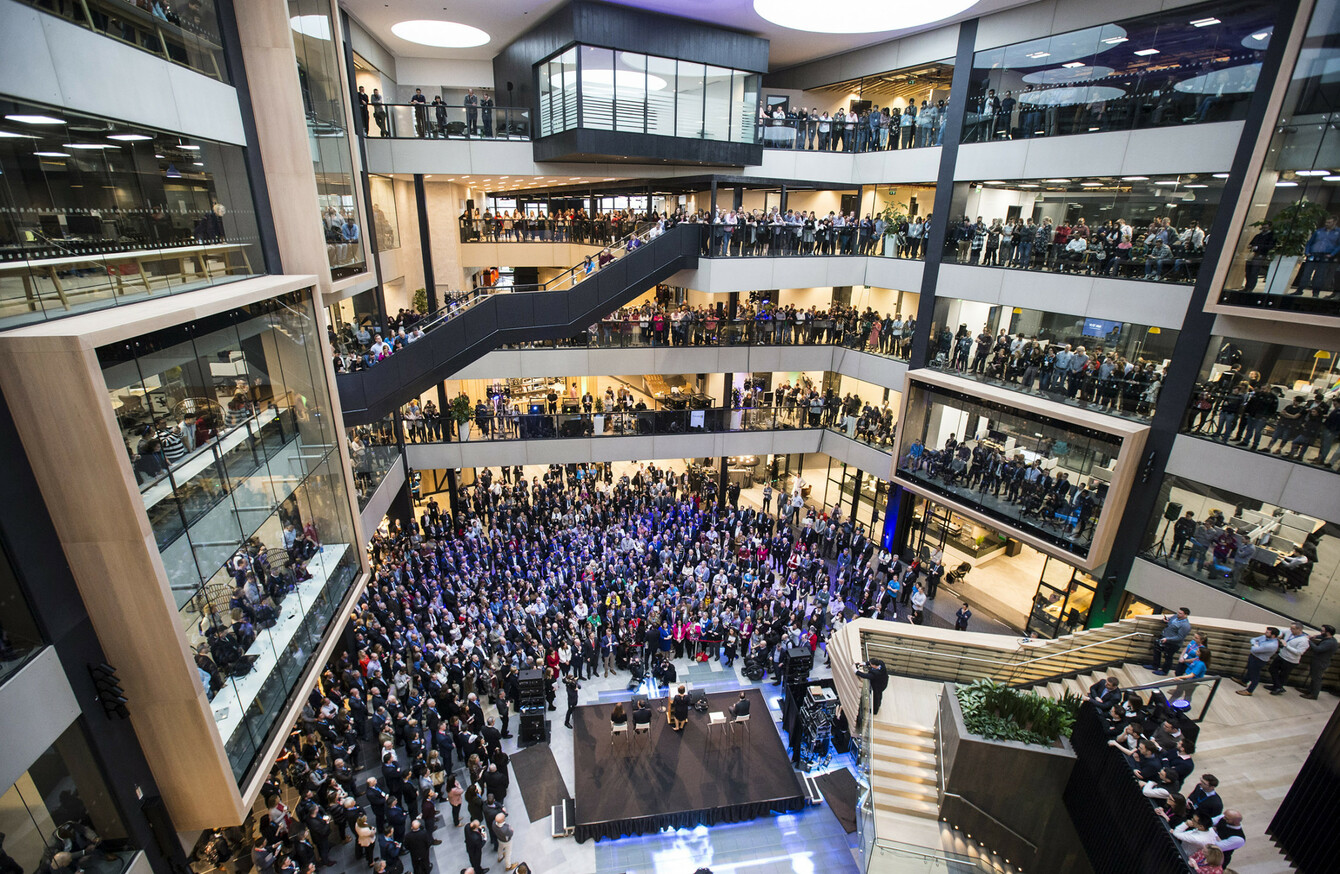 Taoiseach Leo Varadkar was on hand for the official opening today.
Image: Naoise Culhane
Taoiseach Leo Varadkar was on hand for the official opening today.
Image: Naoise Culhane
AFTER THREE YEARS of planning, Microsoft has pulled back the curtains on its new Dublin office next door to Leopardstown Racecourse.
The company made the big move into the 34,000 sq m digs – which equates to the size of about four football pitches – in the Dublin suburbs at the end of last year.
Like any major move, there have been a few teething issues, according to Microsoft Ireland HR director Joanne Morrissey.
She said there was only so much pre-planning that could ever be done when transferring 2,000 people from one office to another while going about your business.
"We had a challenge in terms of continuing to sell and build product coming up to Christmas, but at the same time, splitting some of your staff and moving into the new building.
"We needed to make sure it was working effectively, tidy up all the little bits and deal with all the usual snags you would find if you moved into your own house.
"Except, we have 2,000 people filling in a list of what I think was three or four hundred items of snags to be fixed."
Ahead of the building's grand opening today, we got a tour of the new joint. Check it out:
Source: Fora.ie/YouTube
Similar to many tech multinationals' bases in Ireland, Microsoft's space doesn't fit the mould of a conventional office.
The building has five restaurants, a digital lake made up of 125,000 LEDs and even its own bakery.
But unlike the tech giants such as Google, Facebook and Twitter, Microsoft's new office is based well outside the city centre and the area dubbed the 'Silicon Docks'.
Being based in the suburbs had given the company the space to build the kind of office it needed, Morrissey said.
Nevertheless, the locations on the city's outskirts also meant Microsoft needed to come up with its own mini-transport network to ferry staff to the campus.
"We run shuttles to the Dart stations to bring people here, but we also have a great connection with the Luas line, so you can be in the city within 20 minutes," Morrissey said.
"It's a nice location because you can get out and have a bit of fresh air. I'm really looking forward to this place in the summer."
Sign up to our newsletter to receive a regular digest of Fora's top articles delivered to your inbox.
Written by Killian Woods and posted on Fora.ie