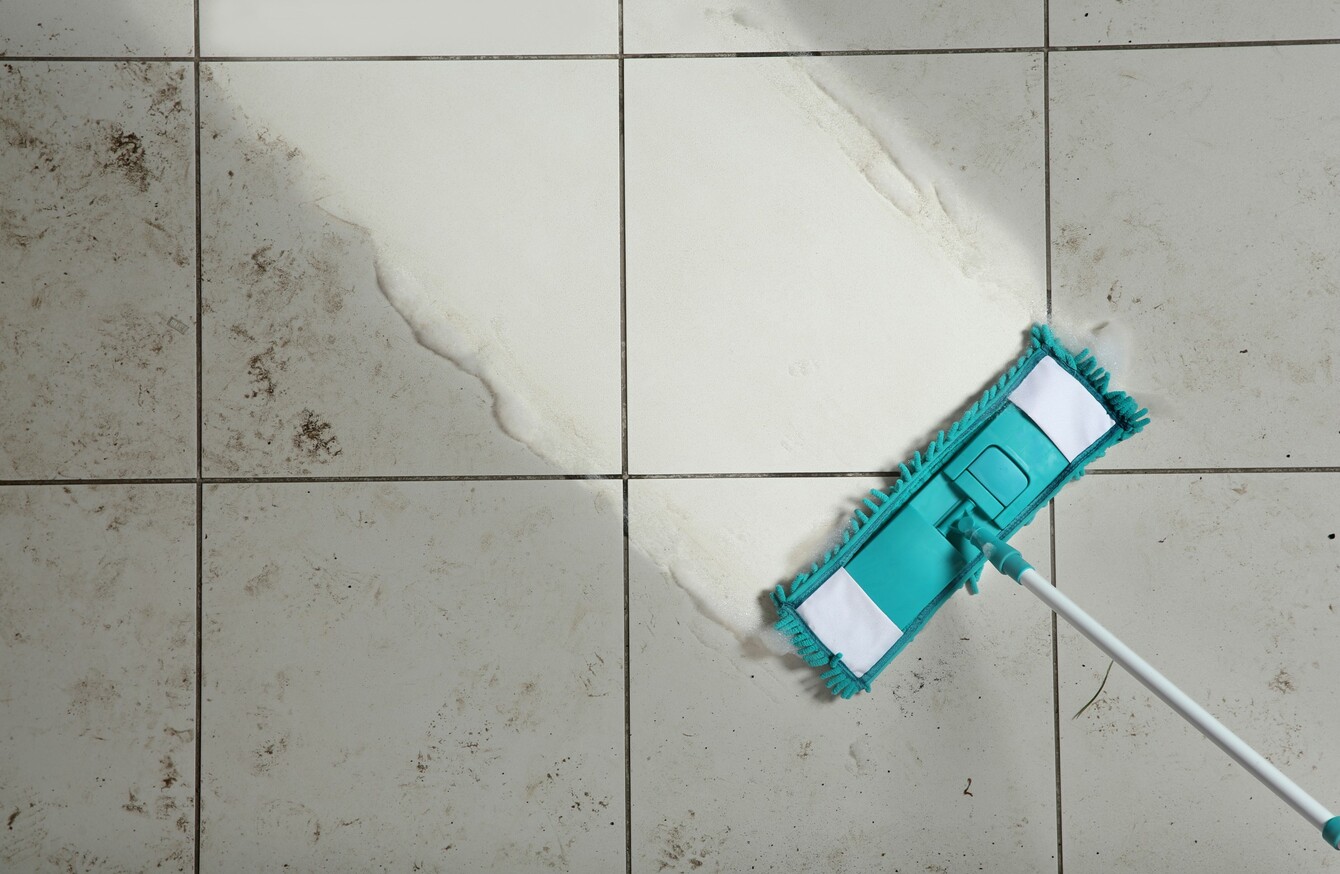 Image: Shutterstock/New Africa
Image: Shutterstock/New Africa
LAURA DE BARRA regularly brings her lifestyle and home maintenance masterclasses to the Glenveagh Home Magazine on TheJournal.ie. This week: how to mop tiled floors without leaving a single streak behind.
A well-cleaned tiled floor not only looks great, but it will have a longer life too. Using the right care, tools and products means your tiles and grout will stay in perfect condition for much longer than if you do it incorrectly (or not at all).
As with most things in life, there is an art to mopping a tiled floor. Do it right and you'll avoid common mopping complaints like streaks after drying, a sticky surface, discoloured grout or a floor that still looks dirty afterwards.
For a spotless streak free finish, here's what to do.
First, opt for a microfibre mop
Avoid sponge and string mops for tiled floors. These absorb a lot of water, so they're difficult to wring out properly and you'll end up pushing dirty water around the tiles. They are also not ideal for scrubbing the grout as much as is needed. Over time, the grout will build dirt, grease and grime. Plus, string and sponge mops leave water and cleaning product on the grout which will actually attract more dust and dirt as it dries.
Microfibre mops are ideal for tiled floors. They don't absorb too much water but also scrub really well. Microfibre has charged fibres that grab dirt and pull it from the surface of the floor. Afterwards, it's simple to clean and will dry quickly after use.
Second, choose the right cleaning product (or stick with water)
It is super important to choose the right cleaning product here. If you use something not designed for floors, like washing up liquid, you'll end up with streaks and stickiness. Another important rule: look for a non-scratch cleaner that won't damage the sealant on your tiles. The sealant is the thin layer on top of the tile that, if damaged or scratched, will allow dirt to become lodged underneath.
One of the best cleaners for tiles is warm water, as it lifts the dirt easily. Mop with water first, then go over the tiles again with a water/vinegar mix (first making sure it's okay to use acidic products on your tiles) and you'll be good to go. This water-vinegar mix is a non-toxic, natural alternative to chemical cleaners, so it's a great option if you have pets or kids who love to hang out on the floor.
#Open journalism No news is bad news Support The Journal

Your contributions will help us continue to deliver the stories that are important to you

Support us now
If you wish to go for a store bought cleaner, choose a cleaner that is designed for tiled floors. This will have a quick drying time, which means no streaks and zero chance of it attracting dirt as it dries.
Third, don't leave to air dry
Letting tiles air dry can lead to water spotting, particularly in hard water areas. To avoid this, buff dry with a microfibre cloth after mopping
Ready to mop? Here's your step by step guide
Brush down the tiles to lift any dried-on stains and loosen dirt in the grout
Vacuum to pick up all remaining loose dirt, and avoid you wiping it through the room with the wet mop.
Add warm water to the mop bucket – no cleaner or vinegar yet. Not too cold as it won't help lift dirt, and never very hot water as it can damage the tiles. Wash the floors down with just water.
Wring out the mop and tip out the dirty water (in a toilet is best). The mop will be at its dirtiest right now so add some water to the bucket, rinse, and wring the mop to clean it.
If you find you have some stubborn stains in the grout, make a paste of warm water and bicarbonate of soda and scrub with a cloth to lift it.
Add warm water to the bucket again and only then add your chosen cleaner. Go over the floor again with the mop.
Buff the floor dry with your microfibre cloth to make sure there are no water marks left behind.
If you've just cleaned with a store-bought product and the tiles have a hazy look to them, you may have added too much cleaner to the water. The best way to remove this is to clean again, using just water and vinegar this time. The acidic qualities of the vinegar will gently break the residue down and the water will wash it all away.
Want more tips and hacks? Laura de Barra's debut book, Gaff Goddess: Simple Tips And Tricks To Help You Run Your Home is on shelves now, published by Transworld Ireland. Buy it here or in all good bookshops, and follow Laura on Instagram for even more cleaning and lifestyle tips.