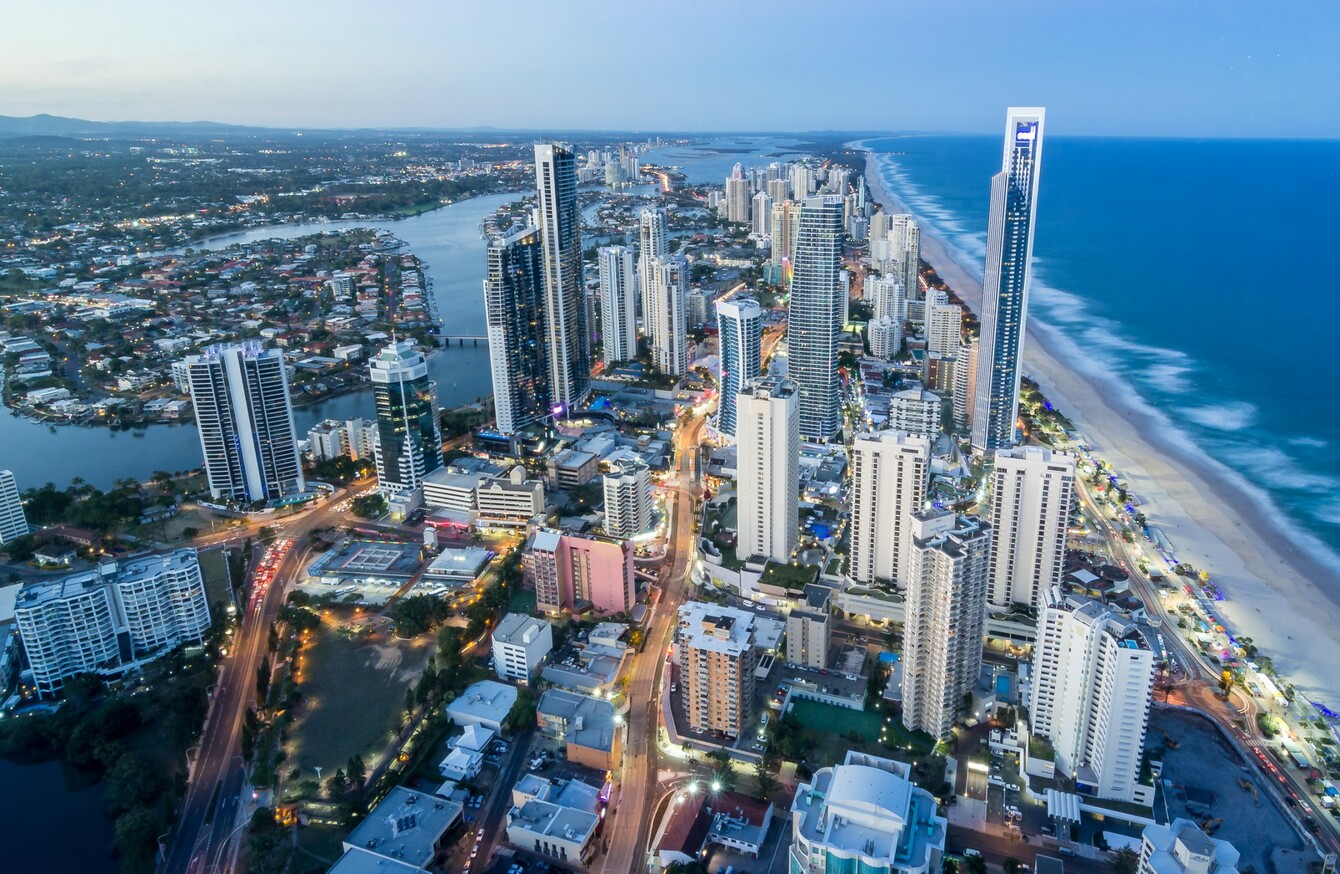 Aerial view of Surfers Paradise City on the Gold Coast.
Image: Shutterstock
Aerial view of Surfers Paradise City on the Gold Coast.
Image: Shutterstock
POLICE IN AUSTRALIA ARE hunting for the suppliers of a mystery drug that has left one person in a critical condition and hospitalised 15 others.
A young man was taken to hospital from his hotel in Surfers Paradise, a resort in Queensland, early yesterday morning Australia time.
Fifteen other people have also been hospitalised after consuming the same hallucinogenic substance.
Police said their intelligence warned that drug use generally peaks in the area – the Gold Coast – during motorsport events. Over 200,000 people are due at the Gold Coast 600 V8s race this weekend.
In a statement, Brian Codd of Queensland police said:"Over the last few days, we have seen a number of people have significant adverse reactions to this drug.
"Many of those people ended up in hospital and one young man remains in a critical condition.
"Our message today is simple: all illicit drugs are dangerous and you should not take them under any circumstances. Taking dangerous drugs has the potential to cause serious harm and possibly even death.
The impact of drug use on individuals, their loved ones and the community can be devastating – and we have seen this first hand on the Gold Coast recently.
Queensland Ambulance Service warned the public on their Facebook page that the numbers of affected people could grow
"With 16 people now hospitalised from taking this substance we fear the next person may not be so lucky. Spread the word, watch out for your mates and don't risk it, it's not fun."
Aggressive
Toxicology reports have yet to establish the make-up of the drug, according to local website 9 News.
The man who is a critical condition in intensive care at the Gold Coast University Hospital, ABC News reported.
Queensland Ambulance senior operations manager Stephen Burns told the Australian network that the man was non-compliant, aggressive and hallucinating when paramedics arrived.
Because of that problem of safety, our paramedics had to then give him some medication to help sedate him a little bit.
Super paranoid
Burns said the type of drug, or drugs ingested, remained a mystery, but added that toxicology tests are being carried out.
It is really an insidious drug because people become super paranoid.
They become very anxious, they become really susceptible to noise and they become very anxious.
The coordinator the Surfers Paradise and Broadbeach Chill Out Zones, Angela Driscoll, said her staff treated a number of drug-affected revellers over the weekend.
"We had one gentleman trying to take his clothes off, a couple of females seizing and then other people who were physically quite out of control," she told ABC news.