Image: AP Photo/Peter Morrison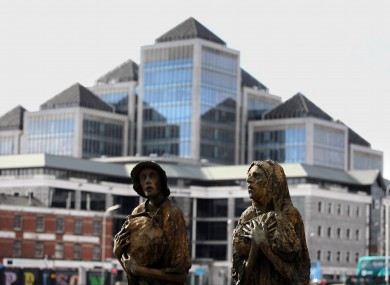 Image: AP Photo/Peter Morrison
THE NATIONAL ASSET Management Agency (Nama) has announced plans to develop significant additional office space in the Dublin Docklands area.
In a statement today, Nama said the decision to invest in the area was in response to the expansion of financial services sector.
The investment in the area is part of a plan for Nama to develop new commercial and residential projects as part of its €2 billion investment programme in Ireland in response to emerging demand in key markets. Nama is also evaluating residential projects where demand exists in Dublin and in other major growth centres throughout the country.
Speaking to the Association of European Journalists in Dublin, Nama Chairman Frank Daly said the Agency expects to make significant investments in the Dublin Docklands to cater for the future job creation, which he said would be supported by the country's continuing strong performance in the global financial, technology and other key service sectors. The investment would also meet Nama's commercial objective of maximising value from the management of its acquired assets, he said.
"The Dublin Docklands has been a marked success from an investment perspective, already accommodating over 40,000 employees in the technology, banking, financial, commercial law and other service sectors,"
"The area is expected to require significant new development over the medium term, particularly of commercial office space, to accommodate the continued expansion of the financial services sector and the creation of new business and technology hubs in the wake of the move by companies such as Google and Facebook to the area".
The Agency has approved sales with a total value of €11bn since its was created in 2009.