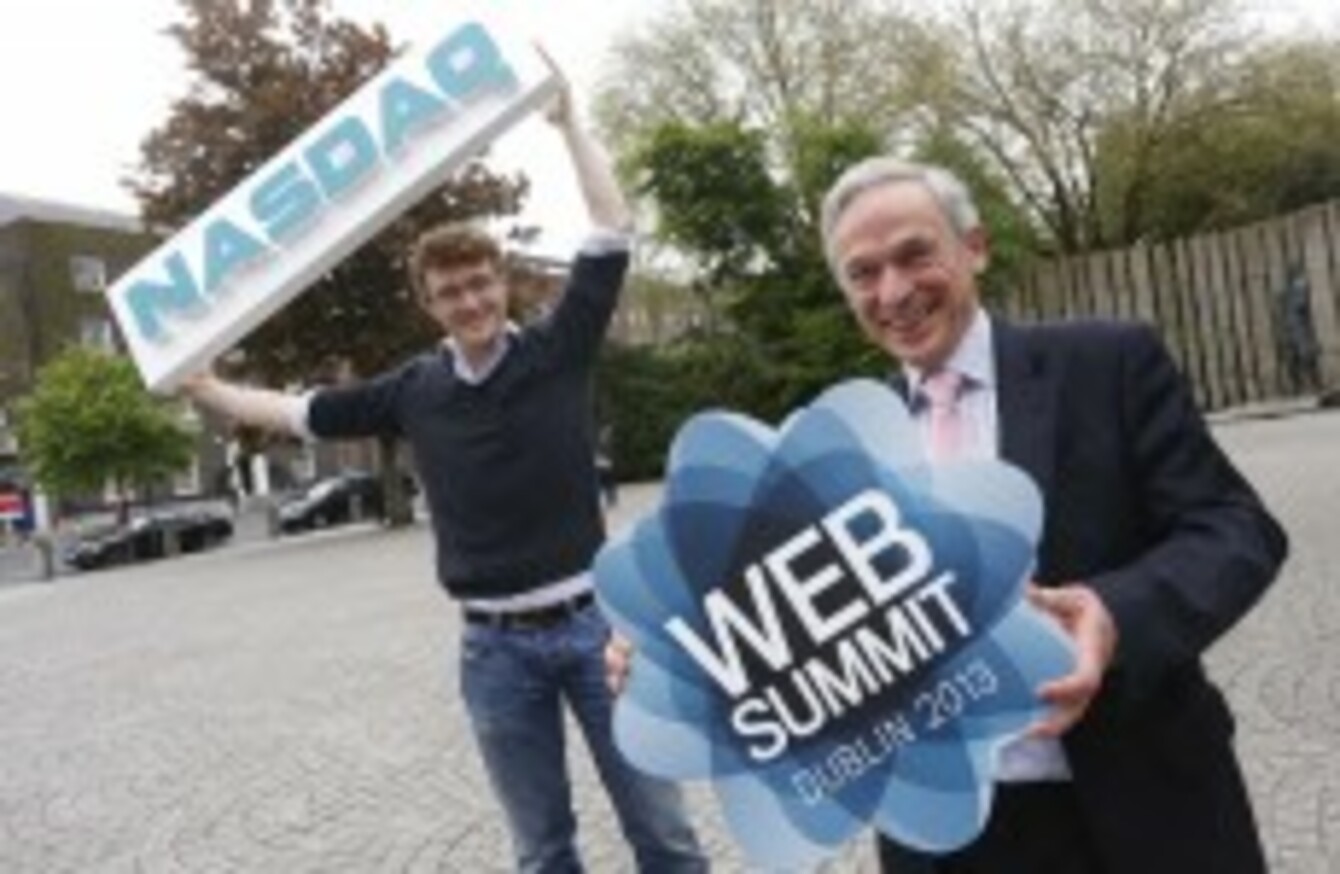 Web Summit organiser Paddy Cosgrave and Minister Richard Bruton
Image: Dublin Web Summit
Web Summit organiser Paddy Cosgrave and Minister Richard Bruton
Image: Dublin Web Summit
THE NASDAQ STOCK market opening bell will be rung in Ireland for the first time at a technology conference in Dublin later this year.
The bell ringing ceremony typically takes place in the stock market's headquarters on  New York's Time Square and hosting the event outside the United States is a huge coup for the increasingly popular Dublin Web Summit.
The event taking place  in front of  7,000 people in the RDS Arena in October will also be broadcast live to millions of television viewers world wide.
The three day festival, organised by digital entrepreneur, Paddy Cosgrave, will feature 300 speakers including some of the most influential leaders in the technology market.
"We're delighted to see NASDAQ recognising the Web Summit as the platform for tech companies in Europe. This is an extraordinary coup for us as the opening of the Market is watched by millions and rarely takes place outside of New York,"  Cosgrave said.
Speaking at the launch of the event,  Minister for Enterprise, Richard Bruton,  said: "The Government's plan for jobs and growth includes a specific focus on technology and over 11,000 new jobs have been added in the sector since March 2011.
The Web Summit is a great initiative that offers an amazing opportunity for Ireland to show the global technology community what we are doing in this area.
He added: "I commend Paddy Cosgrave and all involved in putting it together every year, and we in Government are determined to take full advantage of all the opportunities in the technology sector for jobs and growth".
This year's conference will feature talks from Skype founder Niklas Zennstrom, Wordpress boss Matt Mullenweg and Hailo CEO Jay Bregman.
Technology investor and space tourist Esther Dyson and Google ventures partner Kevin Rose will also speak at the event which has already sold 1,000 tickets.
The Web Summit has grown at a phenomenal rate over the past few years and the company behind the international conference has taken on 30 staff over the past 12 months.
General tickets will go on sale on 30 May at websummit.net