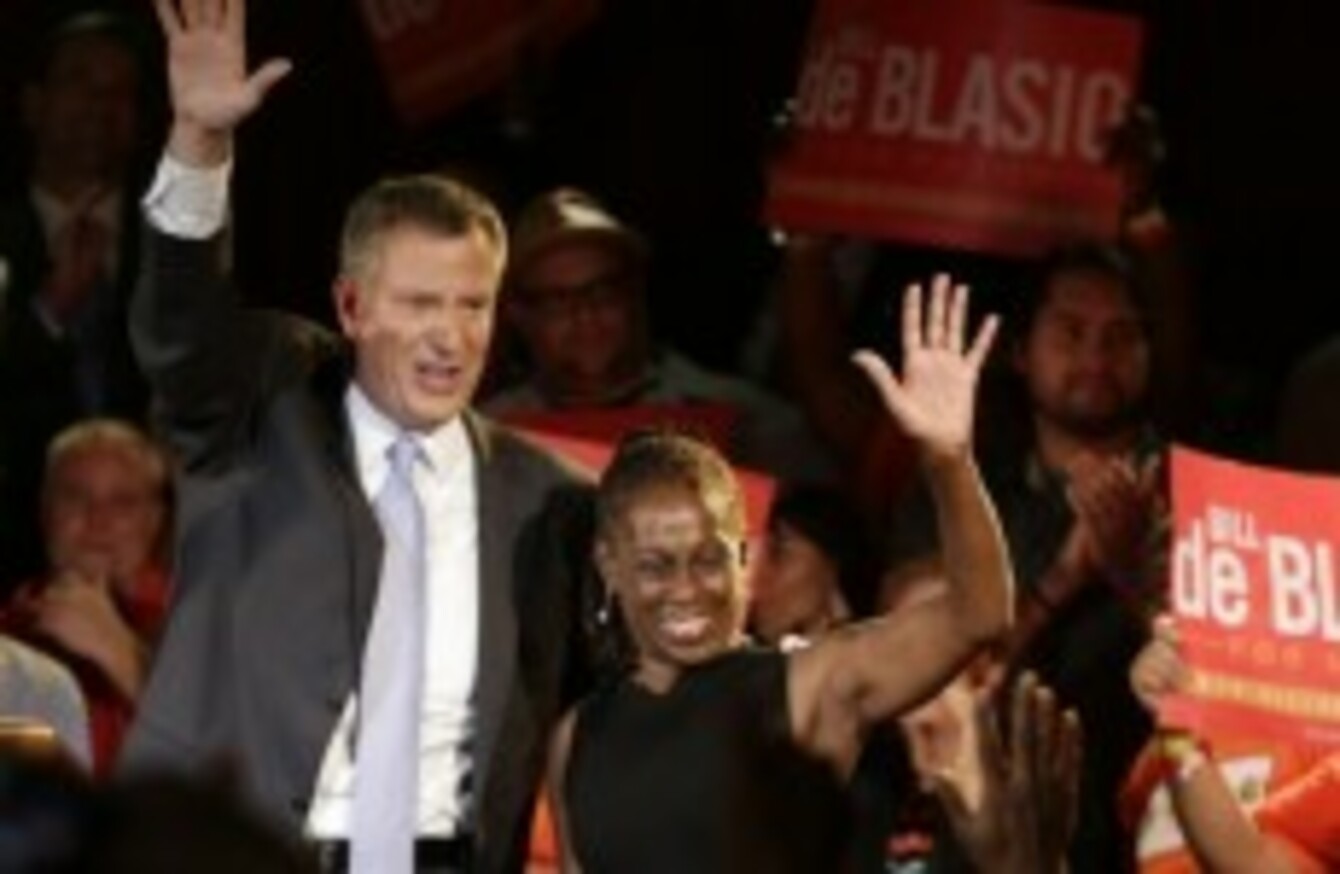 New York City Democratic Mayoral candidate Bill De Blasio and his wife Chirlane.
Image: AP Photo/Kathy Willens
New York City Democratic Mayoral candidate Bill De Blasio and his wife Chirlane.
Image: AP Photo/Kathy Willens
PUBLIC ADVOCATE BILL de Blasio, who ran an upstart campaign pledging to fight New York City's economic inequality, emerged as the surprising top choice in the Democratic mayoral primary, but could still face weeks — and another electoral fight — before becoming his party's nominee.
The chaotic campaign to replace Mayor Michael Bloomberg, which featured Anthony Weiner's latest sexting scandal and at least three lead changes in the polls, was fittingly plunged into uncertainty again after the Tuesday primary bled into early Wednesday.
With 97 per cent of precincts reporting, de Blasio had about 40.2 percent of the total vote, which puts him a whisker above the 40 percent threshold needed to avoid triggering an automatic 1 October run-off. If he cannot maintain that, he will face former city Comptroller Bill Thompson, who has 26 per cent, for a potentially gruelling three-week, one-on-one showdown, with the winner advancing to face Republican nominee Joe Lhota in the general election.
But it may take a week or more before it is known whether that battle will be fought at all.
The campaign will take a pause Wednesday as the city stops to observe the anniversary of the 11 September terrorist attacks. Later this week, election officials will recount all the ballots cast Tuesday. It will likely take until early next week before they tabulate an additional 30,000 or more votes as absentee ballots arrive by mail and paperwork comes in from voters who had problems at the polls.
(Anthony Weiner received just 5 per cent of the Democratic vote after his sexting scandals. Pic: AP Photo/Jin Lee)
Christine Quinn
City Council Speaker Christine Quinn, the early frontrunner who was seeking become the city's first woman and openly gay mayor, finished third at 16 per cent, followed by current city comptroller John Liu at 7 per cent and Weiner at 5 per cent.
De Blasio, who was flanked by the interracial family he made a centerpiece of his campaign ads, made no mention of the potential runoff in his speech to supporters late Tuesday.
"We are better as a city when we make sure that everyone has a shot," de Blasio told the raucous crowd. "We begin tonight."
With de Blasio so close to 40 percent, Democratic leaders may pressure Thompson to drop out of the race in the name of party unity. Exit polling shows that de Blasio would handily defeat Thompson in a runoff, 52 to 34 percent, with 9 percent saying they would stay home.
But Thompson made it clear Tuesday he would compete in a potential run-off.
"Three more weeks! Three more weeks!" chanted Thompson, the party's 2009 nominee. "This is far from over."