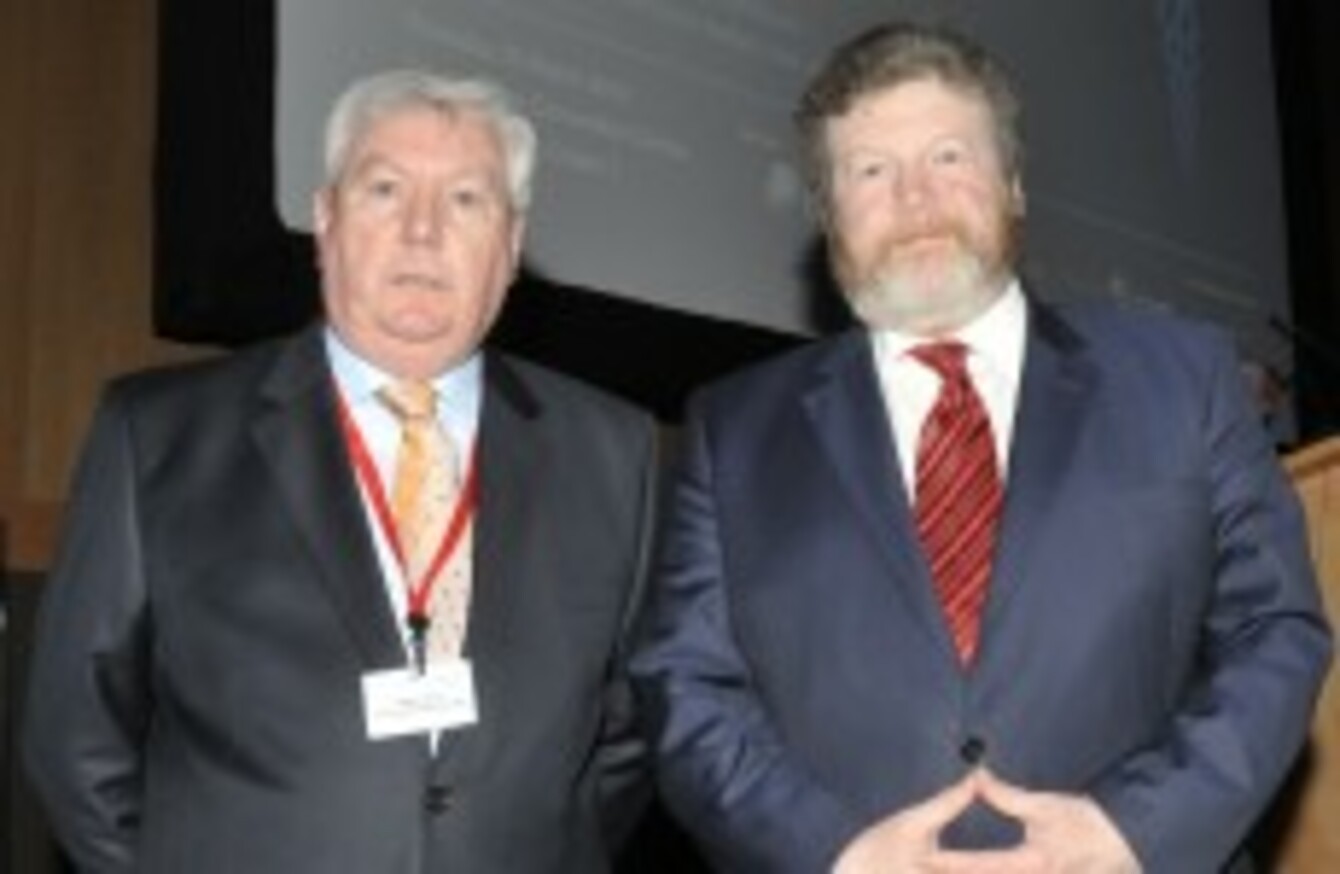 Daly and Reilly in 2012
Image: Sasko Lazarov/Photocall Ireland
Daly and Reilly in 2012
Image: Sasko Lazarov/Photocall Ireland
HEALTH MINISTER JAMES Reilly has denied that there is a conflict of interest after it emerged that the group tasked with reviewing maternity services in Galway, Roscommon, Mayo, Sligo and Donegal was founded by the director of the West/North West Hospital Group.
In 2012, Noel Daly was appointed to his current role by Reilly. He set up D & F Health Partnership Ltd, trading as the Health Partnership, with Deirdre Foley Woods in 2008.
That group is now examining maternity facilities at University Hospital Galway, Merlin Park University Hospital, Sligo Regional Hospital, Letterkenny General Hospital, Mayo General Hospital, Portiuncula Hospital and Roscommon County Hospital.
Upon his appointment to the West/North West Hospital Group, Daly resigned as chair of the Health Partnership.
He retained a 50 per cent share in the company but the hospital group said he has received "no financial reward of any kind from the company since his retirement in December 2011″ and "remains committed to disposing of his shares".
In a statement, the Group said the Health Partnership was chosen because of "their considerable experience within the health sector" and "competitive price" for conducting the review – €20,000.
'Review his position'
Sinn Féin senator Trevor Ó Clochartaigh said there "could be huge conflicts of interest involved" and called on Daly to "review his position as Chair of the Board".
Fianna Fáil's Seanad Health Spokesperson Marc Mac Sharry echoed these sentiments, saying the issue needed to be "addressed immediately".
He added:
By any objective analysis, this is a direct conflict of interest. It calls into question Mr Daly's position at the helm of the hospital group and it calls into question the group's management of this entire 'review'. We need to know what process was undertaken by the hospital group to select the company to carry out this analysis of maternity services.
Reilly told the Seanad on Wednesday that he was "aware that an issue has arisen" in relation to the matter.
He said that the HSE Internal Audit Unit had undertaken a review and "established that the procurement of services was not in accordance with HSE National Financial Regulations".
Reilly added that the Director General has written to the Hospital Group Chairperson and the CEO to ensure there will be "no further breaches of procurement rules".
The West/North West Hospitals Group said it "cooperated fully" with the internal review and accepted its recommendations, namely that national financial regulations are complied with for all future expenditure and a register of members' interests should be established and maintained at the hospital group to avoid conflicts of interest.
Reilly said he was "satisfied that this operational matter is being dealt with appropriately by the HSE working with the CEO and the Group Board".