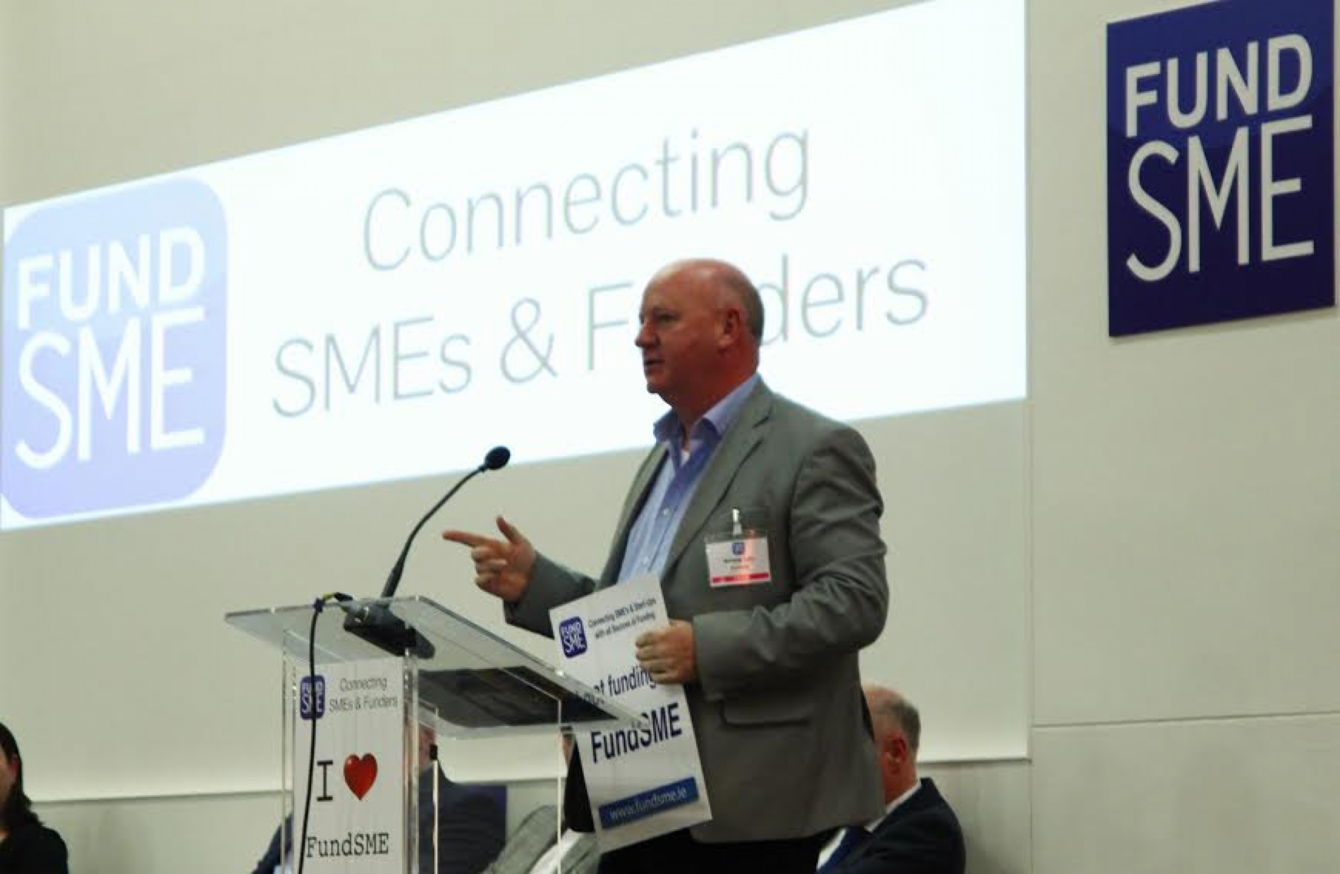 Image: FundSME
Image: FundSME
TENS OF THOUSANDS of people left Ireland during the 1980s recession, and Nollaig Fahy was seriously considering joining them.
It was 1987, in the middle of one of the bleakest economic decades that the Irish state had ever seen. The now 54-year-old Dubliner was working in an architect's office, and thought about leaving the country before he was pushed out.
"The motor and building trades were in the toilet, I had no choice but to look at emigrating," he tells Fora.
"I had a green card and was going to go with a friend, (but) one night I decided that I wanted to stay in Ireland.
"I decided that if I wanted to stay I would have to change everything about myself."
Fahy began working three jobs in an effort to make some decent cash. Over the next nine months, Fahy worked Monday to Friday in the architect's office, in a restaurant during the nights and in a car wash at the weekend.
Fahy, then 25, and his friend Tom McNestry were saving so that the duo could get enough cash to open a service station, and the pair had given themselves a deadline to save up IR£4,000 each.
"When you want to achieve something you have to put your shoulder to the grindstone and make it happen. We gave ourselves a year to save the money but we did it in nine months," he says.
"We (then) wrote to every oil company telling them how fantastic we were and how our lack of business experience would be overcome by passion. Everyone of them told us to get lost except for BP. They gave us a break and we continued on from that."
The pair took over a small BP service station and eventually ended up running four. Fahy stayed in the same role for almost two decades before deciding that a change was needed after a dispute with Statoil, which took over BP's Irish stations in 1992.
"After that length of time I wanted to do something different. Retail is very demanding and it's more suited to younger people, every quarter changes dramatically and the margins are very tight," he says.
FundSME
Fahy then took a few years out to spend with the family while casting around for a new business venture. He finally hit upon the idea of helping small Irish businesses find out how to raise money, which would lead to the foundation of FundSME.
Founded by Fahy and corporate accountant Patrick Keaney in 2014, FundSME started out as a website that listed information about where small businesses could get money and who they could get it from.
Although there are loads of ways to get funding in Ireland, businesses have traditionally stuck to getting loans from banks. There are many reasons for this, among them being the fact that it can be tough to figure out how different funding types work or how to get a state grant.
"One of the SMEs we were talking to said that you would need to have a master's in the dark arts to figure out how to get funding from all the different government departments," Fahy says.
The firm has started to organise conferences to link up finance providers, like private equity firms, with companies that are looking for cash. It has also developed an online tool that looks to match up suitable companies and financiers.
"We make money in three ways. We have key sponsors, we charge funders a standard fee to be on the FundSME platform and we charge a finder's fee of between 1% to 5% for any deals that are done through the platform or one of our events," Fahy says.
The firm started out with its two founders and now employs six people from its Dublin base. FundSME hasn't filed accounts yet and Fahy declines to reveal how much the company is turning over, saying that it is on the lookout for rivals that might want to enter the Irish market.
"In Ireland at the moment there really isn't a rival (for us)," he says. "The local enterprise office has a platform that helps SMEs connect with government agencies and that's the nearest thing to us, but we've included them in our platform. They complement us.
"The UK would be our nearest competitors, (but) we understand that there are one or two other companies that are looking to come into Ireland and do something similar to what we're doing."
Jamaica bound
He adds that the firm is planning to roll out a new service in Ireland that will look to better match companies with financiers that have a good knowledge of their industry.
"We have identified a number of SMEs looking for finance in clusters like tourism and have identified specialist funders who only want to deal in those sectors," he says.
Fahy says that the site attracted 18,000 SMEs in its second year and has helped hundreds of Irish companies connect with lenders who have provided €20 million of funds to businesses.
FundSME recently linked up with Digicel, the Jamaica-based telecommunications company owned by Irish billionaire Denis O'Brien.
The Irish firm, in partnership with Digicel, will target the Jamaican SME market from a base in Kingston, and Fahy says that the reputation of Irish business people has proved helpful in getting off the ground.
#Open journalism No news is bad news Support The Journal

Your contributions will help us continue to deliver the stories that are important to you

Support us now
"I was going on a morning TV show in Jamaica and I realised that people didn't want to hear about finance (so) I brought the presenters two Claddagh rings," he says.
"We started off speaking about FundSME Jamaica, then I gave them the gift and we spent the rest of the time talking about the friendship between Ireland and Jamaica. (Internationally), there is huge respect for Irish business people."
Creating jobs
Fahy now wants to spread the site further, looking at a few countries including the Dominican Republic and Jordan.
"What we need in a country is a demand for finance, a banking system that is an international standard and an economy that is out of recession or just coming out of recession," Fahy says.
Tongue buried in his cheek, Fahy says that the expansion will help the company on its way to "global domination", although he doesn't say what form that will take.
He does say that the firm is hoping that it can produce jobs. He cites a figure that it can cost over thousands of euro for a company to create one job.
"If we can help SMEs raise millions in finance, we can potentially help create thousands of jobs. If we could create a couple of hundred jobs every year, when I go to sleep at night I'd feel pretty good," he says.
Many small business owners don't like discussing exit strategies in relation to their company, but it is something that Fahy is happy to do.
The Dubliner says that the aim when starting the business was "to build up between five and eight years and then to sell it on or to get an investor in who would help with that world domination goal".
"Fingers crossed, but if that doesn't happen then we will just keep working away."
Written by Paul O'Donoghue and posted on Fora.ie