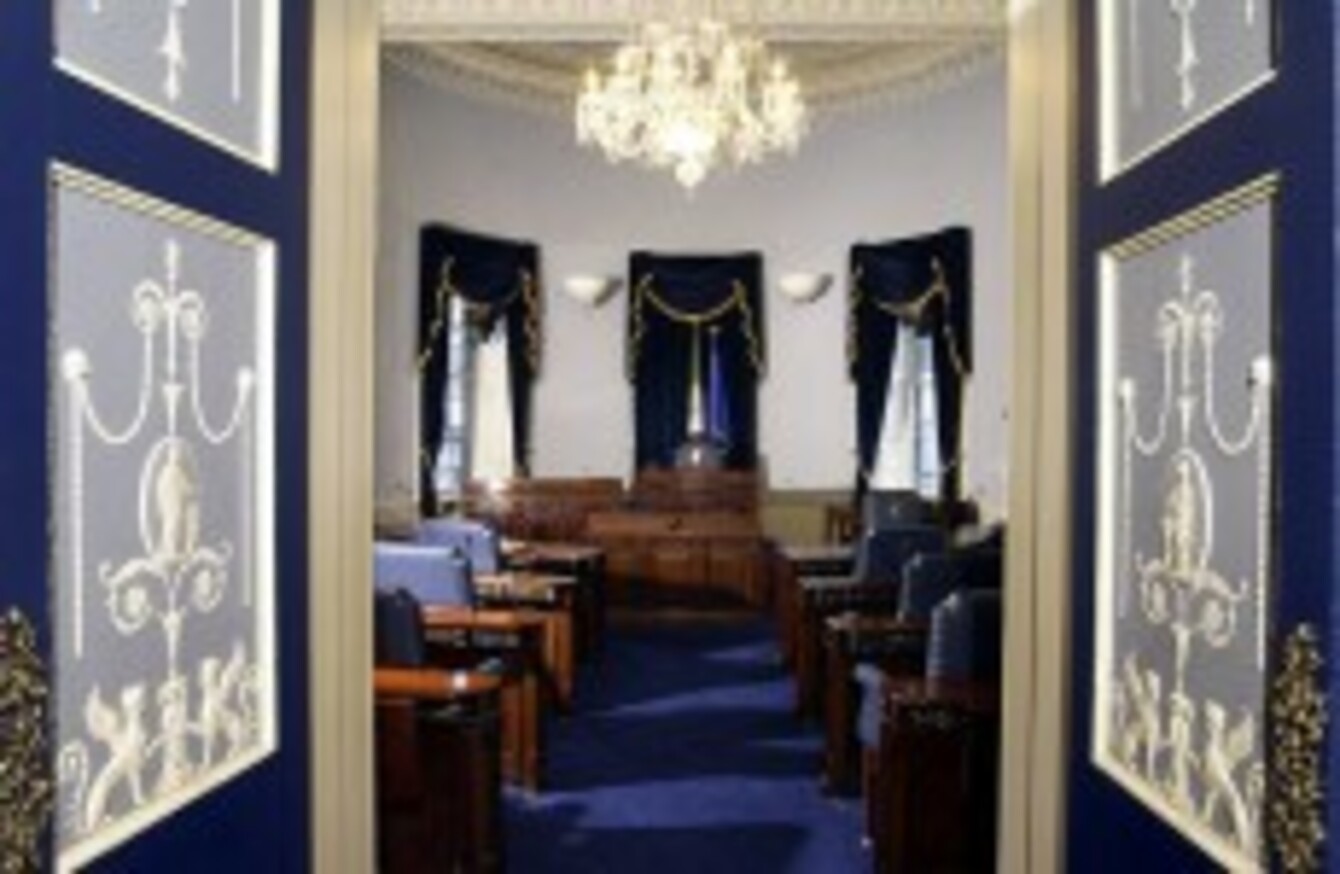 Will the Seanad chamber be lying idle much more often in future?
Image: Houses of the Oireachtas
Will the Seanad chamber be lying idle much more often in future?
Image: Houses of the Oireachtas
WHAT ARE OUR politicians doing in the halls of Leinster House?
TheJournal.ie lets you know with our guide to what's coming up to the Dáil, Seanad and various Oireachtas committees today.
DÁIL
Thursday morning will mean the usual batch of Leaders' Questions from Tánaiste Eamon Gilmore kicking off the day at 10:30am, with a brief update on the status of other legislation before focus turns to the abolition of the Seanad.
A 1pm guillotine has been installed on the referendum bill, meaning that any outstanding amendments at that stage will fall before a vote is held on the bill itself. This could spell disaster for plans from Sinn Féin to turn the referendum into a preferendum, where people are also asked whether they want reform.
There are also proposals to put the question of Seanad abolition to the Constitutional Convention, instead of ploughing straight ahead with an abolition. Either way, if they're not dealt with by 1pm, they're struck down when the vote on the final bill is held.
After a half-hour break it'll then be time for the first discussion on the Protection of Life During Pregnancy Bill 2013, which legislates for the X Case ruling by allowing abortions in circumstances where the life of the mother is at risk. More on that here.
That'll be put on hold at 3:30 to set aside an hour for the Ministers and Secretaries (Amendment) Bill 2012, which enforces maximum spending limits on each Department of State for a rolling three-year period. It's been on the table for a while, and is now to be finished up before being sent to the Seanad.
There's debate on four topical issues from 4:30pm, and Brendan Howlin finishes the week with questions to the Minister for Public Expenditure at 5:18pm.
The day's Dáil business can all be viewed here.
SEANAD
With all eyes on the votes downstairs, it's a relatively light day in the Seanad: the usual order of business discussion at 10:30am is followed at 11:45am with the first debate on the Further Education and Training Bill, which disbands FÁS and replaces it with a new Solas training body.
At 1:45pm it's the first outing for the Central Bank (Supervision and Enforcement) Bill, which offers protection for whistleblowers who reveal inappropriate actions at financial institutions.
The day's Seanad business can all be viewed here.
COMMITTEES
Just the three public meetings today:
Having spent last week discussing the actions in office of its own chairman, the Public Accounts Committee meets at 10am to get back to discussing its longest-running topic: the misuse of the HSE-funded, SIPTU-managed SKILL training fund. SIPTU general secretary Joe O'Flynn is in to discuss that. At noon, the administration of the health levy in 2010 will be discussed in the company of the PAC's old chum, HSE chief-in-waiting Tony O'Brien. (Watch here.)
The EU Affairs committee meets at 11am to renew its ongoing talks on democratic legitimacy and accountability in the EU, this time hearing from the brilliantly named Roland Freudenstein of the Centre for European Studies. (Watch here.)
Finally, the Environment committee meets at 2:15pm to discuss climate change with officials from the Departments of Agriculture, Transport and Communications. (Watch here.)