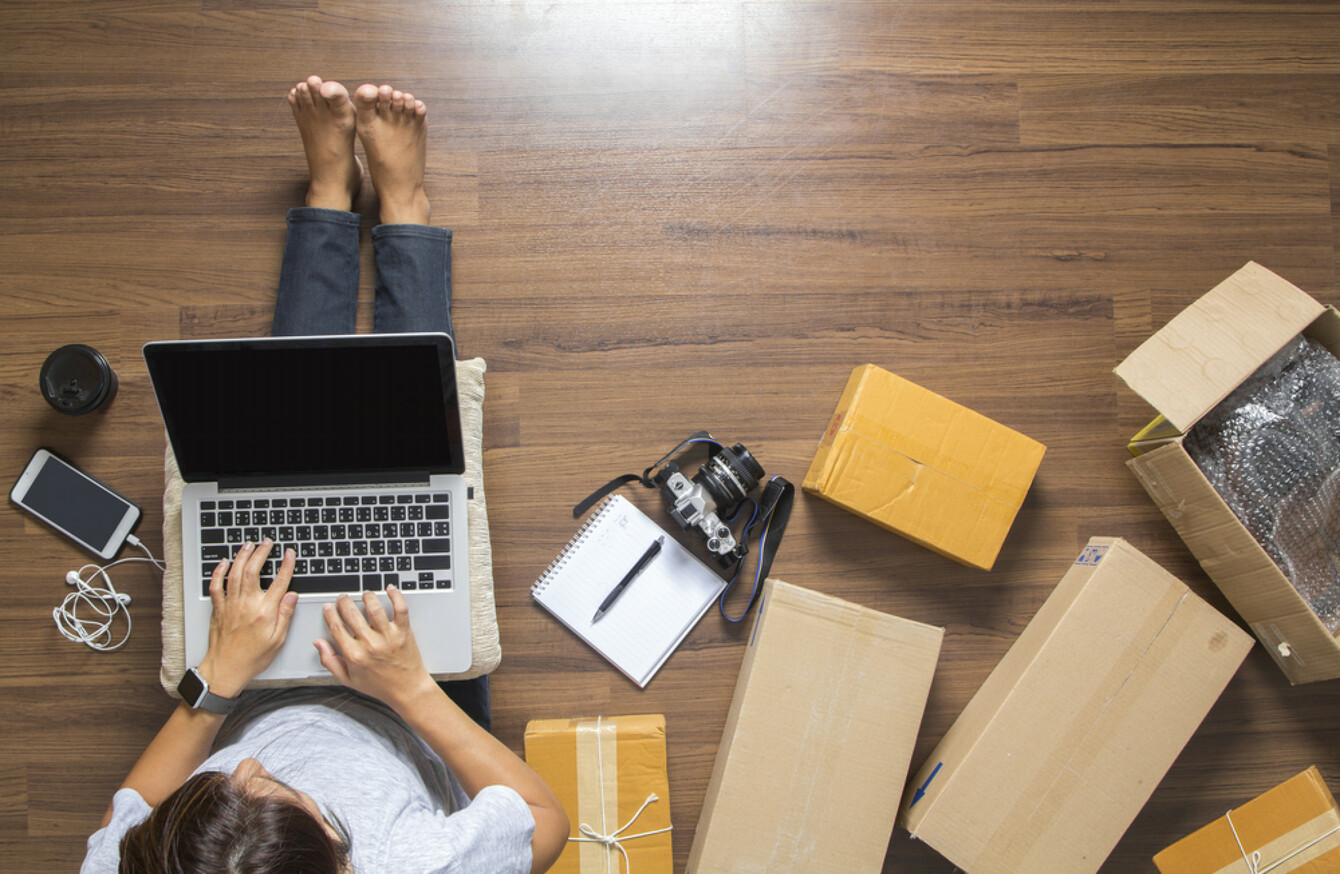 Image: Shutterstock/My Life Graphic
Image: Shutterstock/My Life Graphic
WHETHER YOU'LL LOG ON to take part in Cyber Monday or not later this month, it's estimated that those of us who do indulge in online shopping end up spending about €1.3 billion in total each year.
And as we don't get an opportunity to examine an item before we buy, sometimes things don't go exactly to plan. When this happens, it's hard to know exactly where we stand, whether we're entitled to a refund and what we have to do to get it.
That's why we asked you to let us know what you'd like us to ask an expert about online shopping earlier this month. To clarify how your rights differ online, we put these questions to Áine Carroll, Director of Communications and Policy at the Competition and Consumer Protection Commission (CCPC).
From the figures it gathered, online shopping was very popular among respondents – our informal survey found that 50% of respondents shop a few times a month, with 10% shopping a few times a week.
Although 64% had returned an online purchase, their experiences varied when things went wrong.
Required refunds
However, 55% of those surveyed did not realise that they have less rights if a business is based outside of the EU. Carroll explains why this figure is so high – often we don't find out about our rights until things go wrong: 
Online, people can be very task-oriented when shopping so they're not necessarily thinking about their rights or where a business is based.
Similarly, only half the respondents realised that if their items don't arrive within 30 days (provided they've bought from a business based in the EU) and unless they have agreed to an alternative date, they're entitled to a refund. As Carroll explains, it's not the only situation in which consumers don't realise they're entitled to a refund:
The most common problem on our helpline is when people don't realise they have the right to cancel if they've changed their mind. Or if an item is on sale, they often believe their rights are different.
Carroll reminds that even if a business says otherwise, you have the exact same rights as when the item isn't discounted – offline, this is not the case and depends on store policy.
Once you choose to return an item, you may be entitled to the cost of return postage – this will be set out in the website's terms and conditions. But for things like a faulty or incorrect item rather than a change of mind, you're always entitled to it – provided you're very clear with the business that you are not exercising your right to cancel.
And when you're returning an item for a faulty item, there are a few important things to do including letting the business know you are sending it back, says Carroll: "
Send a photo of the delivery note, along with proof of the order and photos of what has been received.
Bidding to buy
The situation with buying from an individual was even more unclear for those who took our informal survey – nearly a third (30%) believed they had the exact same rights when they bought online from an individual as opposed to a business.
"I think the popularity of things like auction sites have blurred the lines a little. People don't differentiate between the two", explains Carroll. She says that issues tend to arise the most when an individual believes they have bought from a business but in fact they've made a purchase from an individual – giving them no rights under EU law.
If you do choose to buy on the likes of eBay or Etsy, Carroll urges that you "really need to read the terms and conditions before you buy". She shares that a lot of these sites are self-regulated so "read the comments to see if other users have been happy with their purchases".
#Open journalism No news is bad news Support The Journal

Your contributions will help us continue to deliver the stories that are important to you

Support us now
What's the custom?
Several of our readers surveyed were concerned about custom charges. According to Carroll, it's good news if you keep your purchases to EU-based businesses: "There are no custom charges within the EU, it's one of the many advantages of shopping within it."
Once you purchase outside the EU however, you're liable to pay VAT on any purchase with the value of €22 or more: "This is quite a low value, so a lot of people will fall into the category of requiring to pay VAT".
Whatsmore, if an online purchase from outside the EU is valued at €150 or more, you legally have to pay import charges too. This means that not only do you have less rights when shopping outside the EU, it can also wind up being a lot more expensive.
Shopping scams
Some of our readers surveyed had concerns about how to spot a fake website, and what you can do if you end up making a purchase on one. There is a potential solution in this case, provided you are with Visa or Mastercard, says Carroll:
So you can request something called a chargeback from your bank, which you can also ask for if your items are never delivered.
A chargeback allows your bank or credit card company to reverse the transaction – crediting the payment back into your account. Ultimately, if you are buying from a website, you need to research it and beware of warning signs, says Carroll: "If a website is selling branded items for a lot less, that should make you suspicious."
While Carroll says that your first response should be contacting the company, if you are unable to get a reply or a refund or if there is a dispute, you can request a chargeback. You can find out more about the process here, and more about your rights online here.