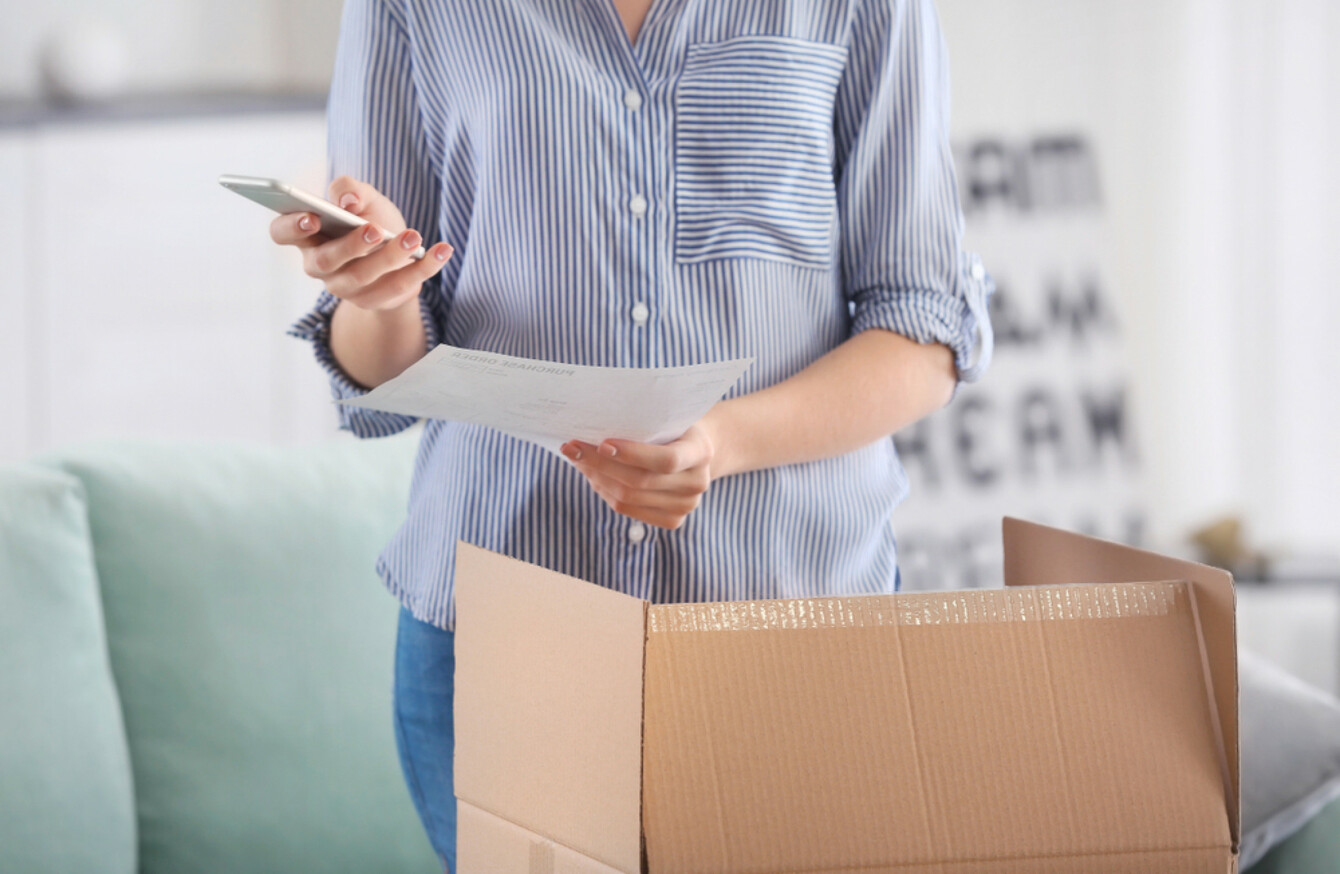 Image: Shutterstock/Africa Studio
Image: Shutterstock/Africa Studio
KNOWING YOUR RIGHTS when shopping online can be tricky to navigate, and when things go wrong, it's hard to know what your rights are.
To make it easier on our readers, we wanted to find out from an expert that when this does happen – what are my rights when I buy online? 
We asked  Áine Carroll, the Director of Communications and Policy at the Competition and Consumer Protection Commission (CCPC) what happens when you buy online and your items are not what you expect, or arrive damaged?
Here's what Carroll says you need to do if you aren't happy with an online purchase.
1. You have a right to change your mind
Though it depends on the location of the business you bought it from, if the business is based in the EU, then you have very strong rights under the Consumer Rights Directive. The main provision is that you are given a right to cancel when ends 14 days after you receive an item for any reason and get a full refund including delivery costs:
Unlike in a shop, you can try it on, see if it fits and then decide if you want it. You have 14 days from the day you receive it to cancel your order and return it. Most retailers provide a cancellation form, or you can email them.
Though many bricks and mortar shops may allow you to return something if you change your mind, this is store policy and is not covered by the same strong laws that entitle you to a full refund when you shop online, adds Carroll.
2. Your rights around 'faults' aren't always crystal clear
The rules around faults when you buy something online from an EU-based business are the same as if you buy in a traditional shop – it must be fit for purpose, of satisfactory quality and as described. If you buy something that's faulty, you have a right to return it, though the law that governs the area around faulty goods "isn't so crystal clear" because the nature of faults aren't. Carroll explains the situation:
You need to quickly tell the seller that there's a problem and depending on the fault, your options are to get a repair, a replacement, a reduction in price or a full refund. 
What you are entitled to depends on the fault – a DVD player that won't work is very clear cut, for example. However, you categorically don't have to pay the cost of returning it because it's different from changing your mind and "a completely different set of laws will apply." Most retailers will have clear guidelines around this on their website.
3. If you change your mind you may have to pay the return postage
Who actually pays for the cost should be set out in the terms and conditions before you buy, and online retailers based in the EU will probably not cover this if you are returning it because you changed your mind, says Carroll. After you've cancelled either by email or a cancellation form, it's important that you return the item quickly, especially at busy periods for couriers such as in the run-up to Christmas. 
You have 14 days to return your item after you've informed the seller you are cancelling your order, but it's also important to use a "traceable method of delivery", says Carroll:
Ask for a certificate of postage at the post office. This is just a form you can ask for with no charge. This acts as proof that you sent the item back.
4. You can't return certain items
The general rule is that if a seller won't be able to resell an item, it's unlikely that you can return it – things like opened CDs, DVDs, computer software aren't covered. You also can't return anything that's been customised – for example if you've asked to have your name printed on a t-shirt.
Secondly, you can't return tickets for a specific event, which is a common issue, says Carroll: "A lot of people buy tickets online for events and don't realise that they are not covered in terms of the right to cancel."
5. Just because it says .ie or .eu doesn't mean it's in the EU
"One of the things we need to be careful about is that the 14 day right to cancel only applies to websites based in the EU", says Carroll. Though you may think this is the case if a website has it's a .ie or .eu in its address, the business may be based outside the EU: "Sometimes a retailer will set up multiple sites and when you actually look at the 'info' section they are based elsewhere."
You do not have the same level of protection if you are buying from a website outside the EU, so make sure to read the website's terms and conditions carefully and check what their returns policy is.
6. If you've bought from an individual, you can't return it
These strong consumer protection laws don't cover you if you are buying from an individual on an auction site like eBay or from other consumers. In these cases you do not have any right to return: "Consumer rights legislation is not about sales from consumers to consumers, it's between consumers and businesses."
7. Sales do not affect your rights
The good news is that thanks to the EU legislation around buying online, your rights don't change if an item is discounted or not, which is "really good news for consumers", says Carroll.
"We're used to the idea that if something is on sale, your right to change your mind is down to shop policy. Although most will honour it, retailers may only offer an exchange. Online on the other hand, if you've exercised your right to cancel within 14 days and the goods have been received by the seller within 14 days, you're entitled to get a full refund.
8. You're entitled to a 'promised' delivery date
Generally, your rights are that if goods don't arrive within 30 days from ordering them, you can cancel the order and get a full refund. However if they've promised to have it to you in time for Christmas, then they should deliver it by the date agreed:
If they've guaranteed delivery to make sure you receive it by a certain time and they don't deliver on that, you are entitled to a full refund if you don't want to arrange another date.
Do you think shopping online inevitably brings you less rights than in-store? Actually EU laws give you strong protection when you buy online. Make sure you're fully up to speed on what you're entitled to by visiting the Competition and Consumer Protection Commission's online shopping section before the next time you click-to-buy.