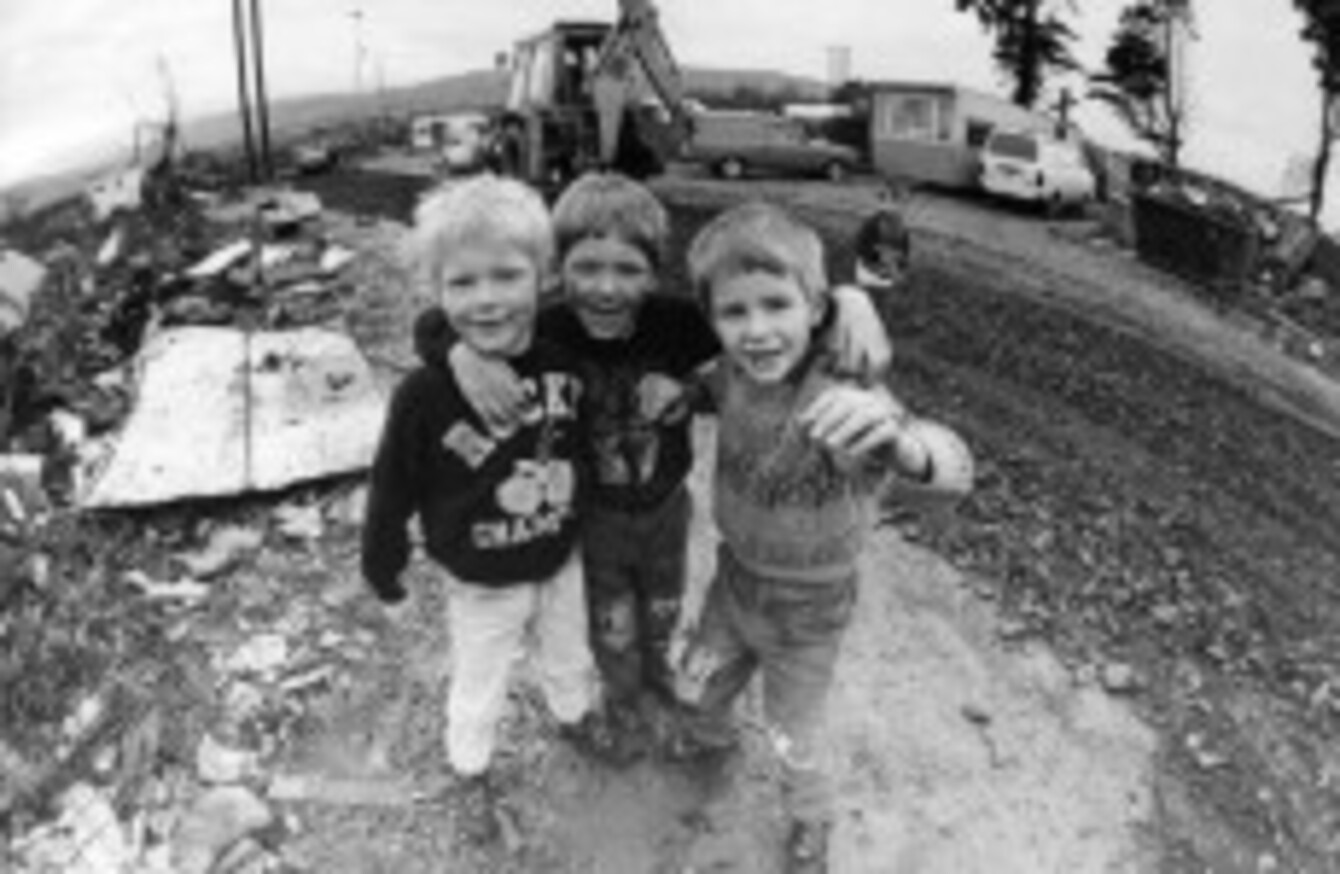 Image from a Traveller halting site in 1988
Image: Eamonn Farrell/Photocall Ireland
Image from a Traveller halting site in 1988
Image: Eamonn Farrell/Photocall Ireland
A NEW STUDY by the ESRI has examined the consequences of belonging to certain disadvantaged groups, such as the Traveller community in Ireland.
Researchers examining Census 2006 data discovered the life expectancy of Travellers is much lower than other groups, with only 9 per cent of its population aged over 50. That compares to 28 per cent of white Irish adults being over 50-years-old.
Authors of the report said the lower life expectancy arises from "difficult living circumstances". In the five different areas of disadvantage examined – low levels of education, being outside the labour market, unemployment, lower manual social class and lack of access to a car – the report found some "very stark" differences between Travellers and other groups.
There are "severe problems" in acquiring basic levels of education for Travellers, with more than eight in 10 in the 25-44 age group with no complete second-level schooling.
They also face a much higher unemployment rate and are more likely to be found in the lower, manual social class. Both of these factors translate into poorer living circumstances.
Contrary to perceptions, Travellers are also much less likely than other white Irish adults to have access to a car.
The equality analysis of the 2006 Census looked at the risk of disadvantage with the nine grounds on the basis of which unequal treatment is prohibited in Ireland. Those are gender, marital status, family status, sexual orientation, religion, age, disability, race and membership of the Traveller community.
The study was carried out by the ESRI on behalf of the Equality Authority.
Despite initial presumptions, researchers found that being a member of two such groups (for example, a woman with a disability) does not always result in "double disadvantage" or a worse outcome.
In general, married fathers and mothers are a relatively advantaged group in terms of labour market and living standards. However, married mothers are much less likely to have paid employment but this could be explained by preference and not constraints.
Older single men aged 45 and 64 are a particularly disadvantaged group as they are more likely than their married counterparts to have low levels of education, be outside the labour market and be unemployed. They are also more likely to lack access to a car.
In terms of ethnic group, African adults – particularly in the younger age group – are most disadvantaged when looking at risks of unemployment or being in the lower manual social class.
As the study was carried out to direct policy issues, the authors noted that educational disadvantage plays an important part in accounting for later outcomes associated with the labour market and living standards.