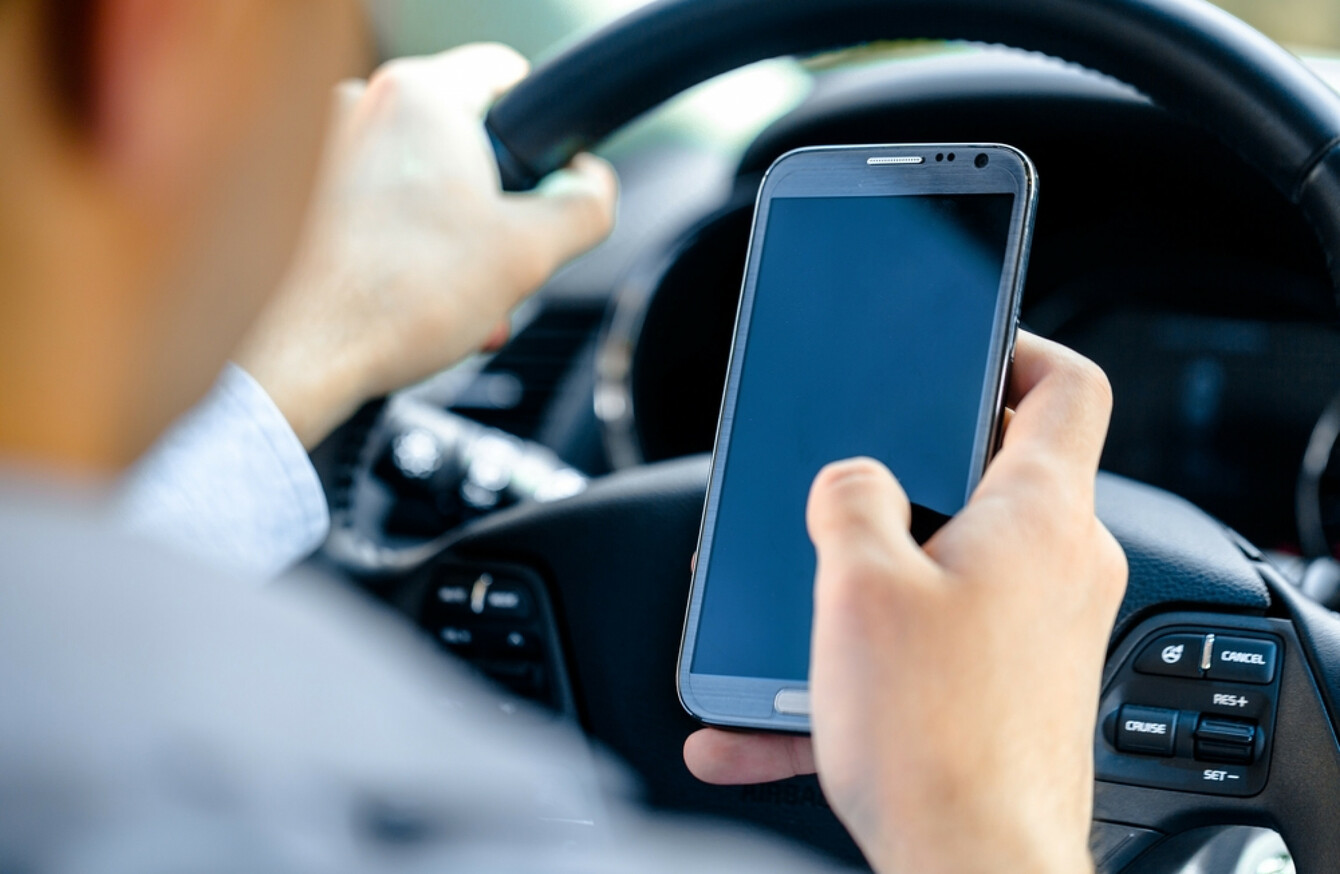 Image: Billion Photos via Shutterstock
Image: Billion Photos via Shutterstock
TRANSPORT MINISTER SHANE Ross has said he is willing to consider increasing penalty points for those caught using a mobile phone while driving.
However, the minister said due to the many different uses mobile phones now have, it is no longer easy to define what behaviour falls within the parameters of the law.
Earlier this year, Ross told TheJournal.ie his department was reviewing new laws introduced in the UK which ensure drivers caught using their mobile phone while at the wheel get double penalty points and a double fine. He said the department was assessing if similar provisions could be made to the Irish system.
When asked about the possibility of hiking up points for mobile phone use, Ross said his officials are keeping penalty points under constant review, adding:
"I am willing to consider increasing the penalty points further for use of mobile phones and the other most serious killer behaviours on our roads."
Laws which made it an offence to drive while holding a mobile telephone were introduced in 2006. The law was amended in 2014 to specify that it was also an offence to send a text message or email while driving.
This update was needed to close a loophole which may have permitted motorists to send a text message if a phone was held in a cradle within the car.
Those caught texting face a mandatory court appearance and fine of up to €1,000, reflecting how dangerous this practice is, said the minister.
The amendment also increased the number of penalty points from two to three on payment of a fixed charge (and to five on conviction) in 2014.
At the time, there were concerns that such a change could impact taxi drivers who used the Hailo App (now MyTaxi). However, the Road Safety Authority said that the new regulations did not impact on the use of Hailo, as it only allowed drivers to accept a fare by pushing a button.
Ross suggested that mobile phones have many different uses now than years gone by. Drivers often have hands-free sets, and use their mobile phone as a satellite navigation device, suggesting that the law might need to be updated to reflect these changes.
"Given recent developments in technology, it is no longer quite as easy to define what behaviour falls within the parameters of the Act. Given the many different uses for phones and the various options for hands-free use of phones, a significant body of work is required to adequately legislate for this behaviour.
#Open journalism No news is bad news Support The Journal

Your contributions will help us continue to deliver the stories that are important to you

Support us now
"While I am focused on progressing the Road Traffic (Amendment) Bill 2017 through the Houses of the Oireachtas, I have also asked my officials to commence work in this area with a view to progressing it in the context of the next Road Traffic Bill," he said.
In a statement to TheJournal.ie, a spokesperson for the Road Safety Authority (RSA) said that the use of mobile phones and other electronic devices while driving is a "big problem on Irish roads".
"Distracted drivers could be a factor in as many as 20-30% of all collisions in this country," the spokesperson said.
Despite this fact, rational, intelligent people continue to text, make phone calls, take selfies or update their social pages while driving.
When you use your mobile behind the wheel, taking your mind and eyes off the road for just a split second can destroy everything forever.
As of June this year, 14,000 people were caught on their mobile phones while driving.
Those caught by gardaí weren't just making and taking calls. Posing for selfies, updating Facebook and live-streaming their every move are just some of the other things that Irish drivers have been found doing this year.
With reporting by Hayley Halpin