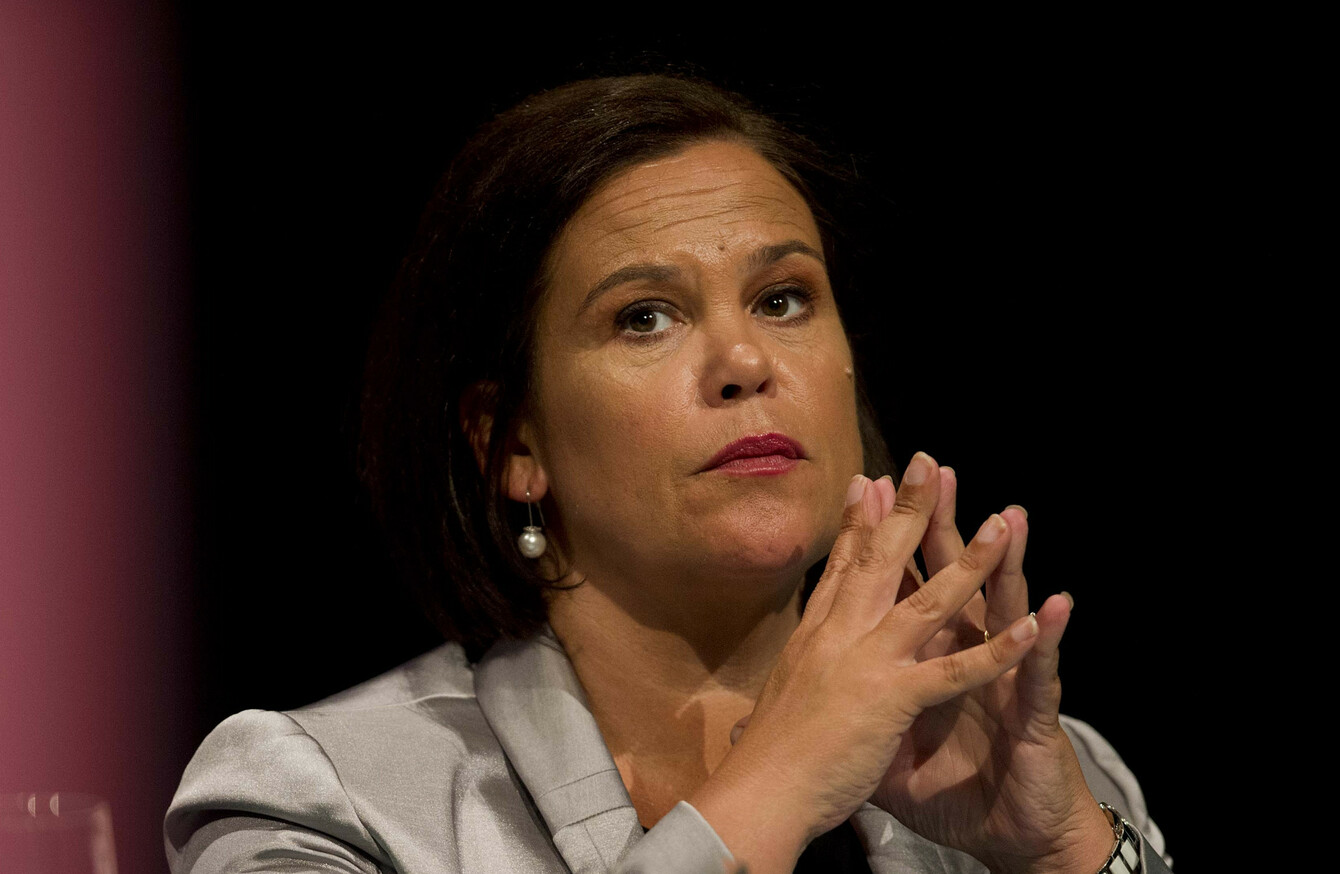 Sinn Féin leader Mary Lou McDonald says they are mulling over a mixture of names for possible presidential candidates.
Image: RollingNews.ie
Sinn Féin leader Mary Lou McDonald says they are mulling over a mixture of names for possible presidential candidates.
Image: RollingNews.ie
SINN FÉIN LEADER Mary Lou McDonald dropped a strong hint that her party will run a candidate for the Arás this year.
Michael D Higgins is expected to announce his interest in a second term in the coming weeks. Fine Gael won't be making a decision on its position until after his declaration, while Fianna Fáil leader Micheál Martin said his party would support a second Higgins term.
A candidate needs 20 TDs or senators to back their candidacy – so Sinn Féin would have no problem raising the votes, should they settle on a nominee.
Speaking to reporters at Leinster House this afternoon, McDonald said her party was currently "running through our options".
McDonald acknowledged that a number of names have been mentioned in the public domain in recent weeks, including veteran TD Caoimhghín Ó Caoláin who is due to step down at the next election.
When asked did she have some names in mind herself personally, she said:
"I do yeah… as it happens I do."
The party leader confirmed that there were names from within and from outside the party under consideration, adding:
"There are a mixture of names in the mix."
Any decision on Sinn Féin putting forward a presidential candidate will ultimately be made by the party's leadership committee, the Ard Comhairle, which is due to meet on the matter later this month.
Giving her personal opinion, McDonald said she thinks the country needs a debate and that the highest office ought to have a democratic mandate.
Adding that she in no way means any disrespect to the current President, she said it is "a matter of principle that those that occupy the highest office of the land ought to have an electoral sanction and mandate behind them".
"I don't think it is appropriate that the incumbent rolls into another term in office seamlessly," she added.
A presidential election would provide "a very healthy debate about Ireland about where we are and where we might go over the next seven years", she said.
McDonald said that, unlike a general election, she believes a presidential election would provide a "broad base for a conversation Irish people can get involved in".
There are a wide-range of issues that Irish people deserve to have a conversation about, such as LGBT and women's issues, she said.
Running presidential campaigns costs a lot of money, something McDonald acknowledged today. Matters of cost are one of the factors being considered, she said.
Gerry for president?
While questions had been raised in the past about Gerry Adams running, McDonald ruled out such a move in an interview with TheJournal.ie earlier this year.
McDonald said she would not ask Adams to run, stating at the time:
Absolutely not. Absolutely not. I know he has not the remotest interest in that. In fact I think he would freak if somebody lifted the phone and suggested that. That could end our friendship if I even suggested that to him.
Today, she questioned why Fine Gael and Fianna Fáil appeared to be against the idea of a presidential election.
"If they do not want an election, if they believe the first citizen should not have the type of democratic mandate that I believe they should… I beg to differ," she said.
However, McDonald reiterated that she was only giving her personal view, and that any decision to run a candidate would be made by the Ard Comhairle.
McDonald said she regretted the debate about a possible presidential election was not happening against the backdrop of a possible referendum on extending voting rights to Irish citizens outside Ireland and those living in Northern Ireland.
Currently, Senator Gerard Craughwell is the only person to voice publicly that he wants to run for president. Senator and founder of Aer Arann Pádraig Ó Ceidigh has also been linked with a run.