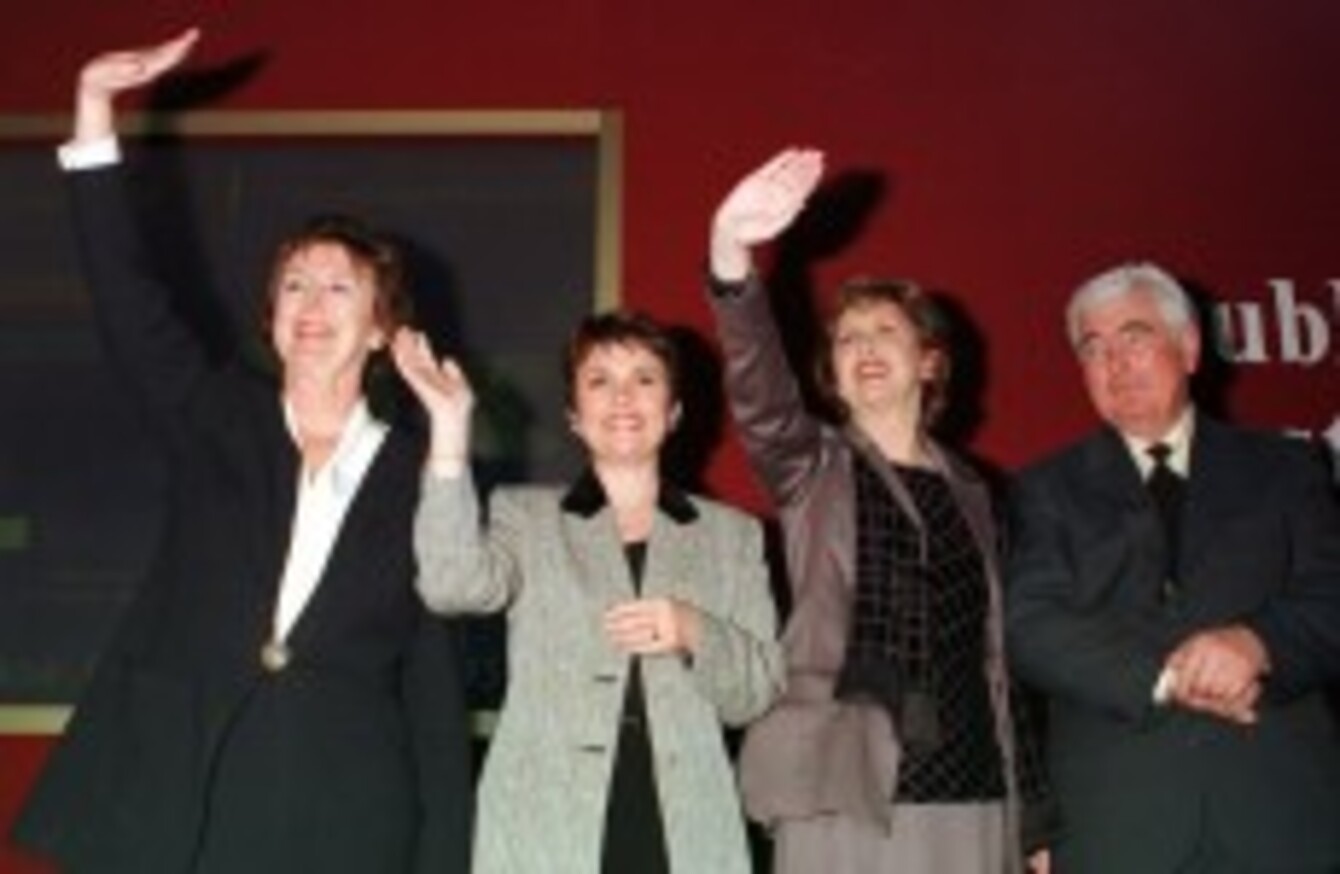 Mary McAleese's victory in 1997 had been predicted by all the opinion polls carried out in the week before polling.
Image: Eamonn Farrell/Photocall Ireland
Mary McAleese's victory in 1997 had been predicted by all the opinion polls carried out in the week before polling.
Image: Eamonn Farrell/Photocall Ireland
TOMORROW'S RED C presidential opinion poll appears to confirm the general trend of recent polls – with Sean Gallagher now commanding a 14-point lead over his nearest challengers with less than a week to go to polling day.
The results of the poll, and of a companion Sunday Times poll, confirms the trend of other recent samples - with Gallagher and Michael D Higgins ahead of Martin McGuinness, while the other candidates rearrange themselves further down the pecking order.
Many candidates have continually pointed to the volatility of opinion polls, however, citing Adi Roche's performance in 1997 as a sample of whether polls can be reliable or not.
In that election, Roche – who was backed by three political parties – had polled as high as 38 per cent in early showings, before her standing collapsed in the run-up to election day – and ultimately leaving her on 7 per cent of support.
Looking at three major polls in the run-up to that polling, however, it becomes quite clear that the polls in the days before election isn't often very wide of the mark.
Within a week of the 1997 election, there were three main opinion polls: two published by the Irish Times, and one by the Irish Independent.
Polling in 1997 took place on a Thursday; the Times' polls were published on Saturday and Wednesday, while the Independent's offering was published on the Tuesday, two days before polling on October 30.
Candidates hoping to look to those most recent precedents, hoping to find an example of how polls can fluctuate, may be out of luck.
The Irish Times' poll published on the day before polling – and conducted just three days before the public went to the polls – gave Mary McAleese a 46 per cent share of the vote when undecideds were excluded.
She led Mary Banotti on 30 per cent, Dana on 10, Adi Roche on 8 and Derek Nally on 5.
This was remarkably similar to the results on election day itself – when McAleese took 45 per cent of first preferences, compared to Banotti's 29, with Dana on 14, Roche on 7 and Nally on 5.
Broad trends
The Times' poll also marked 20 per cent of people as being undecided – compared to this time around, where the polls have shown that only 10 per cent of voters have yet to decide who they will support.
That Times poll was broadly reflective of the results from the previous day's Irish Independent's poll – which gave McAleese 49 per cent of support, compared to Banotti's 32. Scallon and Roche were tied on 7 per cent, while Nally had the other 5 per cent.
This was quite close to the actual results, with the largest difference between Dana's performance which took some of the poll's support for the frontrunners Banotti and McAleese.
#Open journalism No news is bad news Support The Journal

Your contributions will help us continue to deliver the stories that are important to you

Support us now
Another Irish Times poll, carried out eight days before polling and published on the Saturday before polling, showed 13 per cent of voters undecided.
With their intentions subtracted, McAleese stood on 42 per cent, with Banotti on 33, Roche and Scallon on 9 per cent and Nally on 7. Again, that sample was largely in line with the results on election day.
It should be noted that the last major poll in 1990 – carried out by the Irish Times in the days before voting – showed Mary Robinson and Brian Lenihan Sr tied at the top, while on polling day Lenihan actually outpolled Robinson by 5 per cent on first preferences.
So while candidates can certainly find some room to manoeuvre, the fact that there are seven candidates this time around – and a smaller chunk of voters who haven't yet decided on their vote – means there is less change of a major turnaround.
(For the sake of posterity, it should also be noted that polls this late in general elections are often quite sound to – the five newspaper polls published within a week of this February's general election all predicted the result of each party to within 3 per cent.)