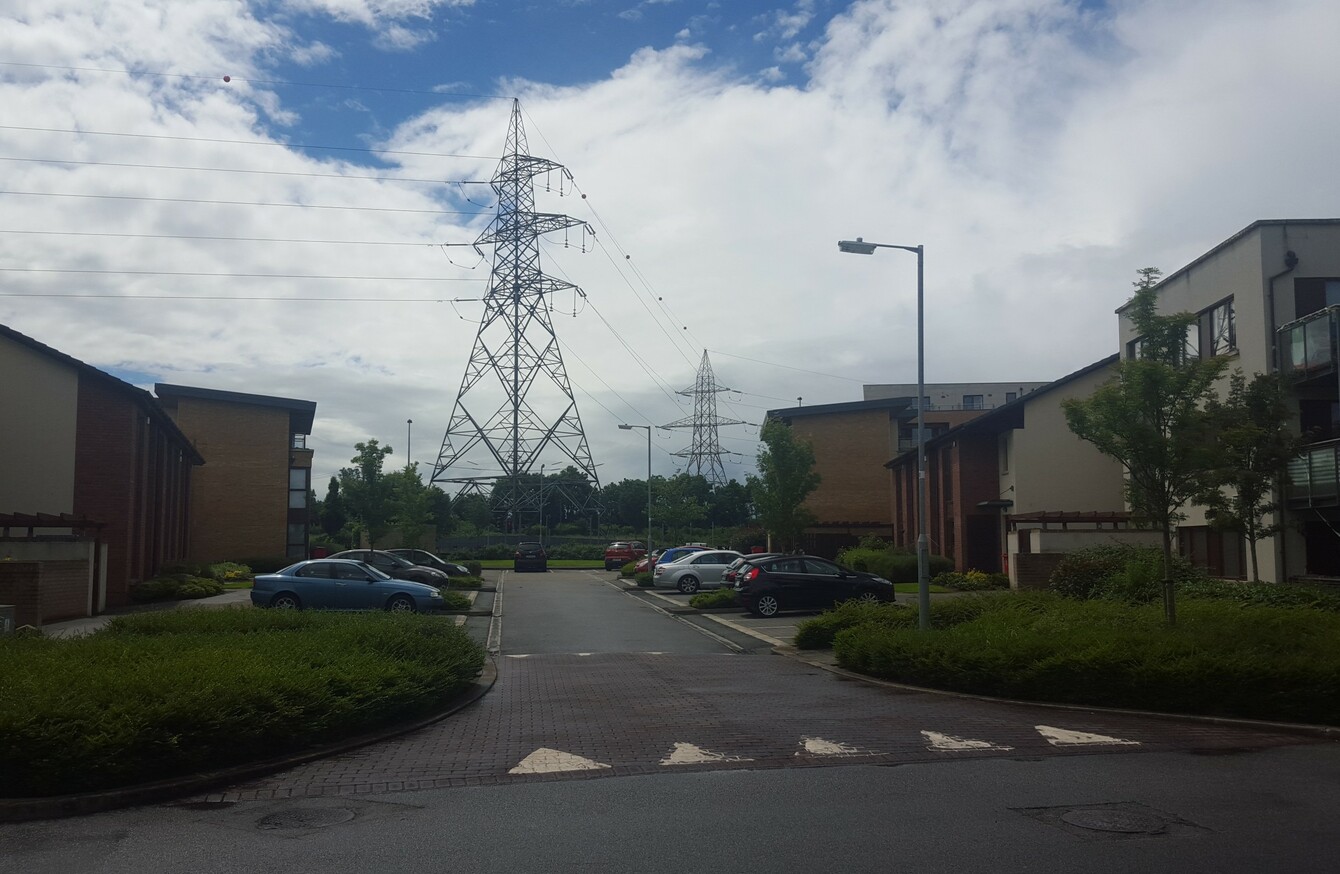 Castlegate Lawn, Adamstown.
Image: William Lavelle
Castlegate Lawn, Adamstown.
Image: William Lavelle
LOCAL COUNCILLOR FOR Lucan William Lavelle has welcomed the news that controversial pylons and overhead cables are to be moved from Lucan and Adamstown.
After years of campaigning by locals, the cables and pylons are to be moved as part of Eirgrid's West Dublin Project, a project which aims to build a new 220 kV gas insulated switchgear substation to supply energy to the Grange Castle Business Park in west Dublin.
"It is now six years since I first raised this at Council meetings and began pushing for removal of unsightly pylons close to homes. This planning decision represents a hard-fought victory and will be warmly welcomed in the local community."
A long-time campaigner for removal of overhead cables, Lavelle said that Eirgrid's commitment to meeting with the residents and taking on advice from locals was an exemplary display of how a state body should handle developmental issues.
Shane Griffin, Senior Public Affairs Specialist at Eirgrid, said about the project: "This was the first project where we implemented our new approach, which focused around taking on local people's views, and see if our plan could match up with other people's plans for the area."
"We got some great feedback from local councillors including Lavelle, Derek Keating, and Minister Francis Fitzgerald, who suggested a few local people who would have an interest in this project, and it was through this that we realised the Adamstown pylon was the real bone of contention in the area."
The pylons are being moved to facilitate the opening of a new 220kv substation, which will add an extra power supply to Grange Castle Business Park – a "fast developing global hub for data centres and high-tech industry" according to Lavelle.
Currently, the three-kilometre stretch of cables and towering structures, which affect eight estates in the area, are to be put underground and in a 'looping formation' so as to reach the Grange Castle Business Park.
The substation itself is due to be operational in 2018/19, and has been built to facilitate new datacentres for Microsoft and Google.
This decision comes after years of campaigning and opposition from local councilors and residents, who expressed worry at the "incredibly unsightly" pylons, as well as lingering worries over the long-term health risks of living so close to high-voltage power lines.
"I think that in 40 or 50 years' time people will look back at the health implications of having pylons so close to a residential area," said Lavelle.
Although surveys conducted by Eirgrid have shown that electromagnetic levels in the area are at a safe level, they are slightly above normal.