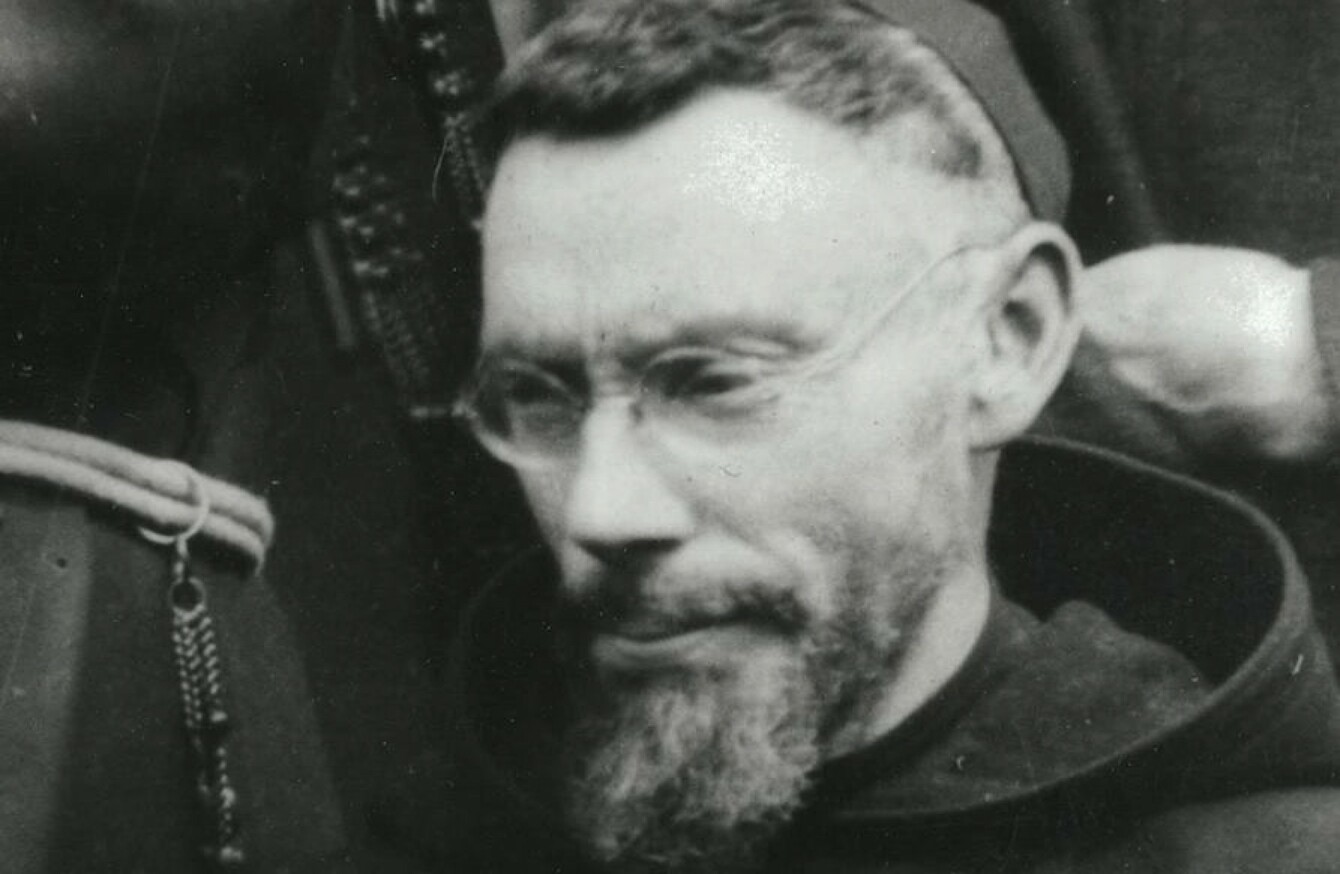 Fr Aloysius Travers, born William Travers, was one of the Capuchin priests thrown into the Rising in their central Church Street location.
Image: Irish Capuchin Archive
Fr Aloysius Travers, born William Travers, was one of the Capuchin priests thrown into the Rising in their central Church Street location.
Image: Irish Capuchin Archive
THIS WEEK, TheJournal.ie's Voices section is dedicated to the men, women and children whose first-hand experiences contributed to the rich patchwork of testimony that chronicles the events of 1916.

Fr Aloysius Travers, originally William Travers from Cork, was a Capuchin cleric who founded the Feis Maitiú, a Gaelic cultural festival which still exists today.
He was at lunch at the friary on Church Street in north inner Dublin when the first volley of shots was fired nearby. 
By the end of the Rising, Fr Aloysius would be chaplain to the leaders, hearing the last confession of Pearse, MacDonagh and Connolly, and accompanying Connolly in the ambulance car that bore him to Kilmainham for execution.
Here he remembers the shock of that first day, when the Rising erupted outside his door:
Easter Monday – I walked over to Gloucester Street to say Mass at the Convent. On my way I noticed some Fianna scouts on bicycles and, later, passing to Gloucester Street, I met Padraig Pearse and another Volunteer on bicycles. They rode by without recognising me – they were evidently intent on reaching their objective in time.
Padraig Pearse wore a loose overcoat or makintosh [sic] which covered some baggage. They had come into Gloucester Street from Rutland Street, I understand, and the volunteer who accompanied Padraig, I was later informed, was Willie Pearse.
I at once concluded that there was something in the air – probably they had decided to attempt the parade in spite of the authorities. On my way back to Church Street I passed several individual volunteers – some on bicycles.
Shortly after 12 o'clock as we were at luncheon we were startled by rifle fire; and very soon word was brought to the Friary that a little boy had been shot near the Father Mathew Hall, and a wounded man was also brought to the Friary, and a number of terrified children, crying, came to us for shelter.
By 1.30pm, barricades had been erected in Church Street and were manned by Volunteers. The Father Mathew Feis was in session and the children were hastily got under the stage for safety until it was judged wise to send them home.
An Australian who happened to be in Dublin passing through Church Street stopped to speak to me – I was standing at the Church gate. He told me that he was a doctor and he offered his services to render any assistance needed. He attended to the wounded man who had been brought to the Friary. Towards night volleys of firing became more frequent – and at midnight it became so violent that it seemed to be at our very gates.
The child who died near Fr Mathew Hall was two-year-old Sean Foster, shot in the head as his mother Katie wheeled him towards the Hall where she had been due to attend the Feis as a member of the choral society.
The Hall became a makeshift hospital where Fr Aloysius and his four Capuchin colleagues gave shelter to wounded citizens, who were tended to by members of Cumann na mBan. Still the British Army would not allow the dispatch of a doctor beyond the barricades to Church Street.
The reply was: The military would grant none of the amenities of war but would treat them [the wounded] as outlaws and rebels.
Fr Aloysius decided to take action, taking to the bullet-strafed streets with his colleague Fr Augustine to secure passage for the most serious cases to Richmond Hospital.
By the end of the week, the esteem in which the priests were held made them trusted intermediaries between Pearse and Connolly and they were allowed to relay the message of surrender to Thomas MacDonagh in Jacob's factory and to Eamonn Ceannt in the South Dublin Union.
It was at Jacob's that Fr Aloysius came across looters – their behaviour, in contrast to the sacrifice and suffering he had witnessed all week – led to a moment of intense anger:
The Volunteers were lined up in [the] basement prepared to leave. Fr Augustine was taking messages from them for their relatives. Fr Monahan had arrived to offer his services.
Suddenly we heard a tremendous crash and sounds like bombs exploding, and a volunteer came to tell us that the looters had smashed the window and were breaking in to the offices at the Bishop Street side. Fr Monahan and myself went at once and with difficulty got to the scene as a water main had been burst and the place was flooded.
#Open journalism No news is bad news Support The Journal

Your contributions will help us continue to deliver the stories that are important to you

Support us now
The looters were busy and we found them getting out into the street with the stolen goods. I stood at the window and addressed them – if ever I managed to put fire into my words it was then.
Side by side with the manly and straightforward conduct of those who had borne the brunt of the trying week I thought their conduct wretched and despicable and I did not mince my words.
The result was that the crowd promised to leave and go to their homes  and the looters – at least a goodly number of them – threw back the looted articles.
While he had been allowed to administer last confessions to Padraig Pearse and Thomas MacDonagh, Fr Aloysius was dismayed to be dismissed by their gaolers at 3am, leaving them to face death alone. He argued successfully to be present with other prisoners thereafter up to the moment of their execution, including James Connolly, so badly injured that he was placed in a chair in front of the soldiers who were to shoot him:
I sat in the ambulance car with him – and said a last word to him before they took him from the car in Kilmainham Yard. He was put sitting on a chair. And the order was given.
They fired and Father Eugene McCarthy who had been in attendance on Sean McDermott earlier, went over and anointed Connolly. I had stood just behind the firing line. It was a scene I should not ask to witness again.
I had got to know Connolly – to wonder at his strength of character and marvellous power of concentration. I had got to regret that I had not known him longer and now I had to say goodbye. All I could do was to return with a heavy heart and to offer the Holy Sacrifice for his soul. Now I thank God that I knew him. I have little more to say.
Fr Aloysius, a leading member of the temperance movement, spent the rest of his days working in Dublin inner city communities and died in 1957, aged 89. 
This account of the Rising was related by Fr Aloysius as part of a speech given in 1944 to the Irish Transport and General Workers' Union in Liberty Hall. In the speech – which is available to read in full here on the Bureau of Military History's digital archive – Fr Aloysius says he had taken notes "at the time of the events" and "it contains all the first-hand information I have of that period".