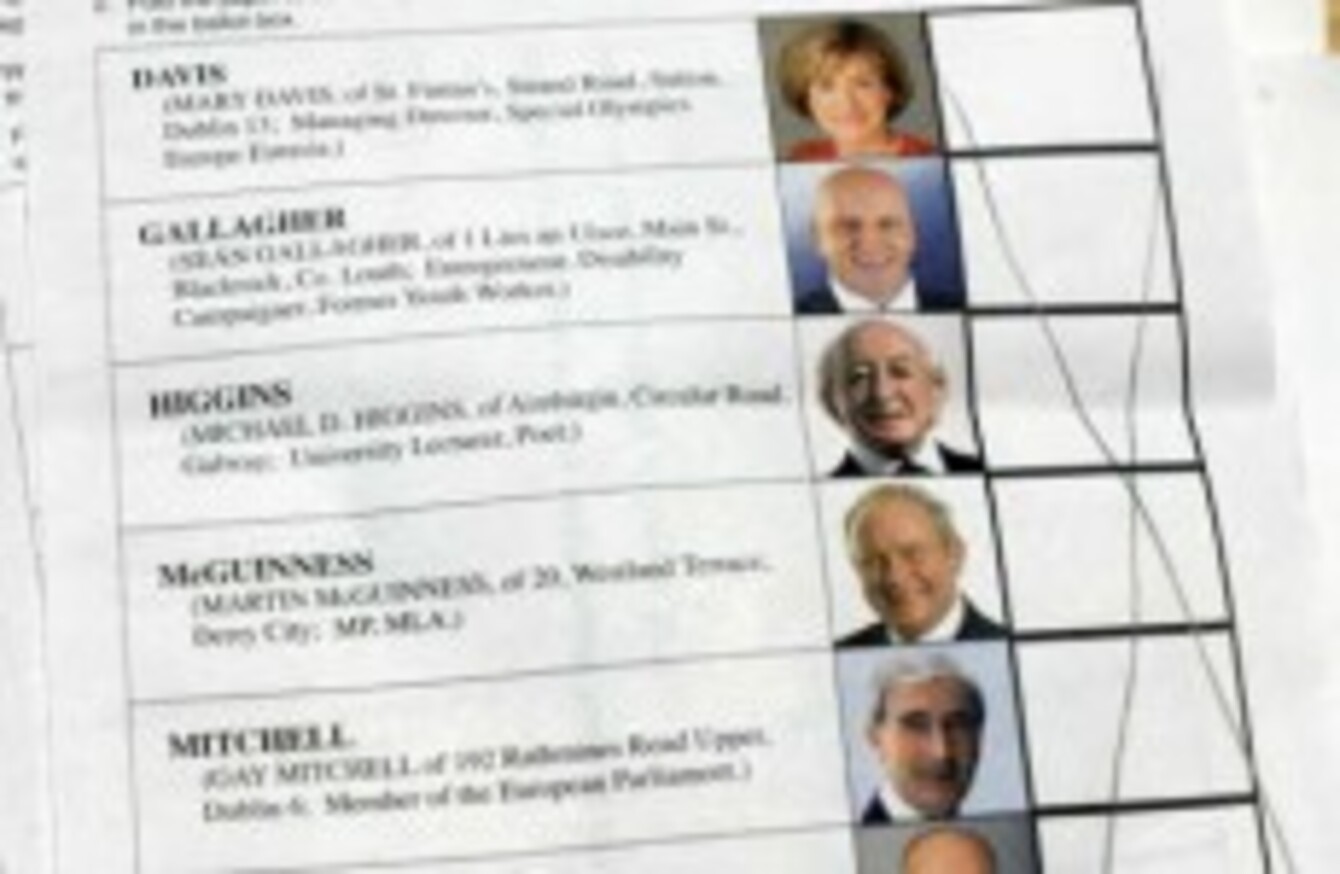 A spoiled ballot paper from the Presidential election - Liam Nolan argues that he would have liked the chance to have voted at all.
Image: Mark Stedman/Photocall Ireland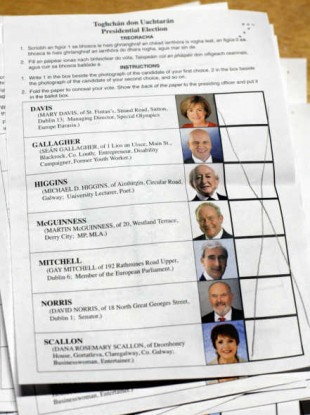 A spoiled ballot paper from the Presidential election - Liam Nolan argues that he would have liked the chance to have voted at all.
Image: Mark Stedman/Photocall Ireland
IT'S BEEN AN entertaining, if somewhat fractious Presidential campaign and I don't think that an experienced scriptwriter could have conjured up a list of candidates with such a varied set of colourful backgrounds. In other words, the electorate was spoilt for choice.
But as votes are counted around the country today, I can't but feel that I've missed out on not being able to decide who will be our next President.
I'm Irish and live in Warsaw with my wife Agnieszka who is Polish. We moved here in February although I was back home for a good portion of the summer to work on a television series. Even though I am registered on the electoral register back home, I, like thousands of other Irish citizens who reside outside of the state had no way of voting in yesterday's election. It irks me that I wasn't able to cast that all-important ballot paper in an age when many countries around the globe offer their citizens the possibility to vote at embassies.
Voting rights for Irish emigrants made a few headlines during the campaign but never stood a chance of becoming a key issue upon which the election would hinge. I enjoy living in the Polish capital but I'm still very tuned into what is happening in Ireland and I follow Irish politics as fervently as ever. I'm not an advocate of the 'if you don't pay for it, you can't vote for it' camp and for the record, I am obliged to pay my tax for 2011 to the Irish state. Emigrating does not mean that you have reneged upon your citizenship rights and it certainly doesn't make you any less Irish.
I thought Irish citizens abroad were not overly concerned with the political scene at home. I was wrong.
To be honest, when I lived in Ireland this issue never grabbed my attention during previous elections. And why would it? I thought that Irish citizens who had moved abroad were probably not overly concerned with the political scene back home. How wrong I was. Due to a sizeable rate of emigration amongst young people during the past three years and two major elections this year, there has been a huge surge of online activity on Irish ex-pat forums demanding that next time around, external citizens should be granted the right to cast their votes. From speaking with some members of the small Irish community here in Warsaw, we would love to have the opportunity to cast our votes.
At least the Greeks are with us on this one too. No, I don't mean financial bailouts. I'm referring to the fact that Ireland and Greece are the only countries in the EU that do not offer their external citizens a means of voting abroad. French, Polish, German, Italian, Spanish and practically every other citizen of the European Union can vote at their respective embassies around the world when it comes to election time. I had thought that we had inherited this antiquated system of suffrage from Britain, but that's not the case. Even our closest neighbours reserve the right to post their votes back home to Blighty for general elections.
Currently, Irish embassy staff and their spouses as well as members of the defence forces have the right to vote in national elections whilst on duty abroad so some kind of a voting system is already in place in our embassies.
Only three weeks ago Polish citizens living in Ireland were able to cast their votes for the Polish parliamentary election in voting centres in Dublin, Cork, Limerick and Galway. It's a very simple process that works efficiently. Polish citizens register their passport and national ID details on the Polish embassy's website and then turn up to vote on election day with their passports in hand. If the Polish government, whose European diaspora is sizeably larger than that of the Irish diaspora in Europe, is capable of organising a voting mechanism for its external citizens, then surely our government could arrange something similar for our ex-pats? The same could be done for the Irish in the United States, Canada, Australia and New Zealand.
Michael D Higgins proposed a possible solution during his campaign…
So should every Irish passport holder be entitled to vote? This is a tricky one because there are over three million Irish passport holders outside of Ireland and obviously not all of them have ever lived in, or contributed towards, the State. Many qualify for Irish citizenship by way of their grandparents' place of birth and unless they have ever lived in Ireland for a sustained period of time, they are unlikely to be that up to date with the slap and tickle of real Irish politik. Personally, I'm not in favour of every Irish passport holder in the world gaining access to vote in national elections.
A possible solution was voiced by Michael D Higgins during the campaign, who favoured that those Irish passport holders living abroad, who have been registered on the Irish electoral register during the past five to ten years, should retain their right to vote in Presidential elections. I feel that the time limit should be set at fifteen or twenty years after a citizen was last registered on the electoral register. If you're living abroad for
fifteen years or more, the chances are you're probably quite settled in your country of residence.
One of the President's key roles in office is to promote Ireland abroad and to strengthen links with the Irish diaspora around the world. It's only since I moved abroad that I have realised how important the diaspora is to Ireland. In Poland, there are only approximately five hundred Irish citizens so we're a drop in the ocean compared to the Irish in the UK, Australia and North America. But I think that every Irish ex-pat who has left Ireland in recent years should be offered the opportunity to vote rather than remain disenfranchised.
We'll soon know who our next head of state will be for the next seven years. If my wife and I are still living in Poland in 2018, I hope to be able to cast my vote at the Irish embassy here in Warsaw at the next presidential election.