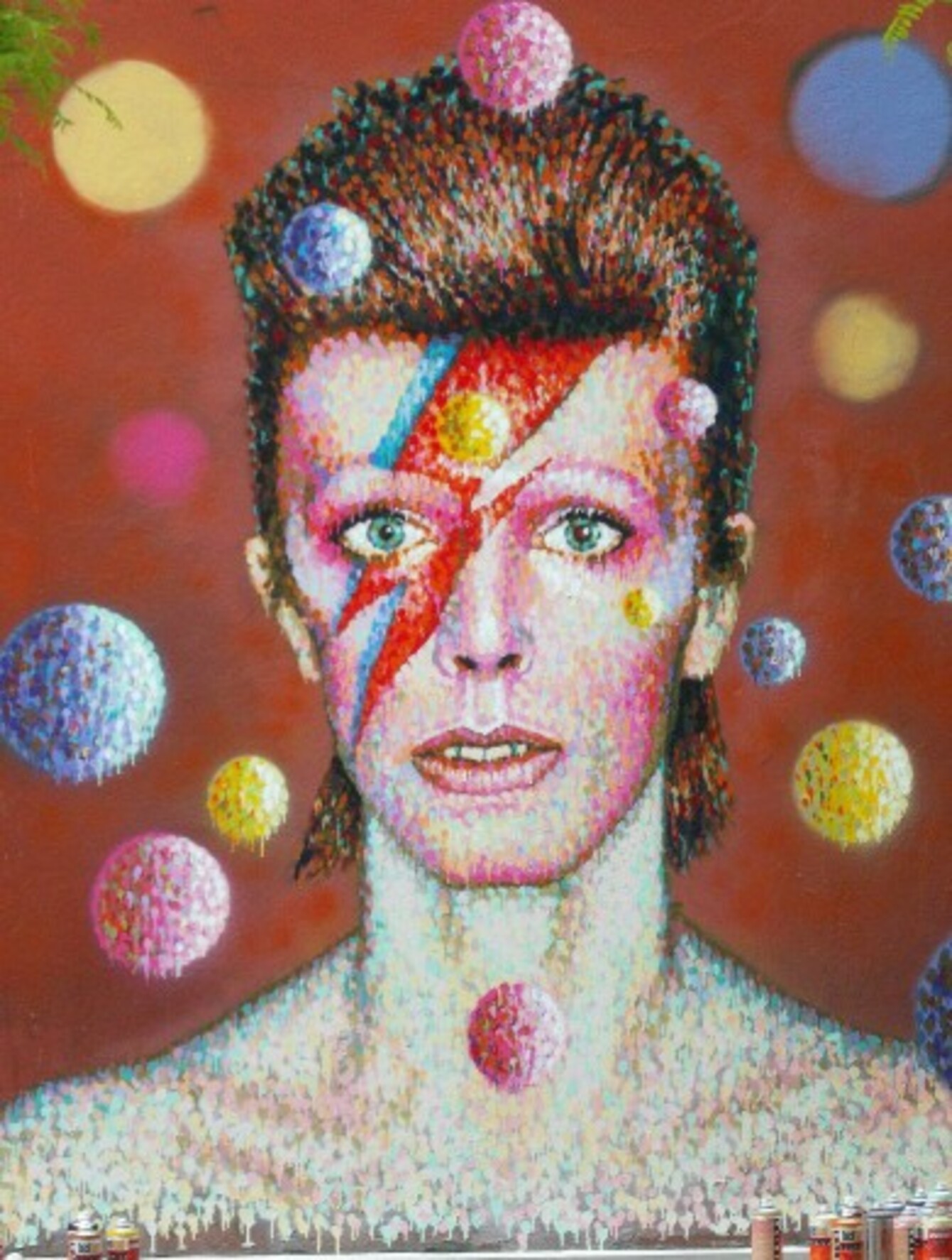 New mural painted by James Cochran aka Jimmy C showing the image of Bowie from the cover of his 1973 album Aladdin Sane painted in Brixton, London.
Image: Sophie Duval
New mural painted by James Cochran aka Jimmy C showing the image of Bowie from the cover of his 1973 album Aladdin Sane painted in Brixton, London.
Image: Sophie Duval
DURING THE EARLY hours of January 8th 2013 (the eve of David Bowie's 66th birthday) word began to circulate in cyberspace concerning a new David Bowie single as well as the promise of a new album. David Bowie fans awoke to a new song called 'Where Are We Now?' which was accompanied by a haunting, almost Beckett-like, video focused on his Berlin years and directed by Tony Oursler.
The release of the single and The Next Day album, just two months later, ended years of groundless speculation and rumour concerning Bowie's career and overall well-being. In old and new media settings, Bowie was retired, Bowie was ill, Bowie was a recluse who spent his days painting. Bowie was leaving New York.
The dominant media narrative which greeted the news that Bowie was recording again rehearsed many of these ill-founded and baseless rumours. In fact, Bowie had remained active as an artist following his recuperation from a significant health scare in 2004. He had clearly decided to work on his own terms and at his own pace.
In the supposed hiatus between 2004 and 2013, Bowie collaborated by performing or recording with a wide range of performers (including Alicia Keys, David Gilmour, TV On The Radio and Lou Reed). He performed live twice with Arcade Fire in 2005 (a band whom he had championed and continues to record with occasionally) and in 2007 he curated the prestigious Highline Festival in Manhattan. All of this, in addition to working as a music producer and as an occasional actor in films like The Prestige (2006), appearing in animation series such as Sponge Bob Square Pants (2007) as well as playing a variety of cameo roles.
Culture as lived experience 
Some three months before his 're-emergence', the University of Limerick in Ireland convened a major academic event on David Bowie. Strange Fascination? A Symposium on David Bowie was held over three days in late October 2012. The event featured papers, performances, artwork, screenings and a panel discussion on Bowie's legacy to date. Participants (academics, fans, academics who are fans, fans who are academics) travelled from across the world to discuss, dissect, debate and most importantly to celebrate the work of one of the most significant figures in contemporary popular culture.
There was a very high level of media interest in the event. Predictably, there was some bemusement or lack of understanding in certain media quarters as to the legitimacy of subjecting David Bowie to such earnest scrutiny in an academic setting.
To us however the reasons were very clear. As working academics interested in culture and cultural production (in all senses of the term) we do not see ourselves as being locked away Rapunzel-like in an ivory tower. Our task is to engage with culture and cultural production as a real and lived experience whether in the library, on the street, in the supermarket or in the moshpit.
A real icon
In our media-saturated world the word 'iconic' is an over-used and abused term. David Bowie is one of the few artists to whom the term is deservedly ascribed. In convening Strange Fascination? and in editing this book we seek to engage critically with one of the most enduring, intriguing and complex figures within popular culture and to add to the emerging academic debate which seeks to assess Bowie's significance as a song-writer; performer; recording artist; music producer; actor; film producer and painter.
Our purpose is to offer new perspectives on Bowie texts (taking 'text' in the broadest sense as some aspect of material culture having the ability to be 'read' – from song texts to costumes, videos to album art; characterisations in film to the man himself, and his other selves).
The title David Bowie: Critical Perspectives also makes it clear that this book is neither an exhaustive account of everything David Bowie has ever done, nor a compendium of every analysis, opinion piece, or interpretation undertaken of his life and artistic output thus far. Such a task is beyond the realm of this book, and far from claiming to be definitive; this volume – even though it features examples from each of the decades of Bowie's extensive career – is unapologetically quite the contrary.
The perspectives here are multiple but they are also specific, partial, varied, and sometimes even contradictory. All are driven to a greater or lesser degree with the deployment of theoretical scaffolding (some disciplinary specific, others cross – and multi-disciplinary) in order to critically explore ways to think, talk about, and analyse the extensive and always provocative artistic output of David Bowie in its social, historical, political, and cultural context.
Unsurprisingly, virtually all of the chapters make claims for rethinking Bowie in a broader historical, cultural, political and aesthetic context, and, we would say, with good reason. Has there ever been an artist as intellectually, musically and visually compelling, as David Bowie?
Martin J. Power, Aileen Dillane and Eoin Devereux, University of Limerick.
David Bowie: Critical Perspectives has just been published by Routledge (New York).