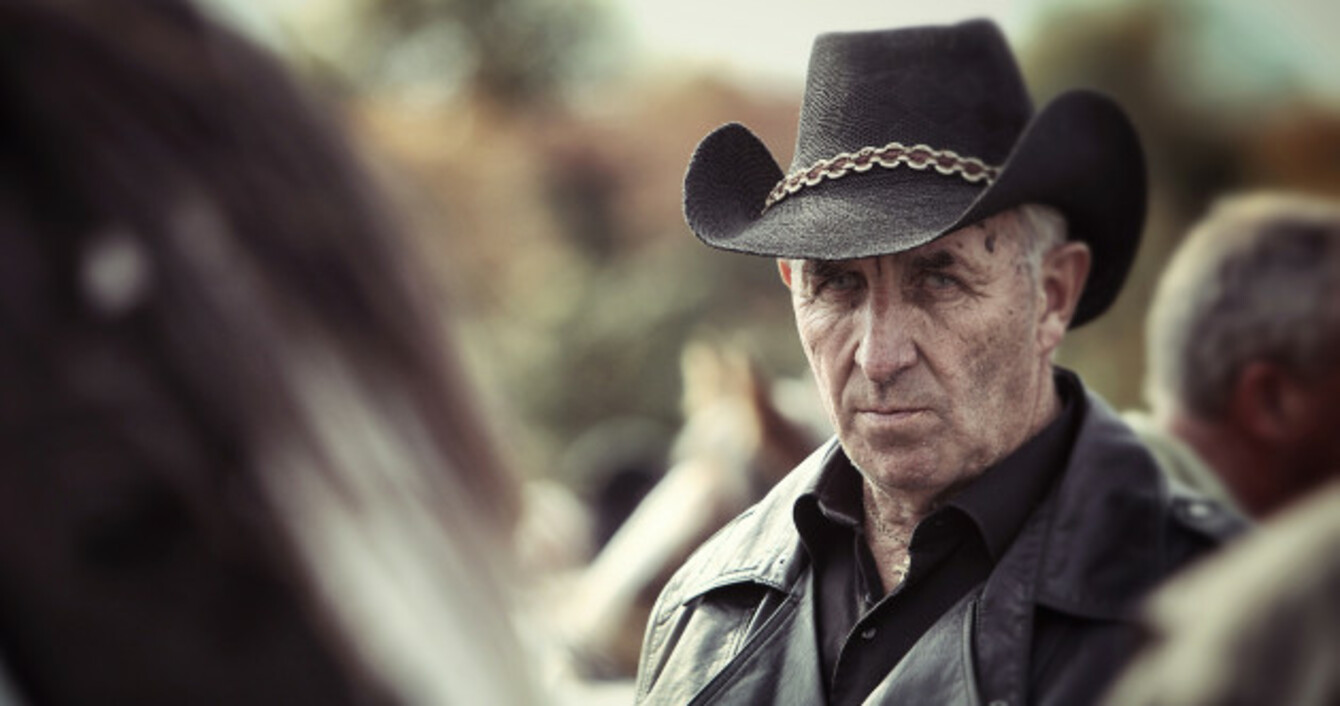 EACH WEEKEND, PHOTOGRAPHER and filmmaker Donal Moloney shares an image with TheJournal.ie audience which reflects a small piece of Ireland that resonates with us all.
As this year's Ballinasloe horse fair comes to an end this weekend, Donal reflects on a chance meeting at it which showed how Ireland has changed so much in recent decades – but how honesty and openness will outlast us all. 
Donal writes:
"TOMORROW MARKS THE final day of this years Ballinasloe's October festival. It's also Europe's oldest and biggest annual horse fair.
I've always loved photographing characters and Ballinasloe Horse Fair has them in spades. When I first uploaded pictures from Ballinasloe Horse Fair, one portrait leapt off the page. That hardy look of rawhide, barbed wire and piercing blue eyes was captivating.
I was disappointed that we hadn't connected and exchanged details. A chance email some weeks later from his son and I was headed for the Galway/Roscommon border and the town of Creggs.
A modest farmhouse in a small rural town is where Eddie lives, as did generations of his kin. The sacred heart still burns bright inside the front door, despite it's new purpose as a storage area. "Time changes everything," he says. "So many neighbours and friends have moved away. At one time it was 10 kids in a two roomed house, now it's two kids in a ten roomed house."
As my tour guide for the day we flash past dereliction of all descriptions. Hedgerows lined with corrugated iron roofs and crumbling walls of creeping ivy. The thatch long since removed. Mansions and two roomed cottages. The old main road into town now a forest trail.
"This world is not my home, I'm just passing through," he continues. "I went to Coventry in the late 60's because the money was good," returning twelve years later to his farm, his horsey clan and a job with the local council. "It was many a night we would gather in these houses and play cards well into the early hours. All great neighbours and sure we get on the finest."
Later that day, the yard buzzes into life with the arrival of his daughter and grandchildren. "How's my little girleen," Eddie smiles, his towering frame swooping down to lift up his granddaughter. "My grandchildren are everything," he says, sadly having lost his wife Theresa some twenty years ago. "Up the mountain," he chants, the swagger of his days expressed in his love of his horses and good old country music. There is no substitute for honesty or genuine openness. Eddie has both in abundance and I'll be back for more.
More recently I spent some time with Eddie and made this short documentary https://vimeo.com/245997466"
Check out more of Donal's work on Facebook here