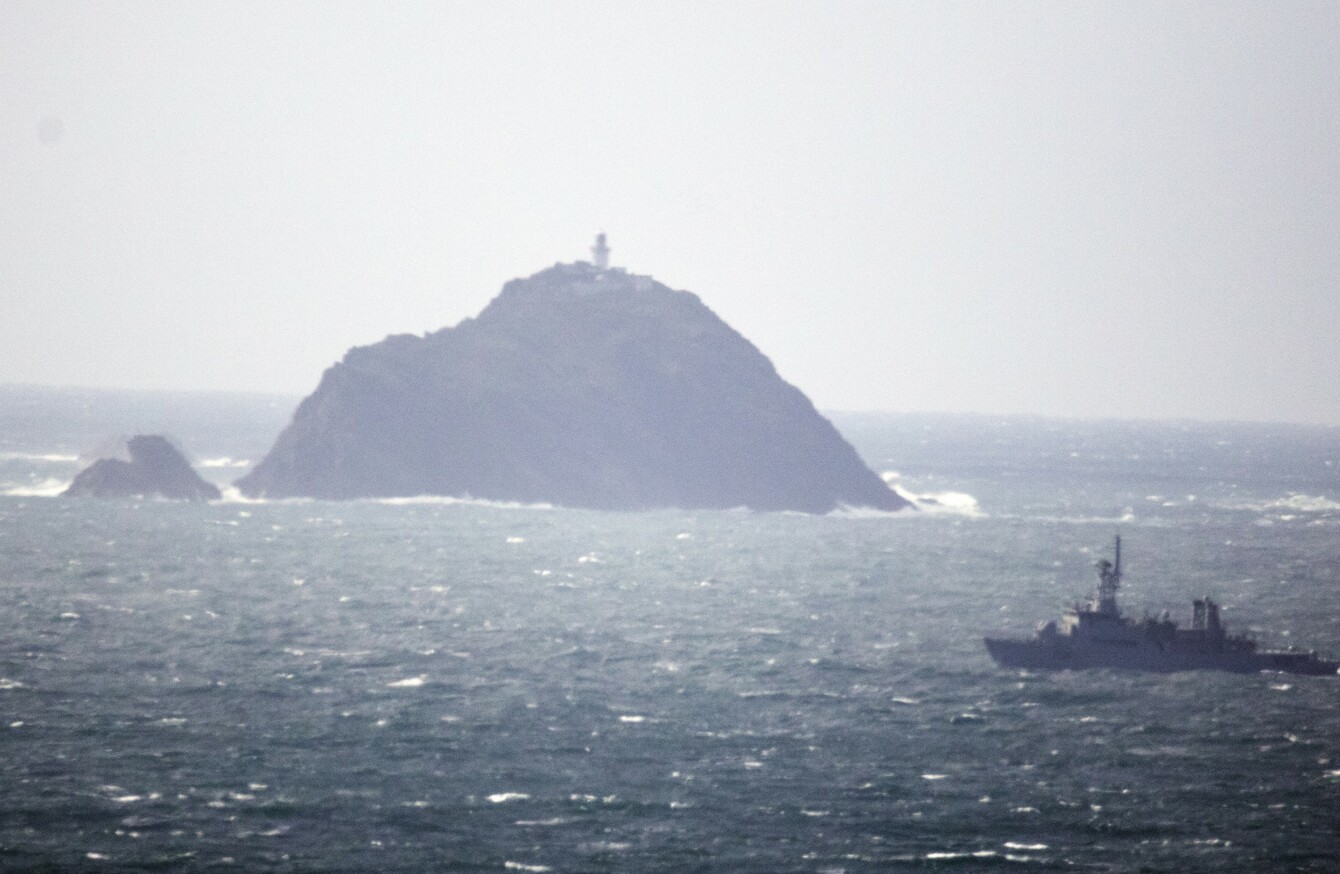 Emergency services taking part in search for Rescue 116 crew members.
Image: Eamonn Farrell
Emergency services taking part in search for Rescue 116 crew members.
Image: Eamonn Farrell
RESCUE TEAMS INVOLVED in the search for missing crew members of Rescue 116 are said to be "disgusted" at the operators of the M7 toll after being charged for their two vehicles and boats on the way back from the search effort yesterday.
A massive rescue operation took place off the northeast coast over the weekend for missing crew members Paul Ormsby and Ciarán Smith.
Rescue 116 crashed three weeks ago while preparing to refuel at Blacksod, County Mayo.
Captain Dara Fitzpatrick was recovered at sea soon after the helicopter went down, but died later in hospital. The body of pilot Captain Mark Duffy was found in the wreckage of the helicopter last week.
Carrick River Rescue claimed on Facebook that they were making their way back from the search in Blacksod and had to travel through the Midlink M7/M8 toll.
Free passage denied 
It's understood the toll worker in the booth called management to ask if the rescue workers were allowed free passage without paying. It's claimed this was refused.
However, the rescue workers thanked the Limerick toll operators for not charging them on their way to the rescue mission.
In a statement to TheJournal.ie, a MidLink spokesperson said "a toll was correctly applied in this instance for the Carrick River Rescue vehicles that used the M7/M8 PPP motorway at the weekend".
He said there is a "strict interpretation" of the Bye-laws.
MidLink M7M8 Ltd collects a toll for passage along the M7/M8 PPP tolled motorway for our Client, Celtic Roads Group (Portlaoise), under Bye-Laws enacted by Transport Infrastructure Ireland (formerly the National Roads Authority).
These Bye-Laws specifically set out the classes of vehicles that are exempt from tolls.  Vehicles exempted from paying tolls are limited, but for instance, include emergency vehicles from the fire brigade, An Garda Siochana, Defence Forces, ambulances and vehicles specially modified for disabled drivers.
Operators do not have individual discretion.
Excellent work
The statement went on to say that MidLink and Celtic Roads Group "recognise the excellent work that is being done on an ongoing basis by groups such as the Carrick-on-Suir River Rescue in difficult situations, including in this instance, the search for the remaining Rescue 116 crew members".
"We also acknowledge the ongoing distress for the Smith and Ormsby families."
Our company's management will make contact with the Carrick-on-Suir River Rescue directly later today to discuss the matter and we will also be making a donation to Carrick River Rescue in recognition of the service they provide.
In a letter to the toll operators, seen by TheJournal.ie, Fianna Fáil Senator Keith Swanick called for the company to "publicly and without delay express an apology to the Carrick-on Suir River Rescue members".
Swanick, who took part in the search this weekend, also called for the volunteer workers to be given a refund – although, he pointed out, it is "not about the money, it is about the principle".
"The members of Carrick-on-Suir River Rescue were charged tolls for two rescue boats and two vehicles on their return from Blacksod, after spending the weekend searching for coastline of Mayo.
"Over the weekend I saw at first hand their brave work in the vicinity of Blackrock Island off the coast of Blacksod in Mayo. Their vehicles are clearly marked as emergency services and to add insult to injury, they were given free passage through a separate toll operator via a different route on their way to Mayo," wrote the senator.
Volunteer workers 
He highlighted that over a thousand volunteers "from every corner of Ireland" were involved in a major sea, air and coastline search for the missing crew members.
"People have driven hundreds of miles to drop off parcels of food, make small donations of their time and money, to help support the search efforts," added Swanick.
Ciarán Smith and Paul Ormsby have not been found and approximately 120 private fishing vessels, countless Coast Guard, RNLI, River Rescue and Civil Defence vessels were involved. 99% of the people involved are volunteers, supported by An Garda Síochána and all the other full-time emergency services.
Swanick said the incident of being refused free passage is "quite frankly an insult to their dedication, bravery and selfless work".
He also called on the toll operators to carry out an immediate revision of their policy.
Weekend search efforts
The Air Accident Investigation Unit, An Garda Síochána and the Coast Guard have expressed their sincere appreciation to the Commissioners of Irish Lights (CIL) and Marine Institute who were supported by GSI (Geological Survey Office), for the extensive search conducted in the vicinity of Black Rock lighthouse following the tragic loss of Coast Guard helicopter Rescue 116 on 14 March.
The search operation conducted by the Marine Institute's Holland 1 ROV concluded this afternoon when the Granuaile departed Blacksod Bay.
Superintendent Tony Healy confirmed that the Garda Water Unit would conduct diving searches in the vicinity of Blackrock Light as soon as wind and tidal conditions are considered suitable.
He also confirmed that he had requested Coast Guard and Civil Defence volunteers to continue with targeted searches of coastal areas and monitoring of specific areas of interest.
All mariners are reminded to keep a lookout for any material associated with Rescue 116 and to report any findings to Malin Head Coast Guard Coordination Centre.
They also reiterated their sympathy to the families of Dara Fitzpatrick, Mark Duffy, Paul Ormsby and Ciaran Smith and expressed the hope that with the extensive monitoring both at sea and on shore that the remains of Paul and Ciaran would be found.