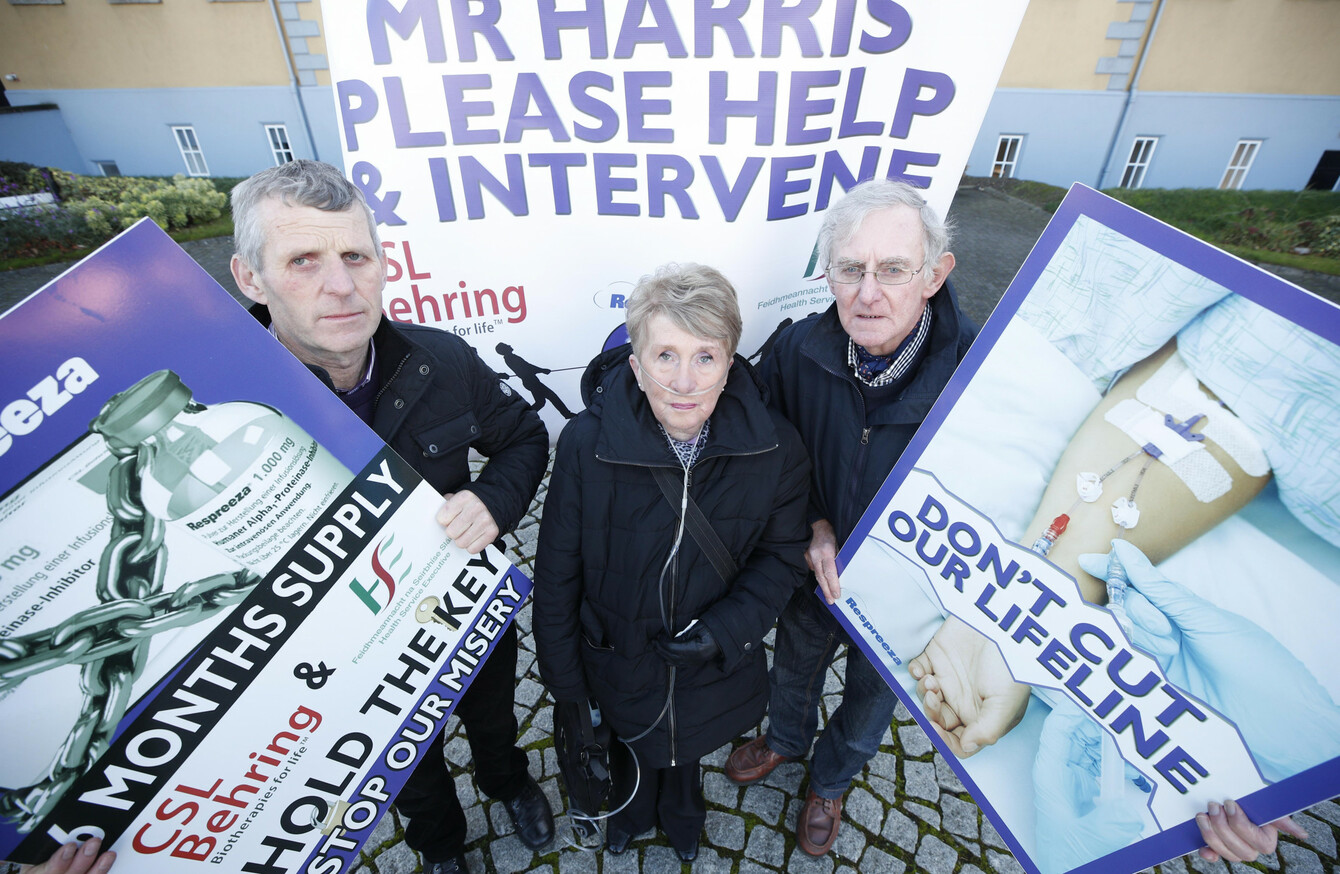 James Coffey, Josephine McGuirk, and Johnny Hannon at a vigil at HSE HQ on Respreeza.
Image: Conor McCabe Photography Ltd
James Coffey, Josephine McGuirk, and Johnny Hannon at a vigil at HSE HQ on Respreeza.
Image: Conor McCabe Photography Ltd
IN RECENT WEEKS and months, sufferers of chronic lung condition Alpha One have been getting one piece of bad news after another.
In August, the HSE said it did not find enough clinical benefit for a drug that slows the progression of the disease.
Despite CSL Behring, the company that makes it, saying it would continue to make the drug available on "compassionate grounds" after patients had accessed it on a clinical trial, it wouldn't cover the cost of administering it.
That meant that patients who had previously been receiving Respreeza now could not receive it.
In the past week, one of the patients who'd recently stopped being on the drug died. There is no indication, however, if the death of this individual is directly linked to the suspension of taking the drug.
For the small group of campaigners seeking access to the vaccine, however, this news came as the latest blow.
Crunch talks
Ahead of a meeting where the HSE was to sit down with CSL Behring, the Alpha One Patient Action Group held a vigil outside the HSE headquarters to call for an agreement to be reached.
Simply put, the HSE is not willing to pay for the drug for the price that CSL Behring are charging.
When it comes to rare diseases like Alpha One, the medicines are usually very costly and their price often exceeds the criteria set out by the National Centre for Pharmacoecomics (NPCE) which makes recommendations to the HSE.
Ahead of the meeting Alpha One CEO Geraldine Kelly pleaded with Minister for Health Simon Harris to intervene if a deal could not be reached.
She said: "This is a dreadful situation which has the potential to impact seriously on patients' health and well-being, not to mention the huge stress and anxiety being caused to them and to their families.
It is critical that a way is found at this meeting to ensure that patients can access this life-saving therapy, which is currently being held in storage. If agreement cannot today be reached between both parties, we are pleading with the Minister for Health to act as an honest broker and intervene before the health of even one patient begins to seriously deteriorate.
It is understood that no deal was reached at last week's talks, leaving Alpha One patients still without a way to access the treatment.
Last week, Minister Harris said that a new committee is being set up to decide whether or not medicines for extremely rare diseases get approved by the HSE.
Recent examples of medicines that faced lengthy waits to get approved include cystic fibrosis drug Orkambi.
Orkambi was eventually made available to patients, and Alpha One sufferers are hoping for a similarly positive outcome.
Speaking in the Dáil last week, Minister Harris acknowledged that the suspension of the access scheme recently was a "terrible blow to patients".
"Obviously a life means nothing"
Speaking to Patricia Messenger on C103's Cork Today show yesterday, Alpha One patient John Hannon said that he sent a message to the HSE to inform them of the woman's death.
He said: "While I got their condolences, they said 'look it doesn't change anything'. They still see the drug as not cost-effective.
Obviously a life means nothing to these people.
In a statement to TheJournal.ie, the HSE said: "The death of a patient at any time is deeply regretted and we wish to be respectful of the bereaved family at this time."
It added that it had no involvement in the compassionate access scheme but called on the company to continue to provide it to patients.
Hannon, himself, said that despite no longer receiving the medication, he is trying to stay positive.
"It's three weeks since I've had an infusion," he said. "I have to keep going. I've had my flu injection.
The highest risk is contracting pneumonia. That could result in going to hospital and the possibility you might not come through it.