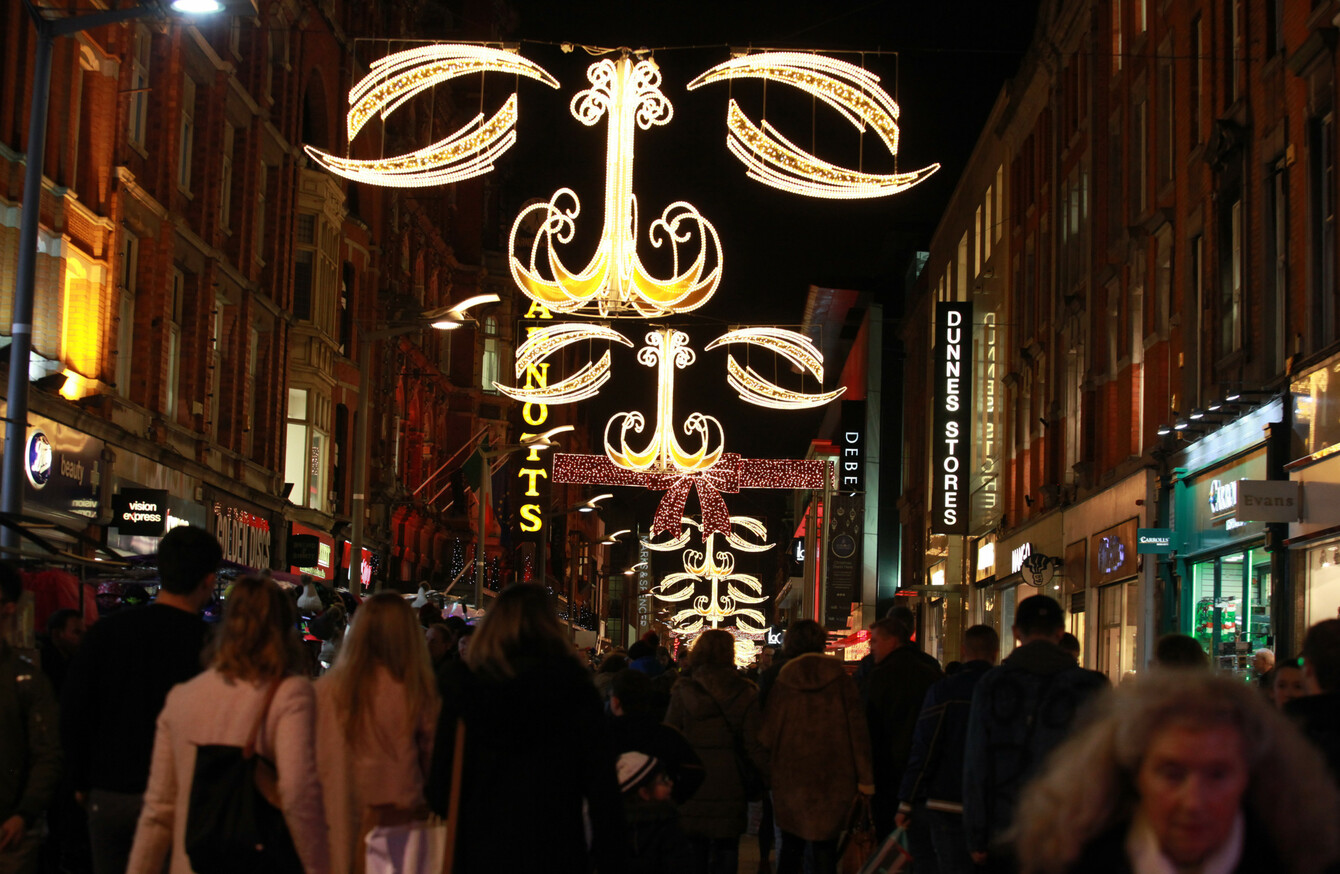 Image: Leah Farrell/Rollingnews.ie
Image: Leah Farrell/Rollingnews.ie
BUSINESS GROUP RETAIL Ireland has said it expects Irish households to spend an average of €2,654 in shops this month, €870 more than any other month this year.
As a whole, it expects us to spend around €4.5 billion over the Christmas period, which is up from €4.4 billion in 2016.
However, retailers fear that they may lose out due to the number of people shopping online with non-Irish websites and crossing the border to Northern Ireland to do their shopping.
For supermarkets and department stores, it expects the week beginning 18 December to be a "make or break" week, with Christmas Day falling on a Monday.
With shopping days such as Black Friday and Cyber Monday, Retail Ireland said there is an overall trend towards lower prices, with consumer goods prices falling 2.2% in the first ten months of the year.
Gross disposable income is also up, around 5.4% in the first half of the year.
Statistics from the Central Bank, meanwhile, said that total e-commerce spend is likely to exceed €16 billion by the end of the year, which would be close to a 50% increase since 2015.
Retail Ireland director Thomas Burke said: "Now that the uncertain political environment of recent days has passed, retailers are looking forward to the approaching Christmas period with renewed optimism. Rising disposable incomes, more people at work, and falling prices will raise consumer spirits and enable greater spending power over the busy Christmas period.
The growing migration by Irish consumers online over recent months is creating a challenge for Irish retailers. Local traders have to date been unable to stem the flow of close to 75% of online consumer spending that currently leaves these shores.
Irish retailers are reacting however, and the online consumer offer is stronger than at any point in times past. Irish retailers also continue to focus on getting their instore activity right in these crucial trading weeks and will be seeking to capitalise upon an increasing willingness on the part of consumers to spend their greater levels of disposable income.
The cross-border shopping fears, from Irish retailer's perspective, come on the back of new data from AA Ireland which says that one in ten people are planning a Christmas shopping trip in Northern Ireland.
Its director of consumer affairs Conor Faughnan said: "While the euro is still performing strongly against the Pound Sterling, the immediate aftermath of Brexit may have encouraged more people to make the journey last year despite the transport costs involved in doing so often negating any savings you may make."