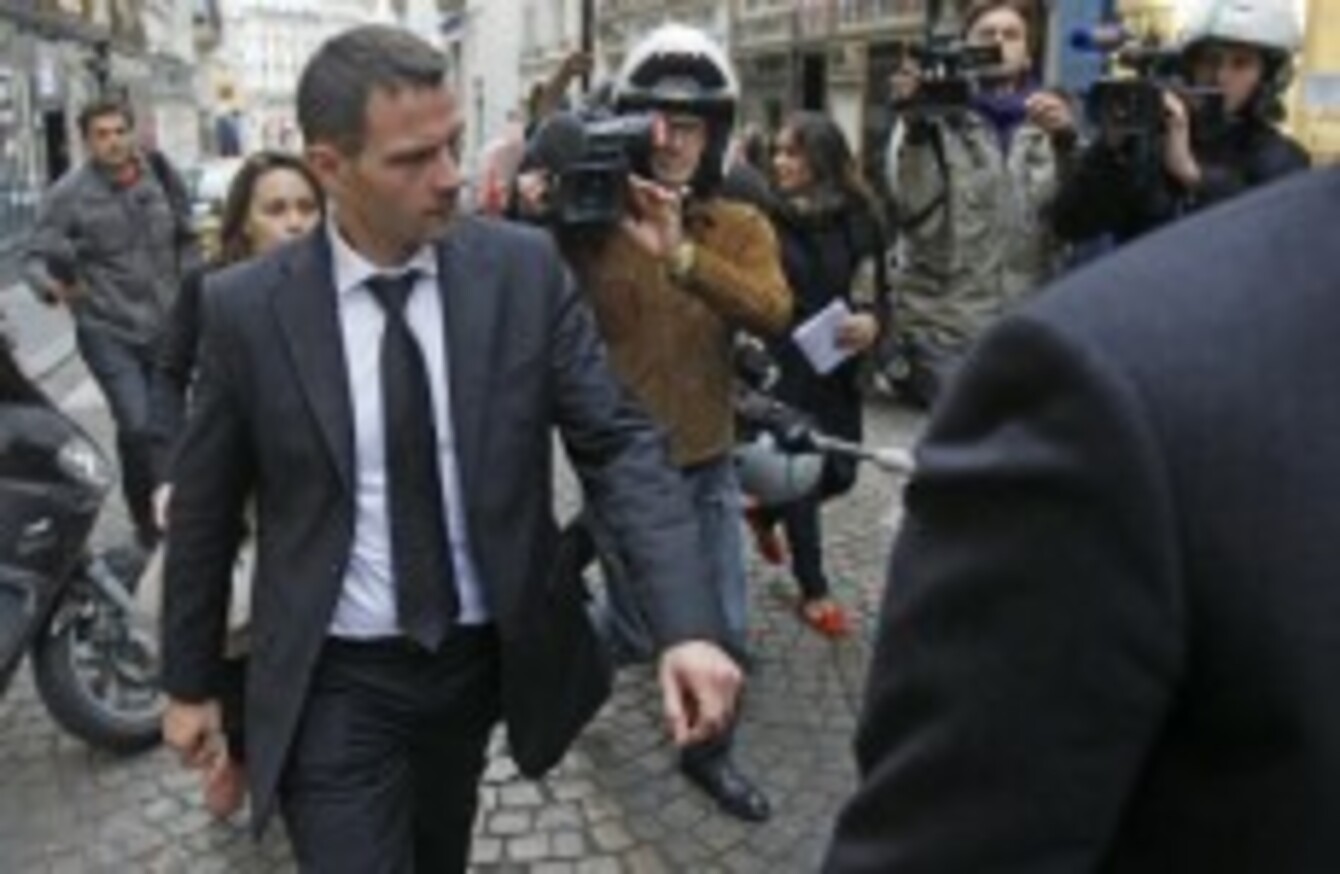 Former trader Jerome Kerviel leaves his lawyer's office in Paris.
Image: AP Photo/Remy de la Mauviniere
Former trader Jerome Kerviel leaves his lawyer's office in Paris.
Image: AP Photo/Remy de la Mauviniere
JEROME KERVIEL, THE  former Societe Generale SA employee convicted for unauthorised transactions leading to one of the biggest trading losses in history, faces prison after a French court rejected his appeal.
The Cour de Cassation, France's highest appeals court, today rebuffed Kerviel's efforts to overturn a 2012 verdict that found him guilty of abusing the bank's trust, faking documents and entering false data into computers that resulted in a €4.9 billion loss.
The court, however, accepted Kerviel's civil appeal that had sought to contest the bank's charge that he was solely responsible for the loss, handing the former trader a partial victory. Details of the loss will be re-examined by a court in Versailles.
"We will continue to fight to show that the so-called Kerviel case was in fact the Societe Generale case," David Koubbi, Kerviel's lawyer said.
Kerviel is in Italy after he undertook a 1,400 km walk from Rome to Paris following a brief meeting with Pope Francis on 19 Februay
"He's not on the run; he will be at the disposal of justice," Koubbi, said in an interview last week.
Kerviel's 2008 loss exceeded the corporate-and- investment- banking profit over the six years through 2013 at Societe Generale, France's second-largest bank. Kerviel was called a "terrorist" by then-Chief Executive Officer Daniel Bouton.
Blind Eye
The Cour de Cassation considers legal issues involved in an initial appeal verdict.
Kerviel has argued at every trial that Societe Generale stealthily sold subprime mortgage investments as it liquidated his positions. While he admitted to exceeding trading limits, faking documents and entering false data into computers, Kerviel says his superiors turned a blind eye as long as his transactions made money.
Jerome Kerviel lost his appeal against a three-year jail term. (Pic: Patrice Pierrot/Newzule/PA Images)
Judges didn't accept Kerviel's version of the events in both a 2010 trial and a 2012 appeal.
Kerviel's defence team has argued with the Cour de Cassation that prosecutors never did a detailed study of how Societe Generale sold off the positions.
Societe Generale has always dismissed claims that it hid other losses while unwinding Kerviel's bets.
Pope's Message
Kerviel left his job at a computer consulting firm in 2010 to focus on his appeal. The French courts have ordered him to pay back the €4.9 billion, although Societe Generale has indicated it's realistic about the chance of Kerviel repaying the money.
In an interview last week, Kerviel said his trek from Rome was aimed neither at getting publicity and sympathy nor at keeping himself out of jail.
His walk is a personal journey aimed at bringing the message of Pope Francis's November attack of the "tyranny" of financial markets. The Pope has criticized capitalism for its "idolatry of money."
Kerviel, a native of Brittany who rose through the ranks to Societe Generale's trading floor without having attended any of France's elite schools, became something of a cult hero in the country in the aftermath of the 2008 loss.
There was a comic book, fan clubs and t-shirts supporting his cause. A poll taken after news of the loss broke showed 77 per cent of French respondents saw him as a "victim."