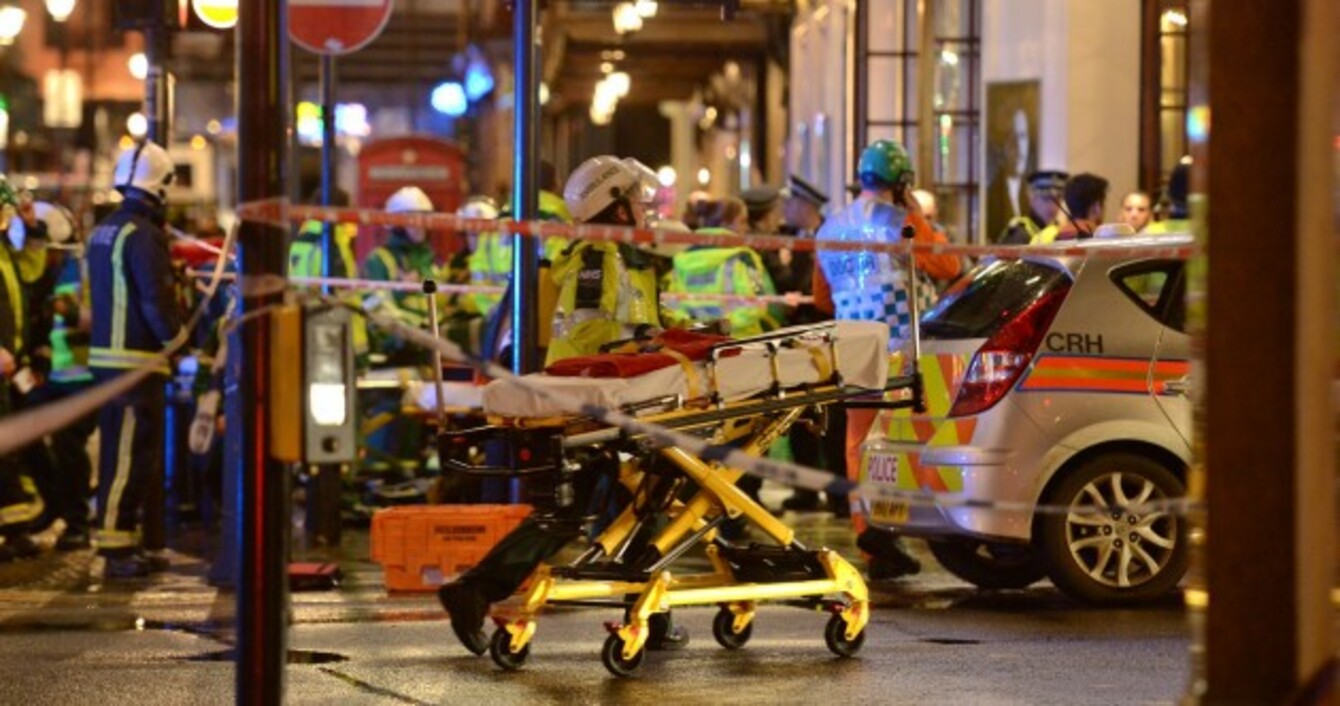 Emergency services at the scene at the Apollo Theatre
Image: Dominic Lipinski/PA Wire via Sky News
Emergency services at the scene at the Apollo Theatre
Image: Dominic Lipinski/PA Wire via Sky News
Updated 23.54
PART OF THE roof at a theatre in central London has collapsed during a performance, injuring 88 people, of whom seven are seriously hurt.
Around 700 people were in the Apollo Theatre on Shaftesbury Avenue for a performance of the play The Curious Incident of the Dog in the Night-time when the ceiling caved in on the audience just after 8pm.
Witnesses heard creaking noises in the 112-year-old theatre before the collapse but thought it was part of the show, before a section of the ceiling collapsed and brought down parts of the balconies.
(@LondonFire/Twitter)
The London Ambulance Service said it had treated 81 people who were 'walking wounded', many of whom were seen at a nearby theatre which became a makeshift triage area.
A spokesperson for the ambulance service said the seven people who were seriously injured have been taken to central London hospitals.
The London Metropolitan Police said they were "not aware of any fatalities at this early stage".
(Dominic Lipinski/PA Wire)
A number of people were trapped by debris but all have been freed, a  London Fire Service spokesperson from the scene said.
"When I arrived it was dark and extremely dusty – people were lying on the floor of the theatre," said Maria Smith, the incident commander for London Ambulance Service.
"We very quickly set up a casualty area in the foyer of the theatre – the walking wounded were assessed and treated there".
Chief Suprintendent Paul Rickett, who is in charge of policing in the area, said that the cause of the incident is being investigated.
"All emergency services responded to this incident using tried and tested systems," he said. "That response has been swift and effective".
"There is no suggestion at this stage that this was as a result of a criminal act. However at this stage we are keeping an open mind".
Emergency services, including 25 ambulance crew and an air ambulance team, as well as police and fire service crew, were called to the theatre in London's West End at approximately 8.10pm.
One person who was attending the play said it was "absolutely petrifying". Jess Bowie tweeted that people outside the theatre were "covered in dust and some in blood".
(Dominic Lipinski/PA Wire)
One theatre-goer said he suffered a head injury after he has hit by falling debris.
"It was complete chaos in the theatre. Absolutely terrifying and awful," Martin Bostock told Sky News.
"At first we thought it was part of the show. Then I got hit on the head. We got out with cuts and bruises. I think most people did."
(Dominic Lipinski/PA Wire)
Desmond Thomas, 18, part of a school party watching the show, said they heard noises before the accident.
"Maybe 10 minutes into the performance we heard a tap-tap noise, we thought it was rain," he said.
"There was a crack and then it suddenly seemed to get bigger and suddenly it collapsed. The next thing we knew the whole theatre filled with dust and smoke."
(Dominic Lipinski/PA Wire)
In a statement, London Ambulance Service said it had sent a large number of staff to the scene.
"We have been working closely with the other emergency services to treat the injured," the statement says.
"We have now treated 88 patients, of whom 81 had suffered minor injuries and were walking wounded".
"Seven patients with more serious injuries have also been treated and taken to hospital".
(Dominic Lipinski/PA Wire)
- Additional reporting by AFP