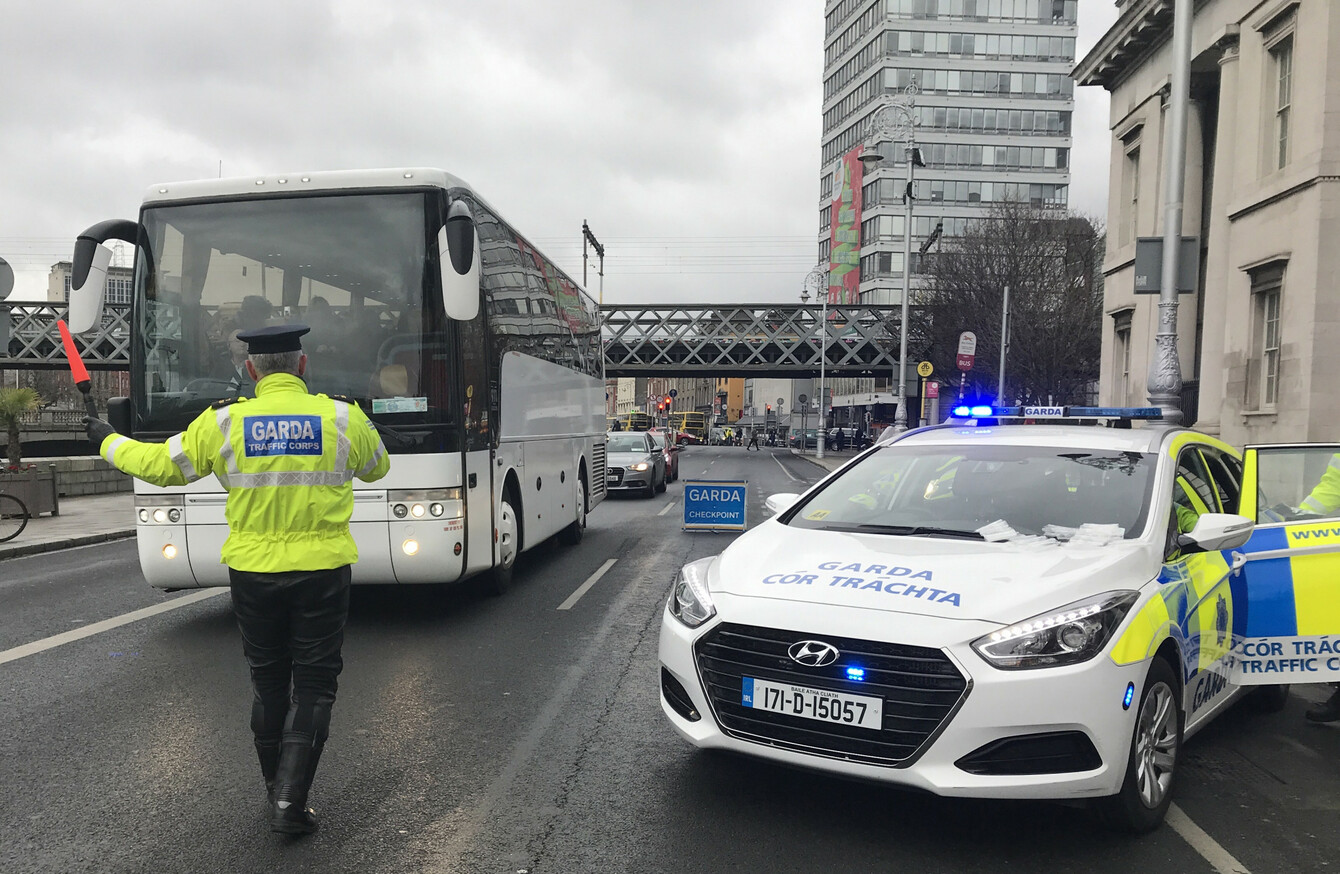 File photo
Image: Eamonn Farrell/Rollingnews.ie
File photo
Image: Eamonn Farrell/Rollingnews.ie
PEOPLE WHO COMMITTED driving offences were able to avoid a conviction and penalty points on their licence in the District Court by putting money in a poor box, despite a High Court ruling that said this circumvented the law.
In a report by RTÉ Investigates, it also found a massive discrepancy in the conviction rates for driving offences across the country, with people more likely to be convicted of a crime in some counties more than others.
Sinn Féin justice spokesperson Donnchadh Ó Laoghaire said he was "shocked and appalled to see the level of difference in sentencing by judges".
Court Service figures showed that Kerry's poor box paid out nearly €400,000 in 2016, which is a quarter of the overall total, while Mayo paid out just under €10,000.
This is despite a 2014 High Court ruling that said "the District Court enjoys no jurisdiction to impose an informal sanction such as accepting a donation to the poor box, as this would amount to an indirect circumvention of the law".
In 2015, there were 843 cases dealt with by the poor box, and a further 258 in 2016.
Convictions
The RTÉ Investigates team sat through 100 court sittings across 24 District Court areas, where an average of 65 defendants were due to appear in court.
It provided this handy tool for you to check the statistics on every district in the country.
Figures provided by the gardaí show that 43% of all summonses for crime were not served in 2015, although this improved to 27% last year. So, in other words, over one in four people didn't turn up to court when standing accused of a crime in 2016.
There was also a massive discrepancy in terms of successful drink driving convictions, depending on where you live, according to figures released to Independent TD Tommy Broughan.
In Westmeath, 85% of cases resulted in a successful drink driving conviction. This was 82% in Longford and 80% in Kildare.
On the other side of the coin, however, this figure was just 45% in Leitrim and 43% in Kilkenny.
And, in Waterford, just 34% of drink driving cases before the courts led to a conviction.
Last year, of the nearly 5,000 drink driving offences before the District Court, convictions were only recorded in 58% of cases.
When you take into account the 972 cases where the summons was not served, this conviction rate where intoxication was measured scientifically falls to 48%.
Sinn Féin's Ó Laoghaire said: "This isn't just about loopholes, and dry legal matters – this is about people getting off for drink driving and dangerous driving, putting lives at risk – the Minister for Transport, for Justice, and the gardaí need to step up to the plate."
Jail time
The report also provided a breakdown of the sentences given out to offenders and, like the driving offences, there was a massive disparity across the country.
Using the example of assault cases, 10% of all cases in Kildare were struck out or dismissed. This figure was 64% in Meath.
In Cork, for areas such as Bandon, Bantry and Skibbereen, 6% of orders in dangerous driving cases were for strike out or dismissal. In the Leitrim/Sligo/South Donegal district, however, this figure was 51%.
In Cork city, 15% of all orders in dangerous driving cases were to jail the offender. In Kerry, however, none of the 115 court orders were for imprisonment.
For cases of theft, 37% of cases in Louth resulted in the offender being ordered to face jail time. In Waterford city, this figure was just 6%, and 9% in Dublin.
According to CSO figures, over 300,000 crimes were committed by people on bail in the 13 years to 2016, which works out at an average of 2,000 a month.