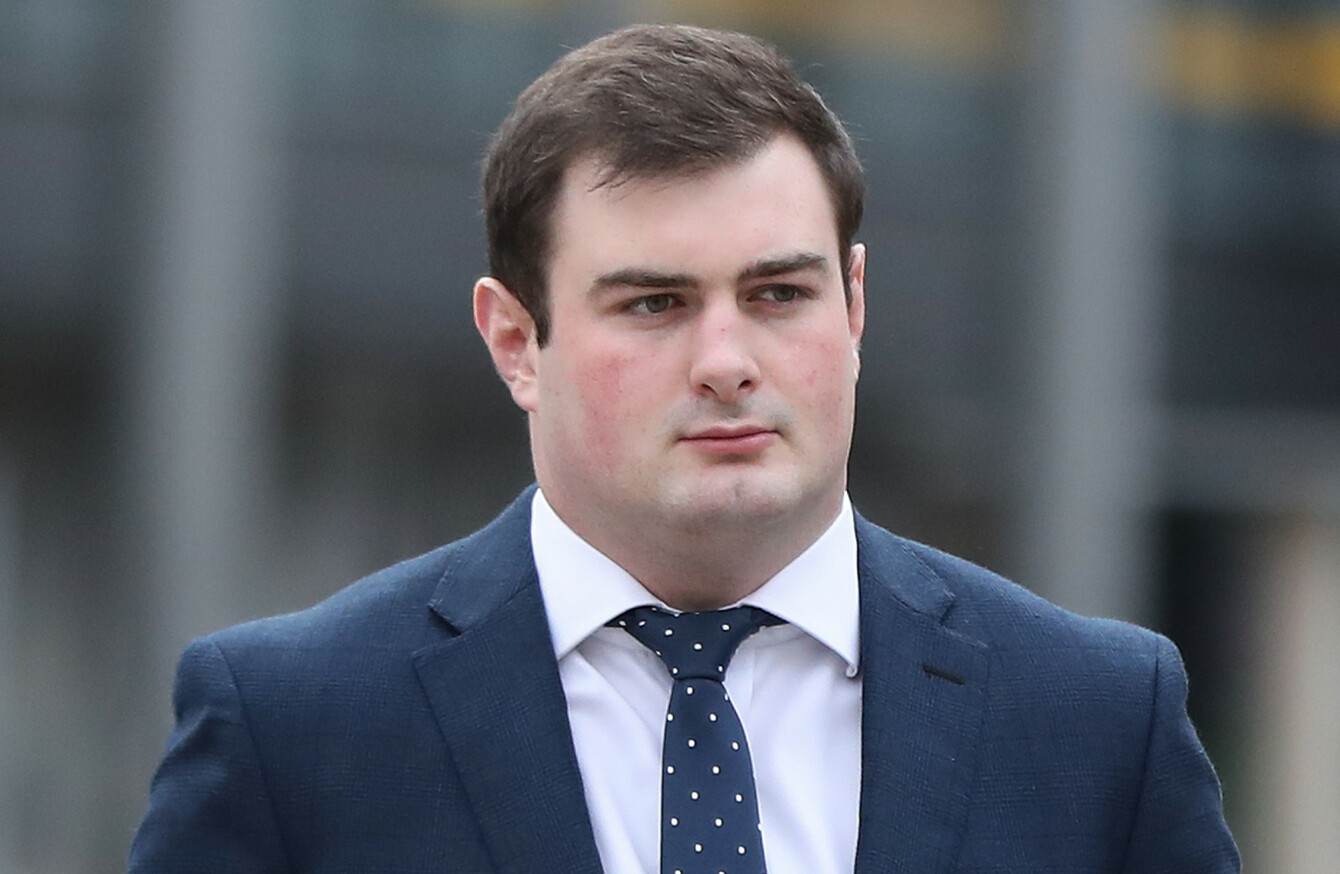 File photo of Rory Harrison arriving at Belfast Crown Court.
Image: Niall Carson/PA Wire
File photo of Rory Harrison arriving at Belfast Crown Court.
Image: Niall Carson/PA Wire
A BARRISTER REPRESENTING a man accused of covering up a rape allegation against his childhood friend Paddy Jackson told a jury today his client is "not a weasel" but a "decent guy" who should never have been prosecuted.
Rory Harrison, from Manse Road, has been charged with perverting the course of justice and withholding information, and is standing trial alongside Jackson and two other men at Belfast Crown Court.
Now in its eighth week, Harrison's barrister's address to the jury earlier today marked the final stage of the trial ahead of Judge Patricia Smyth's charge, which is due to commence tomorrow.
Gavan Duffy QC, representing Harrison, urged the eight men and three women of the jury to acquit the 25-year old, suggesting some of the Crown witnesses called to give evidence have actually supporting the defendant's version of events.
Claiming the Crown had failed to provide evidence which could secure a conviction against Harrison, Duffy asked the jury to consider his client's good character.
Branding the woman's claims she was raped by 26-year old Jackson and Stuart Olding (24) as a "false allegation", Duffy rejected the Crown's case that Harrison was part of cover-up.
The barrister said:
"Rory Harrison is not a weasel, Rory Harrison is not a criminal. Rory Harrison is a decent man and Rory Harrison should not be here, but he is.
In the fourth and final address to the jury on behalf of the defence, Duffy asked the jury to set aside sympathy and prejudice, and to concentrate on the evidence, saying "this is a court of law, not a court of moralilty".
Initially treated as witness
The jury has already heard that Harrison – who took the complainant home in a taxi in the early hours of Tuesday 28 June, 2016 following an afterparty in Jackson's house – was initially treated as a witness in the case.
Two days after the alleged incident, and on the day of Harrison's 24th birthday, officers arrived at his home and took a statement from him about events in Jackson's.
As the police investigation progressed, Harrison was asked to attend Musgrave Park on 4 October, 2016 – where he was arrested.
Telling the jury Harrison has "consistently denied" the two charges levelled against him, Duffy said that both during police interviews and whilst giving evidence in the trial, his client answered all questions in "an honest, straightforward and candid manner".
Like his fellow defence barrister involved in the trial, Duffy was critical of the police investigation.
Accusing police of "bending over backwards" to ensure the complainant "got her story right", he said Harrison had "absolutely no inkling" he was going to be arrested when asked to attend with police in October 2016.
Duffy said that evening his client was not treated fairly, was asked about but was not allowed to see the statement he made that June, and that anything Harrison said that did not mirror what the complainant said "was treated with contempt".
Consider character
He asked the jury to consider Harrison's character, telling them "Rory Harrison is a genuinely caring person, he is a kind person, he is an honest person and he is a modest person".
Duffy also asked them to consider what the complainant said about Harrison, both to police and whilst giving evidence in court.
In her evidence, the 21-year old student said she believed Harrison's actions in the early hours of 28 June were "quite genuine".
She also told the court 'he was trying to console me but I don't think he was aware what happened'.
This claim, Duffy suggested, actually supported Harrison's account, with the barrister rejecting claims his client was a "weasel".
Asking the jury to reach their verdict based on evidence, and not "speculation, supposition or soundbites", Duffy said this evidence should be considered "through the prism of his character", which the barrister described as "exemplary".
"State of utter confusion"
Regarding the offences, Duffy told the jury "I would understand if you are in a state of utter confusion about what the case against Mr Harrison is", before confirming the perverting the course of justice charge was based solely on the statement he gave to police on 28 June, 2016.
Saying at that time Harrison was aware of a text sent to him by the complainant which said what happened with his friends had not been consensual, Duffy pointed out that police never asked about it, and it was never part of the charge.
Rather, he asked the jury to consider whether, in his statement, Harrison lied about his dealing with the complainant and if he deliberately left out information in his statement which was relevant to the police investigation.
He asked the jury: "Are you satisfied he intended to pervert the course of justice?"
Pointing out when police called to Harrison's home it was his birthday and he was hungover, Duffy said despite this Harrison "answered every single question police asked him with not even the slightest hint of reluctance, reticence or lack of cooperation".
Duffy said it was the Crown's case that Harrison lied in his statement when he said the complainant was staring at and fixated with Jackson at the afterparty.
The barrister reminded the jury that when she was asked giving evidence if she agreed with Harrison's assessment, she said "he could well be right about that".
The charge also alleged that Harrison lied about the complainant's clothing and demeanour as they left the house and got a taxi together.
#Open journalism No news is bad news Support The Journal

Your contributions will help us continue to deliver the stories that are important to you

Support us now
"Upset" and "quiet"
In his statement to police, Harrison said she was 'upset' and 'quiet' – to which Duffy said "If Rory Harrison was trying to cover something up, why would be tell police she was upset?"
Turning to the charge of withholding information, Duffy said it "does not have a leg to stand on", adding if they were not satisfied there had been a rape, there was no second charge.
Saying "suspicion is not enough", he asked the jury to question whether, if Harrison knew or believed there had been a rape, he withdrew information which would have secured a conviction.
Pointing out that when Harrison made his statement police were already aware of the woman's allegations and the people involved, Duffy asked "what information was it that they say he had that he should have come forward with?"
Regarding the Crown's suggestion that Harrison and his three co-defendants met in a cafe for lunch on the afternoon of 28 June where they concocted a cover story, this was branded as "nonsense" by Duffy.
No back up
Saying there were no texts or phone calls between the four men which would back up this claim, Duffy asked whether it was plausible they met "in the busiest, small cafe on the Ormeau Road with two Ulster Rugby players to discuss how they were going to cover up a rape".
If you are going to cover up rape, go to someone's house or speak on the phone. Don't go to a busy cafe on the Ormeau Road and have a conversation about it.
Telling the jury Harrison has told the truth and "should not be" in the dock, Duffy said the case centred on a "false allegation". He added:
This is someone who has done something they regret, and as a consequence of that, wheels have been put in motion which have been impossible to halt – and here we are.
Mr Duffy also told the jury:
If you are convinced Rory Harrison did not commit these offences, you must find him not guilty. If you think he probably didn't commit the offences, you find him not guilty. If you are thinking 'I can't make my mind up', you find the defendant not guilty.
"If you think to yourself 'he probably did commit these offences', you find the defendant not guilty.
"Probably is not proof beyond reasonable doubt. If you have a single reasonable doubt, then you should acquit, which we say is the only verdict you can reach in accordance with your oath."
Following Duffy's address, Judge Patricia Smyth said it marked "the final part of the trial process" and revealed she would begin her charge to them tomorrow.
Before sending them home for the day, the Judge urged each member not to discuss the case with anyone, and avoid social media, adding:
You are the only people who have heard all of the evidence in this case. It is only you that matters, and no-one else.