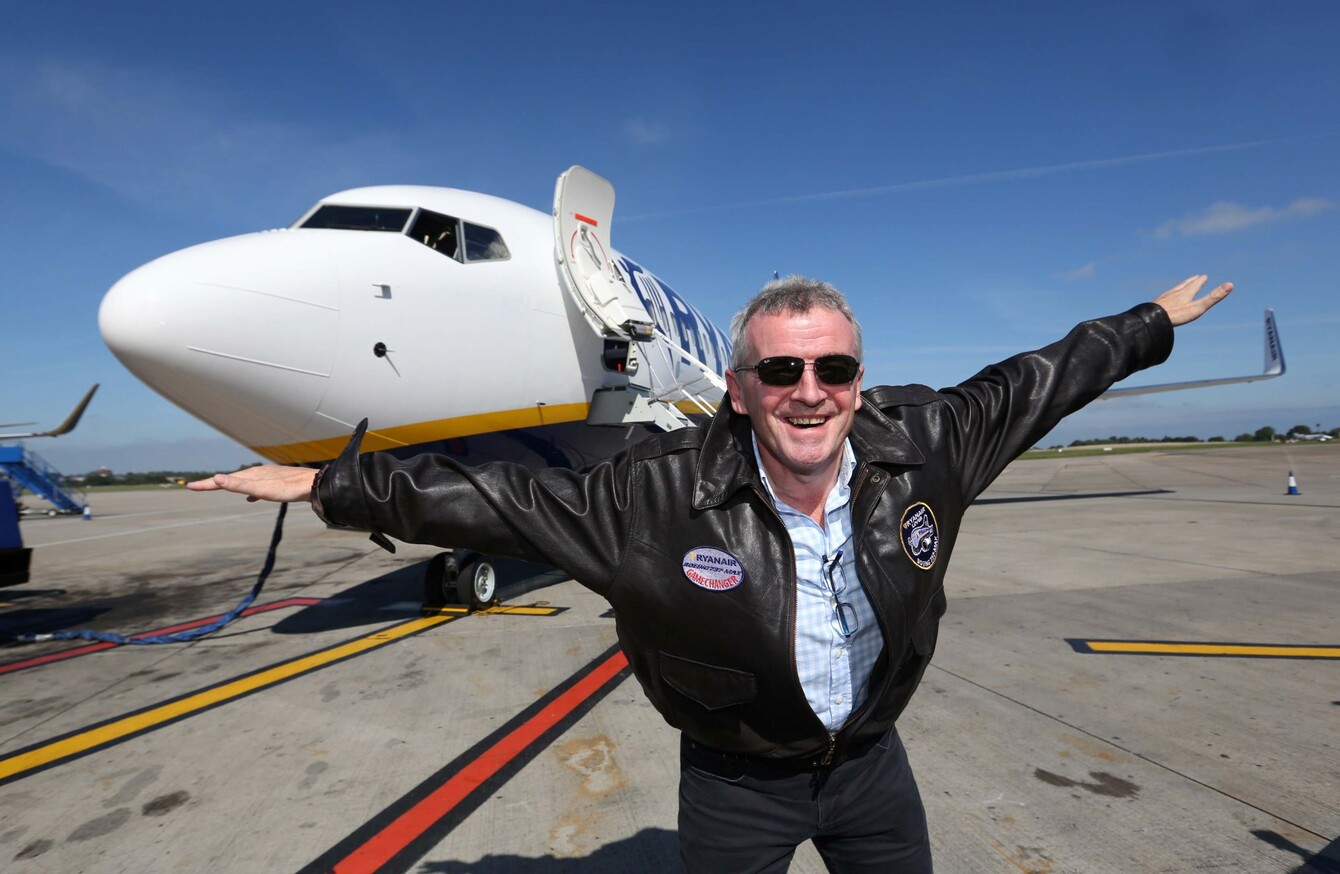 Image: Sam Boal/Rollingnews.ie
Image: Sam Boal/Rollingnews.ie
RYANAIR SEES "MASSIVE" growth opportunities in continental Europe as loss-making legacy airlines in Germany and Italy rejig their troubled business models.
Speaking at the announcement of Ryanair's annual financial results today, chief executive Michael O'Leary said that monetary woes at Air Berlin and Alitalia have opened a further gap in markets that the Irish carrier already in some cases dominates.
"At the moment we have more growth opportunities than our planned fleet deliveries for the next couple of years can cope with," O'Leary said.
As a result, Ryanair's finance boss, Neil Sorahan, has been tasked with extending leases on 10 aircraft through to 2019.
"We're also having discussions with (plane manufacturer) Boeing about adding one or two aircraft deliveries in 2018 and 2019 where Boeing can facilitate those additional orders," O'Leary said.
Click here to view a larger version.
Ryanair has been taking delivery of 175 Boeing 737-800 aircraft since 2015. That order is due to be completed by the end of next year.
From 2019, it will start receiving the first of its 200 Boeing 737 Max planes. Those jets are frequently referred to as "game-changers" because they will give the airline eight extra seats – 197 in total – and use 15% less fuel on a per-seat basis.
Ryanair said the extra capacity gives its scope to serve 200 million passengers per year by the end of March 2024.
Sorahan was enthused about growth opportunities in Germany, where Ryanair operates 10 bases.
German legacy carrier Air Berlin has been undergoing a major shake-up in recent months, seeing its fleet halved to 75 aircraft and downsizing its flight network from 387 to less than 100 routes.
"We see more (German) corporates and private customers alike coming to Ryanair and more airports looking for our business," Sorahan said.
On Alitalia – which earlier this month filed to be put under special administration – O'Leary said he believes that it will be restructured as well.
He said Ryanair is not prepared to invest in or acquire Alitalia, but will "help it survive" by offering to feed passengers into the Italian airline's long-haul routes.
Labour relations
A thorn in O'Leary's side will surely be the slip in Ryanair's prized punctuality record, which dropped 2% in 12 months to the end of March 2017. That meant that 88% of all Ryanair were on time last year.
The airline blamed this slight drop on "unusually disruptive weather" in November and December as well as air traffic controller strikes in France.
On the subject of labour relations, O'Leary was dismissive of recent turbulence in Scandinavia.
In his usual colourful language, the chief executive recently branded Nordic pension providers as "idiots" for refusing to invest in the airline over objections to its work practices.
As many as seven retirement schemes in Denmark and Sweden sold their shares or blacklisted Ryanair after it clashed with trade unions in Copenhagen.
"There has been some misinformed commentary up in Scandinavia recently about our labour relations which remain excellent," O'Leary said today. "In 30 years we've never had a strike."
O'Leary has for years taken a no-nonsense approach to unions. He told Fora last week that any workers looking to unionise "will find their base either frozen or closed".
Ryanair hired 1,000 new staff last year bringing the total workforce to 13,000. O'Leary expects to recruit another 1,000 people this year.
Brexit has been high on Ryanair's agenda since the UK voted to leave the European Union last June. O'Leary told investors today that it remains "a big dark cloud hanging over us the next 18 months".
He repeated warnings that there may be "a period of days week or months" after March 2019 where there may be no flights between the UK and European Union in the absence of a bilateral agreement between the two regions.
He said if that was the case, Ryanair would relocate UK-based aircraft to European bases.
Ryanair posted a profit of just over €1.3 billion in the financial year ended 31 March 2017, up from €1.2 billion for the previous 12-month period.
It said that it expects traffic to grow by 8% to 130 million by the end of March 2018.
Sign up to our newsletter to receive a regular digest of Fora's top articles delivered to your inbox.
Written by Conor McMahon and posted on Fora.ie