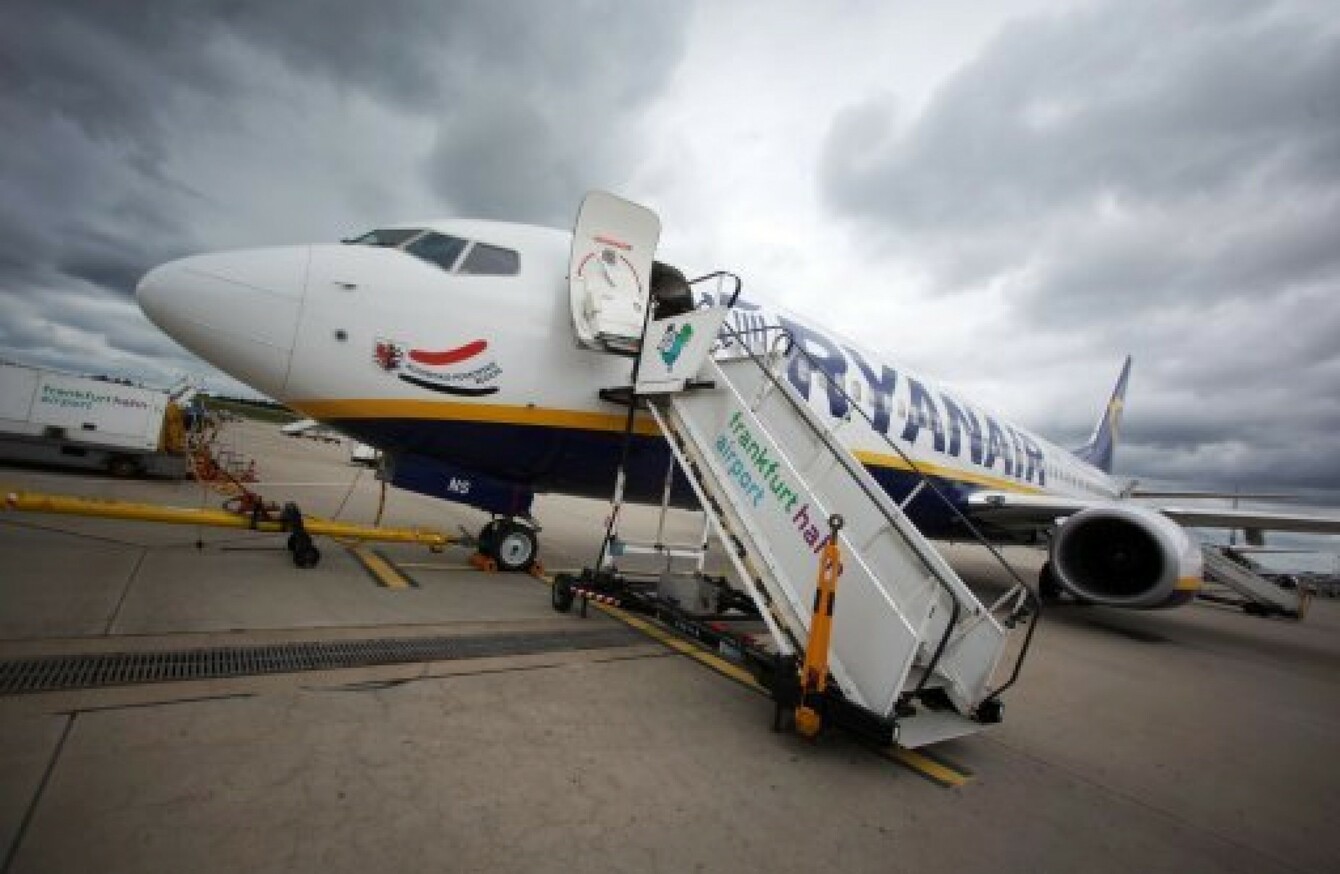 The incident happened at Dublin Airport. (Not pictured)
Image: Fredrik von ErichsenPA Images
The incident happened at Dublin Airport. (Not pictured)
Image: Fredrik von ErichsenPA Images
A 75-YEAR-OLD Co Kildare man, who claimed he had been seriously hurt when he slipped and fell on steps leading from a Ryanair plane, has seen his €60,000 damages claim dismissed against the airline.
Andrew Walker, counsel for Ryanair, told the Circuit Civil Court today that Simon Betson had sued the airline one day outside the two years in which he was allowed to take a claim and was now statute barred.
Walker, who appeared with Maples and Calder Solicitors, told the court that Betson should have issued a summons under the Montreal Convention which governs the international carriage of passengers by air and imposes a specific time restriction.
He told Judge Jacqueline Linnane that the convention stipulated that the right to damages "shall be extinguished" if an application was not taken within two years.
Walker said the alleged accident, which had taken place on steps outside the aircraft, had happened on 26 November 2013 and the time for issuing legal proceedings ended on 25 November 2015.
He said the Civil Bill in which Betson, of Glen Ghearu, Athy, Co Kildare, claimed damages for personal injuries against Ryanair had been issued on 26 November 2015, a day outside the two-year limit.
Betson's proceedings alleged negligence against Ryanair in that he had slipped and fallen while walking down steps as he disembarked the aircraft at Dublin Airport. He had been able, with the assistance of other passengers, to make his way to the terminal building where he had begun to feel very unwell.
Cleaners had alerted airport staff to his predicament and after they had attended to him he returned home. His symptoms worsened and he attended his GP on 2 January 2014.
Peter Lennon, a solicitor with Maples and Calder, stated in an affidavit that both the 1999 Montreal Convention and the Statute of Limitations (Amendment) Act 2004 imposed a two-year limit on the issuing of a personal injury summons.
He said that not only was Betson's proceedings statute barred his claim was now in fact extinguished pursuant to Article 35 of the Convention. In February 2016 he had called for Betson's solicitors to discontinue the proceedings.
Two-year limit
Counsel for Betson claimed that the two-year limit should run only from the time his client had discovered he had been injured to the extent that he required to seek compensation by way of a personal injuries summons.
Judge Linnane said clearly the Montreal Convention applied to Betson's case and it followed his claim was statute barred. The Convention made it quite clear that a person cannot have recourse to any domestic remedy in common law.
The accident had taken place on the steps of the aircraft and was clearly a Montreal Convention case.
The judge awarded legal costs of the proceedings and today's application against Betson on the grounds his solicitors had been asked by Maples and Calder to discontinue the action and allowing Betson an opportunity to walk away from the proceedings.