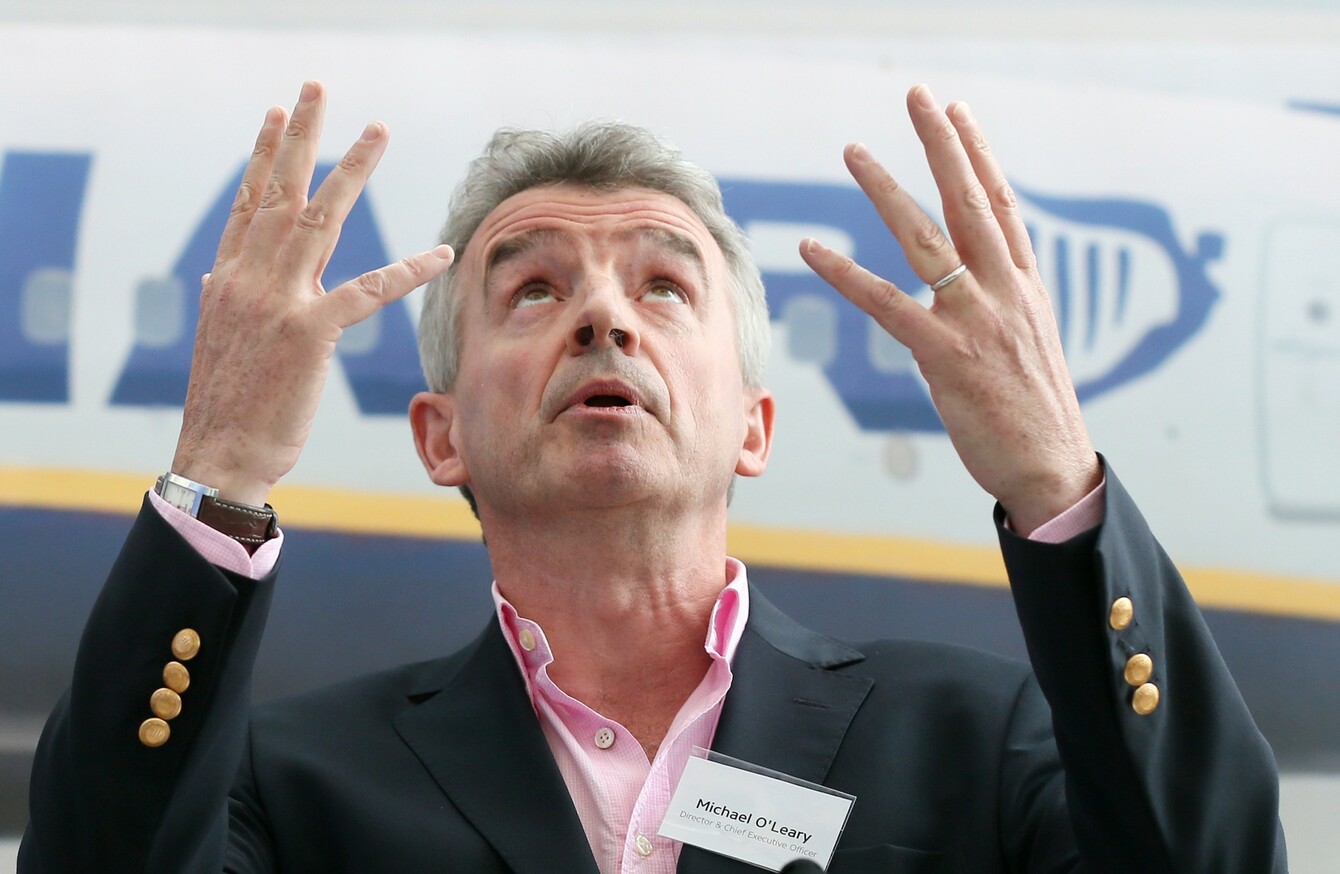 Image: Laura Hutton/Photocall Ireland
Image: Laura Hutton/Photocall Ireland
RYANAIR'S CEO MICHAEL O'Leary has criticised the British government's decision to approve a new third runway at London's Heathrow airport, calling it a "piecemeal approach".
In a statement today, the businessman weighed in on British politics after the EU referendum vote:
"Theresa May's Government in a post-Brexit world has promised to make Britain an open, competitive and outward looking economy."
Today's decision to approve just one runway (instead of the three competing runways) does not achieve this objective.
"It's a return to monopoly featherbedding at Heathrow, and a continuation of runway capacity constraints in the south east that will ultimately be bad for consumer choice and fares."
The UK government said the new runway – the capital's first new full-length runway since the Second World War – would "bring economic benefits to passengers and the wider economy worth up to £61 billion" (around €69 billion).
In response to the announcement, Ryanair released a statement calling on Theresa May's government to "stop dithering" and to build three runways instead.
"[A three runway solution] will allow each of London's competing airports – Heathrow, Gatwick and Stansted – to develop additional runways as and when they see fit to do so.
"By approving three competing runways, the UK government can allow competition to encourage these airports to keep the costs of these runway developments down, thereby providing a better solution for consumers and visitors."
Ryanair also said that today's decision "will allow Heathrow to waste over £18bn on a third runway, an excessive monopoly cost that will have to be paid for in higher air fares for many years to come."
"In addition, this third runway won't be open until 2025 by which date it will already be full at peak periods, and so another runway (or two) in the south east will then be necessary."
Aer Lingus has also been asked for comment.
Protests
Up to 77,000 local jobs are expected to be created over the next 14 years on the back of the announcement, while the airport has committed to create 5,000 apprenticeships over the same period.
But there is strong environmental opposition to the expansion and the approval process could still delay or even block its execution over the coming years.
Ministers opposed to the plans have been granted the rare opportunity to voice their dissenting views, including Foreign Secretary Boris Johnson, an outspoken critic of Heathrow expansion.
The former London mayor said he would continue to fight the plans, warning that London risked becoming the "city of planes".
#Open journalism No news is bad news Support The Journal

Your contributions will help us continue to deliver the stories that are important to you

Support us now
"Building a third runway slap bang in the middle of the western suburb to the greatest city on earth is not the right thing to do," he said.
Hundreds of homes would have to be demolished to accommodate a third Heathrow runway and the small village of Harmondsworth, on the edge of the airport, would be largely flattened.
On the village green in front of two local pubs, banners had been put up against the expansion.
Paul Cooper, a taxi driver from the village, told AFP: "I feel sorry for the older generation. They don't want to be moving at their time of life. They should be looked after.
"They should give us compensation but I don't know if they will or they won't.
"It's a lovely village. It's a shame it's being knocked down."
With additional reporting from AFP.