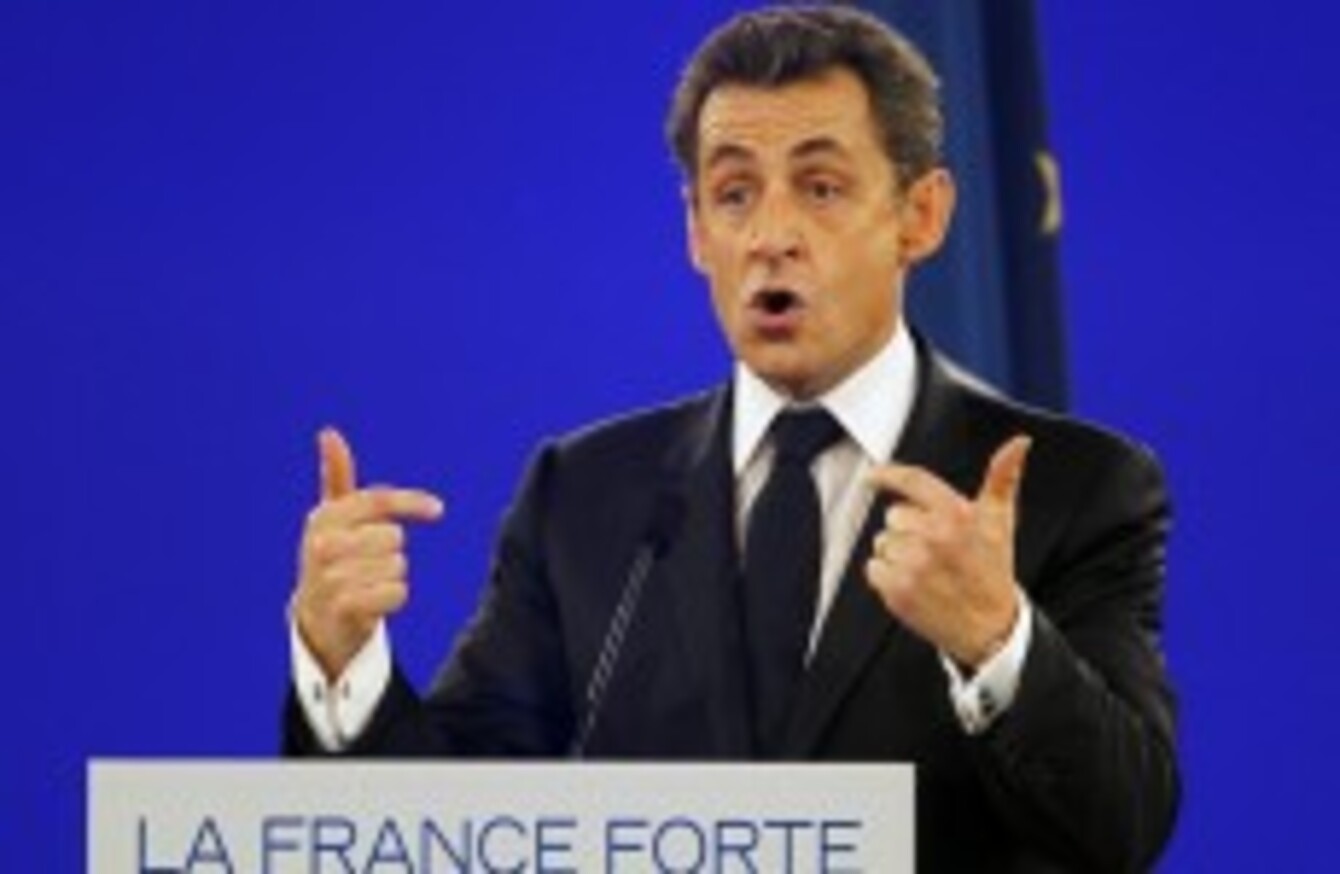 Image: AP Photo/Francois Mori
Image: AP Photo/Francois Mori
FRANCE'S PRESIDENT NICOLAS Nicolas Sarkozy has threatened to pull France out of the European Union's coveted visa-free Schengen zone unless the bloc makes progress on protecting EU borders from illegal immigration.
Sarkozy's pledge on the hot-button theme of immigration came in a wide-ranging speech to thousands of supporters at a boisterous campaign rally, as polls show he faces a tough battle for re-election in April and May.
Unchecked immigration would thwart Europe's ability to take in and integrate new entrants, putting strains on social safety nets for the most disadvantaged across the continent, Sarkozy said to chants of "We're going to win!" against a sea of blue, white and red French flags.
"It's urgent because we cannot accept being subjected to the shortcomings of Europe's external borders," Sarkozy said, calling reform the "only way to avoid the implosion of Europe."
"But if I note within the next 12 months that no serious progress has been made in this direction, then France will suspend its participation in the Schengen accords until these negotiations are completed," he said.
'Buy European Act'
The conservative president also pitched an effort to support purchases of European products within the continent, noting American government laws to support small businesses and domestic industries
"Why is it that Europe should forbid itself from what the United States, the world's most free-market country, allows itself?" Sarkozy said. "France will ask Europe adopt a 'Buy European Act' on a model of the 'Buy American Act.' That way companies that produce in Europe will benefit from European state money."
Much of the political debate in France in recent weeks has centered on the issue of illegal immigration and the country's ability to take in newcomers — typically a bete-noire issue of the far-right National Front party.
Critics have accused Sarkozy and allies in his conservative UMP party of taking a hard line against illegal immigrants in an effort to siphon off support from the extreme right before the first round vote on 22 April.
Most recent polls show Sarkozy would lose by a double-digit percentage margin against the Socialist nominee, Francois Hollande if, as expected, they are the two candidates to qualify for the decisive runoff on 6 May.
The Schengen zone
The "Schengen zone" has been a banner EU achievement by making it easier for citizens to travel between its member countries. Some complain that it has also made it easier for illegal immigrants too to cross borders.
During the Arab world uprisings last year, Italy infuriated France and some other European countries by granting temporary residence permits to thousands of Tunisians who fled the violence at home. Many sought to join up with relatives and friends in France — Tunisia's former colonial overseer.
The Schengen zone applies to all 27 EU member states except Britain and Ireland. On Wednesday, bloc members Austria, Belgium, Britain, France, Germany, The Netherlands and Sweden called for an action plan to stem the tide of illegal migration into the union. The EU's executive commission is due to submit in May a report on the functioning of the Schengen system.