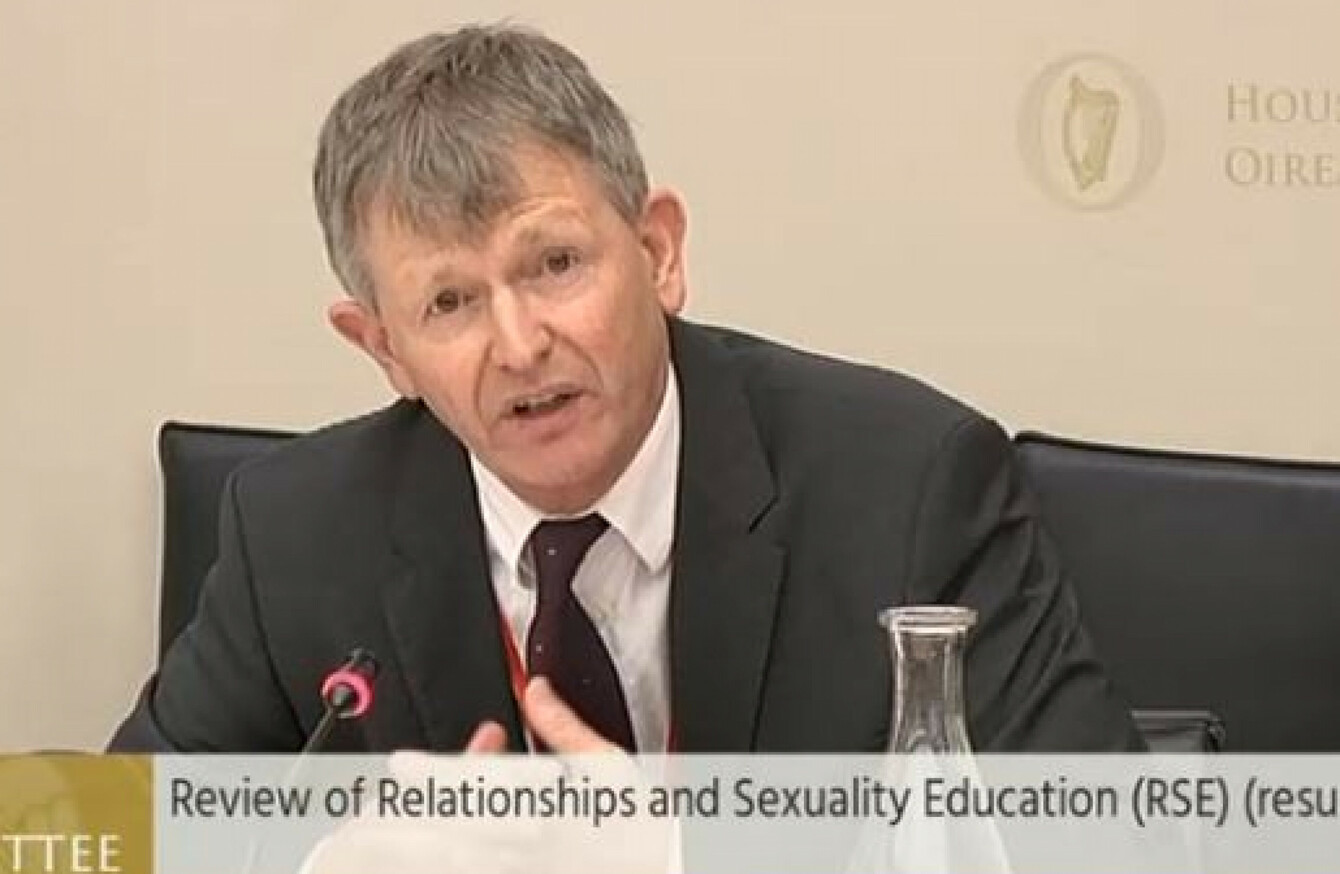 JMB general secretary John Curtis
Image: OireachtasTV
JMB general secretary John Curtis
Image: OireachtasTV
SCHOOLS ACROSS THE country have been left "a bit like rabbits in headlights" at the speed with which young people's knowledge and experience has changed on matters around sex and consent, an Oireachtas Committee has heard.
John Curtis, from the Joint Managerial Body, said today that Catholic schools aim to provide a "moral framework" in its sex education but that any programme must engage with issues such as contraception and the LGBT community.
Minister for Education Richard Bruton ordered a full review of sex education in schools in April, while Solidarity-PBP TD Paul Murphy has tabled a Bill to make objective sex education compulsory in all schools.
Murphy said yesterday that schools can opt out of providing aspects of sex education if it goes against their ethos, and said his piece of legislation would seek to make it compulsory to provide objective sex education.
'Spiritual or moral basis'
The JMB – which has representatives of the Association of Management of Catholic Secondary Schools (AMCSS) – addressed the Education Committee first today.
In its opening statement, general secretary John Curtis said that education "cannot be deemed to be holistic in any sense if it ignores either our actions or the spiritual or moral basis of the values that inform such actions".
He cited recent comments from Archbishop Eamon Martin who said that relationships and sexuality education (RSE) should be an integral part of the curriculum in a Catholic school but it "should not be reduced to the imparting of so-called 'objective' information, dissociated from a morals and values framework or from the totality of relationships".
Archbishop Martin added that a review of how this education is delivered is essential "if we are to help young people cope with the risks to their health and well-being presented in both the virtual and real worlds they inhabit".
Curtis said that schools under the JMB had been closely associated with the development and piloting of the sex education curriculum at junior cycle and senior cycle.
"It is nonetheless incumbent upon school management at local level to ensure such programmes are compatible with the school's ethos and that parents have had their right to consultation respected as well as their right to withdraw their child from RSE classes," he said.
Curtis said that giving training to teachers is essential, and that parents' views should be respected in their children's education.
He added: "School management is charged with the duty of ensuring everything that happens in the school community aligns with its ethos."
'No particular lens'
Also addressing the committee was Dr Martin Gormley from Education and Training Boards Ireland.
"Our approach to RSE is not through any particular religious or belief lens," he said. "The content of the RSE programme is delivered in an objective and critical manner that avoids any particular religious bias.
In line with our core values and characteristic spirit, we believe that all children and young people have the right to a high quality, holistic and inclusive relationships and sexuality education.
ETBI schools do not "cherry pick" or omit aspects of the RSE programme, he added.
Dr Gormely did add, however, that the ETBI delegates many management functions and responsibilities to individual boards of management at a school.
It was the ETBI's position that it welcomes the Department of Education's review of the curriculum, and said it was important to ensure that necessary changes are made to meet the needs of young people today.
#Open journalism No news is bad news Support The Journal

Your contributions will help us continue to deliver the stories that are important to you

Support us now
'Language sounds like something from another century'
After their initial statements, a number of TDs and Senators questioned Curtis on what could be omitted from sex education teaching in schools under a Catholic ethos.
Fine Gael TD Hildegarde Naughton asked: "Are there any areas you don't want to see taught?"
Senator Lynn Ruane asked what Curtis meant by morality and said that Catholic language around sex was all about "risk" rather than teaching it in a positive framework.
Sinn Féin Senator Paul Gavan said that the language in Curtis' opening statement "sounds like something from another century".
Curtis responded that any sex education curriculum has to "look at facts".
"Any RSE programme has to engage with issues such as contraception and LGBT [issues]," he said.
We're very keen to ensure children are prepared for the challenges they face. To have a moral compass or a moral framework there is very important.
He said it was also important to look at issues around consent, and that teenagers had changed rapidly in recent years while the current sex education curriculum has been left behind.
"That training and urgency around it has stalled. It's across the country," he said.
Curtis said that the JMB was "absolutely committed" to a review of the process as schools haven't "caught up sufficiently" with the rate of change.
He added that schools – even those with Catholic ethos – had frequently cooperated with curriculums set down by the Department of Education and would do so with any curriculum for sex education.