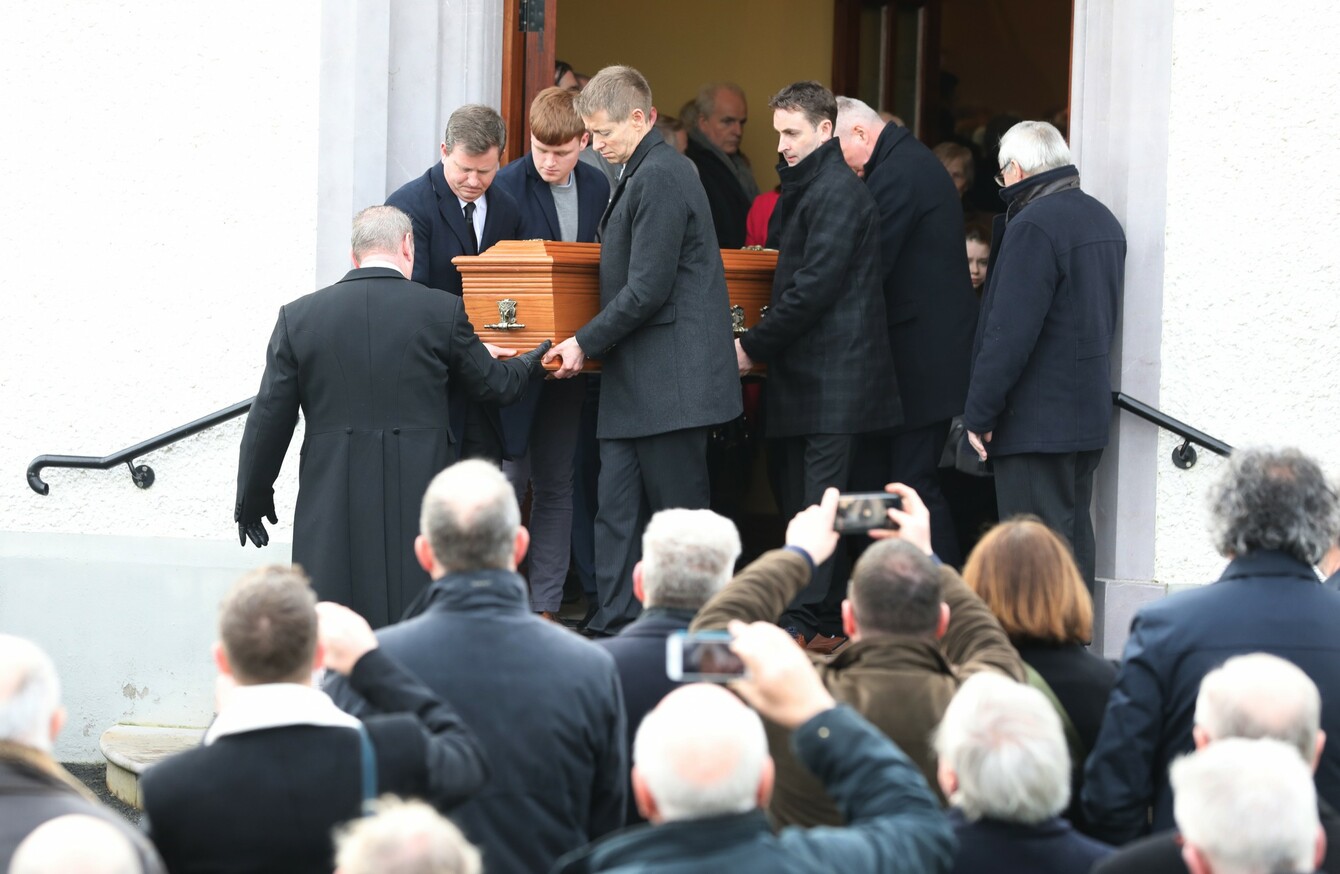 Image: Eamonn Farrell
Image: Eamonn Farrell
Updated Jan 27th 2020, 6:50 PM
THE NORTH'S FORMER deputy first minister Séamus Mallon has been described as a "bridge builder, a leader, [and] a statesman" at his funeral mass in Co Armagh.
Northern Ireland's First Minister Arlene Foster and Deputy First Minister Michelle O'Neill both paid tribute to the man, highlighting his opposition to violence.
Arlene Foster paid tribute to a man who has been described as stubborn and straight-talking and who could be awkward but was also thoughtful.
SDLP deputy leader Nichola Mallon said her predecessor had inspired her generation of party activists:
Seamus was a man of peace, of non-violence, of justice, fairness, truth and of courage.
Mallon, who as SDLP deputy leader was an architect of the Northern Ireland peace process, died on Friday at the age of 83.
He was a key figure in negotiating the 1998 Good Friday Agreement and the service in Saint James of Jerusalem Church at Mullaghbrack was attended by hundreds of people this morning.
Archbishop of Armagh Eamon Martin, alongside Fr Michael Woods, the chief celebrant of the mass, said that Mallon was determined to make a real difference and to leave the world a better place than it was when he entered it.
"Seamus certainly took time for healing, time for building up, time for gathering, time for planting," Martin said.
He made time for mourning, but also for laughing and for dancing; but he had no time for tearing down, or giving up; he had no time for hate, no time for war.
Martin also paid tribute to Mallon as a man of integrity and courage who was not afraid to speak up, despite the personal risk of going so.
And he said that despite the political distractions in his life, he remained devoted to his family and friends.
"Here was a loving father, husband, brother and grandfather. Here was a dedicated Catholic school teacher and principal, a kindly and attentive neighbour, a man of many talents who wasted none of them.
"Here was a wholesome human being who spent himself unselfishly for his family, his local community, his country and for the common good.  Here was a peacemaker, a bridge builder, a leader, [and] a statesman."
Martin expressed his condolences to Mallon's family and loved ones, adding that he "lived life to the full and made a real difference to the world".
Seamus Mallon's vision of a shared homeplace should shape Ireland's future, a close friend Tim O'Connor said.
Mallon relentlessly pursued peace and better relations across Northern Ireland's fractured community during some of the "darkest days of the Troubles", O'Connor added, calling him a "chieftain" of Irish politics who had "an almost biblical voice for decency, tolerance, and the relentless pursuit of peace and reconciliation".
He said:
The annals will record Seamus Mallon as one of the key leaders of a seminal time in the history of the island of Ireland… Seamus Mallon was a giant of his time.
Books of condolence
In Dublin, the Tricolour flew at half-mast over Leinster House as a mark of respect towards Mallon, while Dublin City Council opened a book of condolence to allow the city's residents to express their sympathies to his family.
#Open journalism No news is bad news Support The Journal

Your contributions will help us continue to deliver the stories that are important to you

Support us now
Books of condolence opened in Belfast City Hall on Saturday and at the Guildhall in Derry on Sunday, and have been signed by hundreds of people.
American actress Sharon Stone was among those to sign the book in Belfast, alongside her friend, the Nobel Peace Prize winner Betty Williams, over the weekend.
Stone called Mallon "a legend, a real warrior of peace" as she signed the book along with hundreds of others, including his party colleagues in the SDLP.
Former US President Bill Clinton, who was in office at the time of the Good Friday Agreement and championed peace talks in the 1990s, also paid a touching tribute to Mallon.
He said: "From his earliest entry into politics, Seamus never wavered from his vision for a shared future where neighbours of all faiths could live in dignity – or from the belief he shared with John Hume and the entire SDLP that nonviolence was the only way to reach that goal."
Former US senator George Mitchell, who was heavily involved in creating the Good Friday Agreement, also paid tribute.
"It's a great loss for me personally as it is for the people of Northern Ireland," Mr Mitchell told Q Radio.
"Séamus Mallon was a strong and effective political leader for many decades including the period during which the negotiations were held among all of the parties in Northern Ireland that led to the agreement that brought an end to the violence of the Troubles."