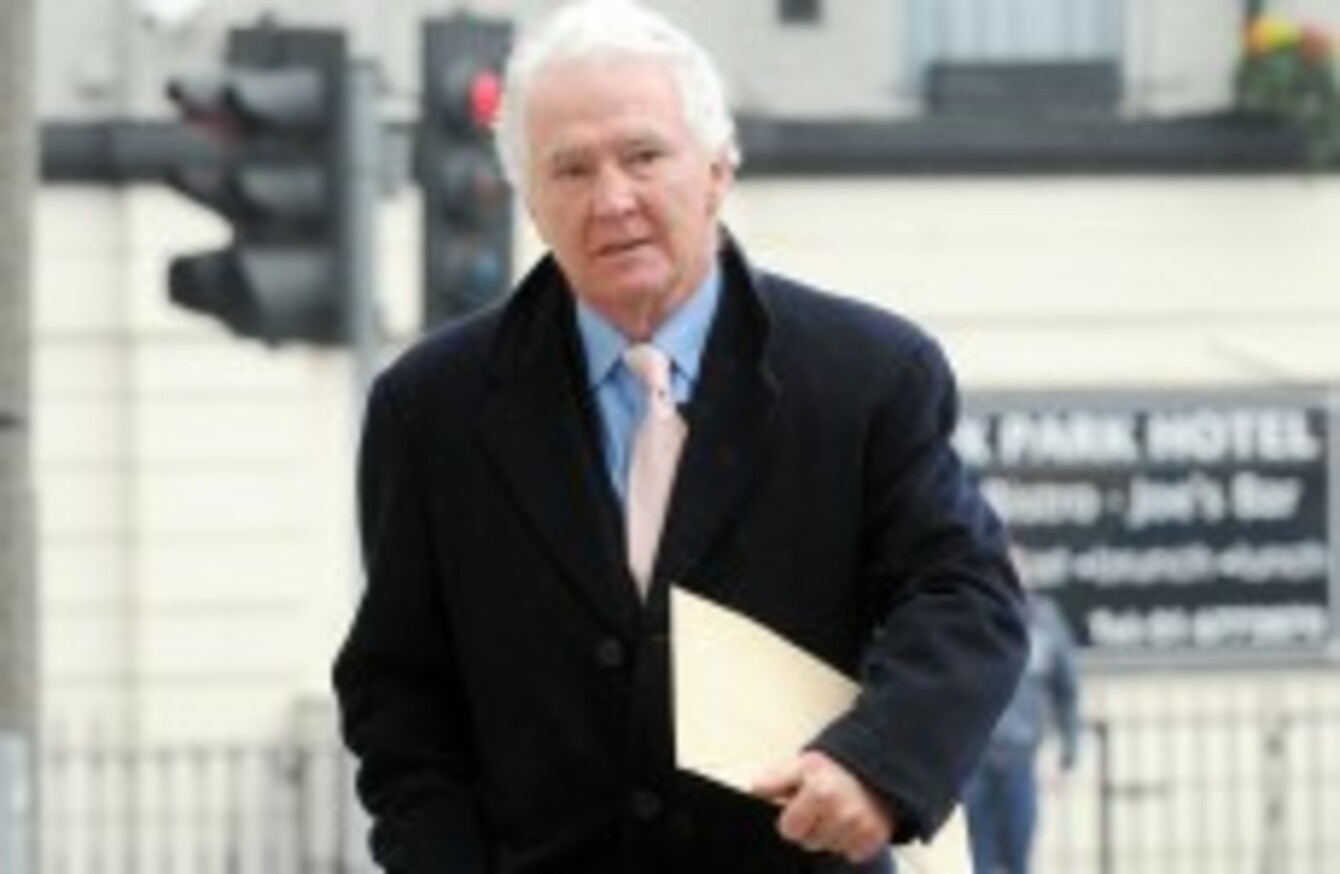 Image: Photocall Ireland!
Image: Photocall Ireland!
THERE IS NO exact date yet but Seán Fitzpatrick is due back in court at the start of next month in relation to how he did business at Anglo Irish Bank, the financial institution he ran over two decades.
He will be joined in the docks by his colleagues Willie McAteer and Pat Whelan.
The three men face 16 charges relating to the provision of unlawful financial assistance. They allegedly gave that 'help' (loans to buy shares in Anglo) to 16 people, which includes Sean Quinn's wife, Patricia, and their five children and the so-called Maple 10.
The Maple 10 are Paddy McKillen, Séamus Ross, Brian O'Farrell, John McCabe, Gerard Maguire, Patrick Kearney, Gerard Conlon, Gerard Gannon, Seán Reilly and Joseph O'Reilly.
Read more about the Maple 10 here.
According to prosecutors, the offences took place in July 2008 in an attempt to inflate the bank's share price and prop up public confidence in the bank.
At the time of the deals, Fitzpatrick was the chairman of the now-defunct financial institution, McAteer was the finance director, while Whelan was the managing director of lending.
He has been in court lots already. What makes this time different?
Fitzpatrick faces two different trials (we'll come back to the second one later).
The statement is still a valid one, though. There have been a number of pre-trial hearings to which the banker had to attend.

The 65-year-old's first appearance was in July 2012 when he was charged with a breach of section 60 of the Companies Act. He had been arrested the same day after making arrangements with authorities to return to Ireland from the US.
Gardaí detained him at Dublin Airport at 5.37am under section 4 of the Criminal Justice Act but was later re-arrested under section 60 of the Companies Act.
Under bail requirements, Fitzpatrick signs into Irishtown garda station every Wednesday between 9am and 9pm. He needs to give officers 48 hours notice if he intends to change address or leave the State.
On 8 October 2012, he – along with Whelan and McAteer – were served with the books of evidence against them at the Circuit Criminal Court in Dublin.
The number of documents relating to the Office of the Director of Corporate Enforcement and the Garda Bureau of Fraud Investigations were kept in nine boxes – three for each defendant.
The maximum sentence for breaches of section 60 of the Companies Act is two years imprisonment plus a fine.
The legislation states:
it shall not be lawful for a company to give, whether directly or indirectly, and whether by means of a loan, guarantee, the provision of security or otherwise, any financial assistance for the purpose of or in connection with a purchase or subscription made or to be made by any person of or for any shares in the company, or, where the company is a subsidiary company, in its holding company.
The trial in relation to these 16 charges was meant to start on 13 January but legal teams asked for extra time as they were not ready.
This was granted and a date of in or around the 4 February is now expected. The trial will last between three and six months.
That's a pretty long time. Who will the jury be?
You and I. In the general sense. Ordinary citizens have been called for duty. About 1,500 of them.
The Courts Service expects about 500 men and women to turn up for empanelling which takes place just before the trial begins – probably 31 January.
The prosecution also intends to ask for extra jurors under the amended Juries Act.
New laws introduced last January allow for up to 15 jurors to be sworn in for trials that will last longer than two months. Usually, there are just 12 members of a jury.
So, what's the second trial about then?
In an unrelated case, Fitzpatrick faces 12 charges of making false or misleading statements to corporate auditors.
On 21 December, he was charged with several counts of failing to disclose the true amount of loans made by the bank to him or to parties connected with him, and for failing to disclose loans between Anglo and Irish Nationwide Building Society, to auditors Ernst & Young.
The offences are alleged to have occurred at various dates, each at the end of November or beginning of December, in 2002, 2003, 2004, 2006 and 2007.
The loan values were between €5.1 million and €139.8 million.
Read all 12 charges, in full, here.
The charges come under section 197 of the Companies Act (1990), which states:
An officer of a company who knowingly or recklessly makes a statement to which this section applies that is misleading, false or deceptive in a material particular shall be guilty of an offence.
If convicted, each offence is punishable with five years in prison and/or a fine up to a maximum of €12,697.
Could there be more charges brought?
Yes, the Office of the Director of Corporate Enforcement told the High Court this week that this is a distinct possibility.
The court also heard that the legal proceedings following the complete capitulation of Anglo could drag on for years.
Another case, involving Dennis Casey, Peter Fitzpatrick (both of Irish Life & Permanent) and Anglo's John Bowe, is also ongoing. The trio were charged with conspiracy to defraud contrary to common law over the alleged back-to-back deposits transactions.