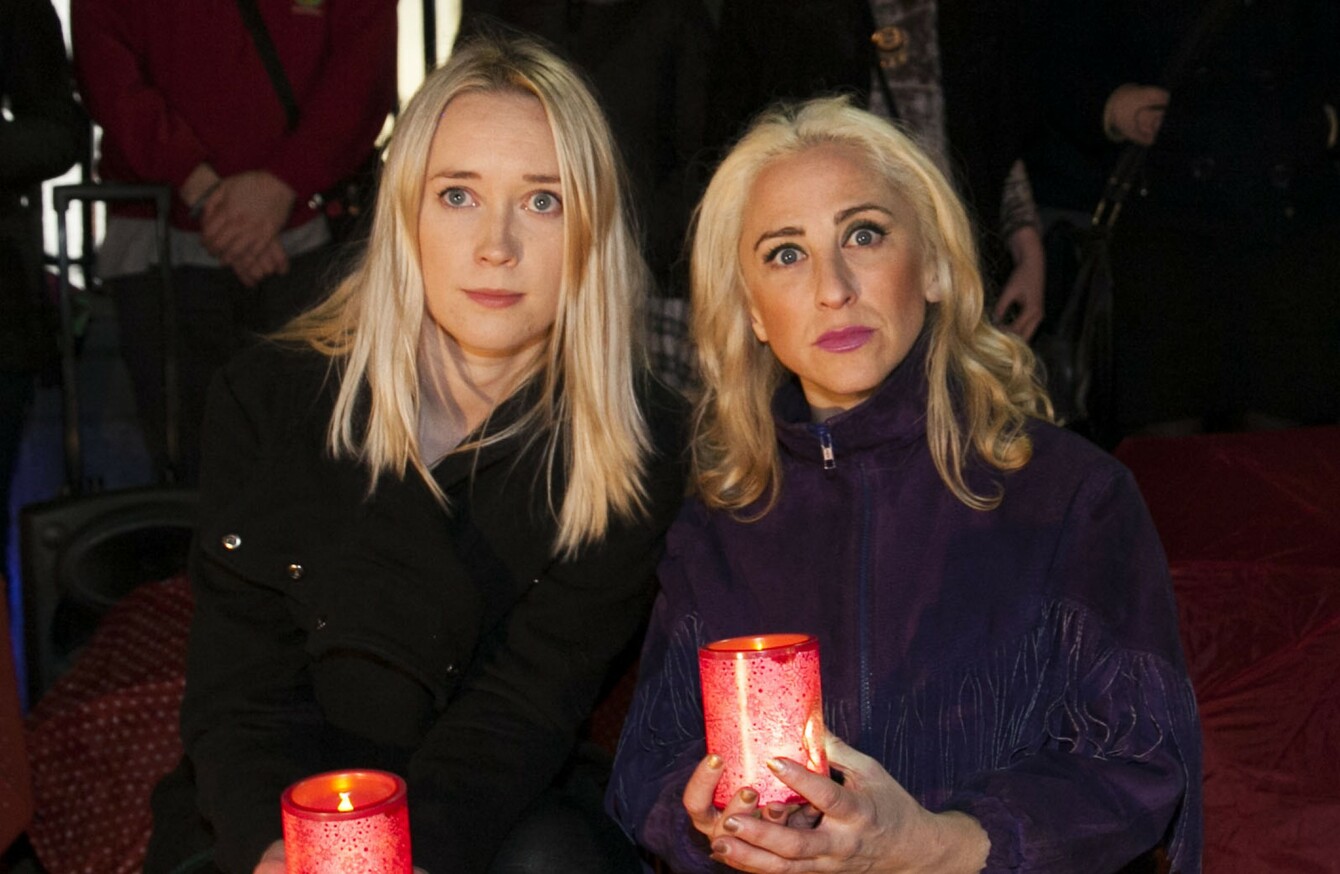 Sex Work Alliance Ireland members Dearbhla Ryan and Kate McGrew as they held a vigil outside the Dáil last year.
Image: Leah Farrell
Sex Work Alliance Ireland members Dearbhla Ryan and Kate McGrew as they held a vigil outside the Dáil last year.
Image: Leah Farrell
A NUMBER OF groups have expressed their disappointment with a new bill which criminalises the purchase of sexual services and increases penalties for aspects of the work.
Part four of the Criminal Law (Sexual Offences) Bill 2015 has jumped its final hurdle and will be sent to President Michael D Higgins in the coming weeks to become law.
Four human rights groups said they were disappointed that their concerns were not taken into account and said the amendments to the current law make sex workers more vulnerable.
However, the groups welcomed the last-minute inclusion of a three-year review and limited decriminalisation of street sex workers, following extensive lobbying by the Sex Workers Alliance Ireland (SWAI) and others.
Niall Mulligan, executive director of HIV Ireland said his organisation advised strongly against this course of action, which goes against the expert opinion of the World Health Organisation and UNAIDS.
Criminalisation of the purchase of sex drives sex work further underground, forcing workers to take more risks and work less safely. This in turn risks increasing the rate of HIV transmission.
Edel McGinley of the Migrant Rights Centre of Ireland (MRCI) said the new laws will not protect the most vulnerable – migrants, asylum seekers, refugees doing survival sex work. She said: "It promotes harmful stigmatisation and obstructs access to justice. We know from our decade of work on human trafficking and forced labour that this approach will not help victims of trafficking."
The Transgender Equality Network Ireland (TENI) and Amnesty International Ireland echoed the views of McGinley and Mulligan.
However, Ruhama strongly welcomed the legislation. The group, which supports prostituted women, said it has long advocated for legislation to focus on the demand of sex buyers as a key measure to curb expansion of the exploitative sex trade in Ireland.
The organisation has also advocated for many years for the repealing of the offence for soliciting for prostitution to give the clear social message that no person should be criminalised for their own exploitation.
Ruhama CEO Sarah Benson said: "We commend the Tánaiste and Minister for Justice Frances Fitzgerald for taking landmark measures to address the demand of sex buyers as the group directly responsible for perpetuating the commercial sex trade.
#Open journalism No news is bad news Support The Journal

Your contributions will help us continue to deliver the stories that are important to you

Support us now
"Without demand there would be no supply. We witness every day the ugly consequences of prostitution and sex trafficking, where the most vulnerable women and girls from across the globe are targeted to be used in Ireland's brothels. At the same time, in removing the offence for soliciting, the spirit of this law is clear: those in prostitution should not be criminalised."
Kate McGrew, coordinator of SWAI, said the group is appalled that this Government is going against international expert opinion to bring in a law which jeopardises our safety, removes our bodily autonomy, and puts us at further risk of poverty.
She added: "When we say that criminalisation increases harm and risk in the industry, we're talking about people like Galina Sandeva, a Bulgarian worker in Norway where the purchase of sexual services is criminalised. When she went missing her friends did not contact the police until they had found her body themselves. Criminalisation clearly further damages trust in the police.""