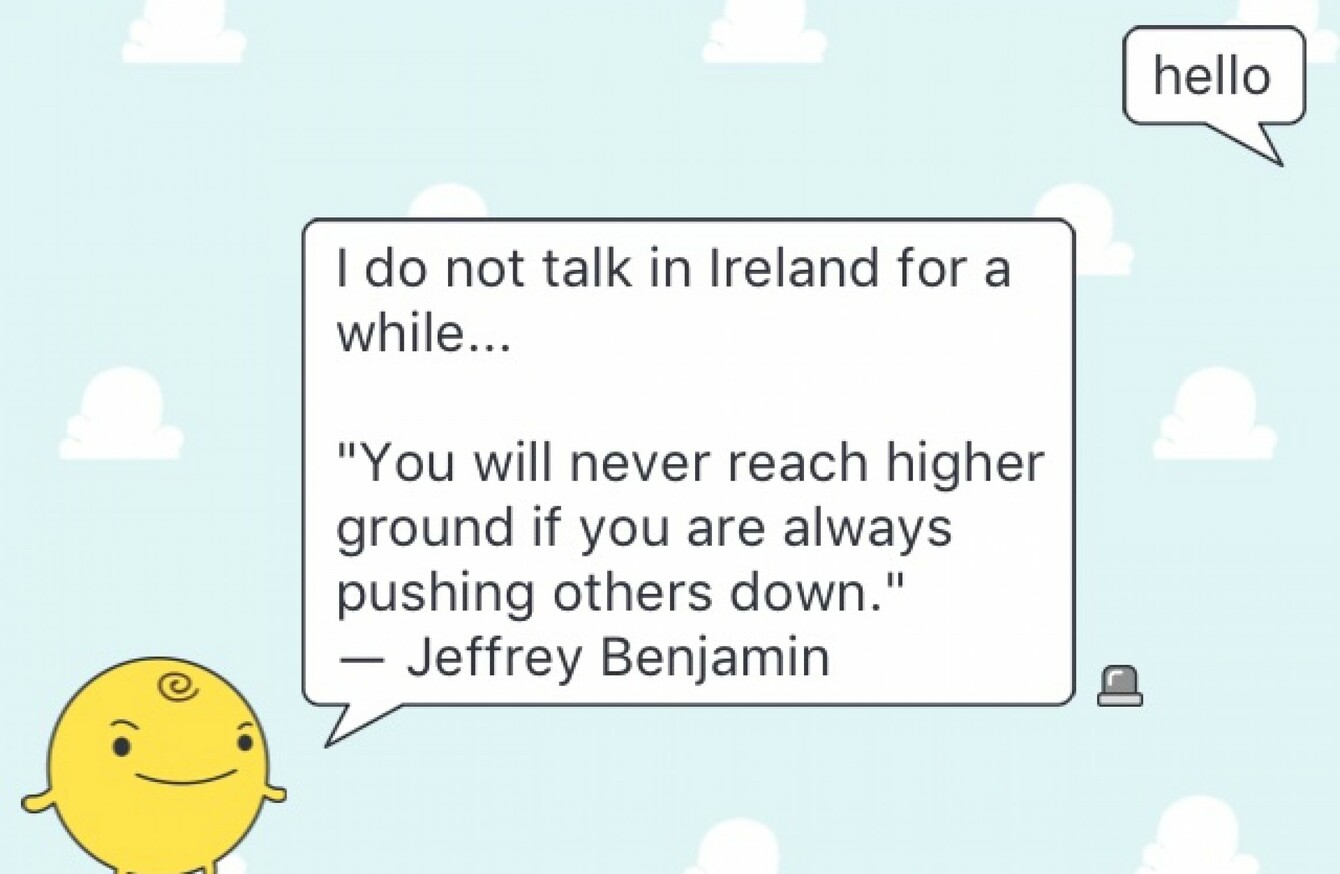 Image: TheJournal.ie
Image: TheJournal.ie
A CONTROVERSIAL MESSAGING app that some had claimed was vile and promoted bullying has gone offline in Ireland.
SimSimi is an automated chat bot, which is programmed to respond after a user types in a message. It is programmed by other users to make certain responses to the phrases that are typed in.
The app is still available to download, but any message sent to it is now responded to with the message: "I do not talk in Ireland for a while".
Speaking earlier this week, Cybersafe Ireland's Cliona Curley told Newstalk Breakfast that it was a "quite nasty app" and that parents should be aware of their children using the app, which has become popular among secondary and primary school students.
She said: "There's definitely scope for it being used for bullying and I can see that it is being used for bullying already. What you can do is, you can teach this app if it doesn't recognise a particular phrase (such as someone's name).
I could go in there and I could associate that name with another phrase. I could say absolutely anything about you, and everybody would see it as soon as they mention your name.
Schools are believed to have written to parents in recent days and weeks to warn them over the use of the app.
According to CyberSafe Ireland, the children's internet safety charity, parents in Ireland are overwhelmed with efforts to keep their children safe while using the internet, and SimSimi was another method whereby children could be bullied online.
In reviews on both the Google Play and the iOS store, users criticise the app for promoting bullying.
One parent who said that she had seen "vile comments" about her daughter on the app told TheJournal.ie that the company had said it would take 15 days to deal with her request but offered three alternative methods whereby words could be deleted from the system if they had become associated with vile language.
The app is still trending in Ireland this morning.