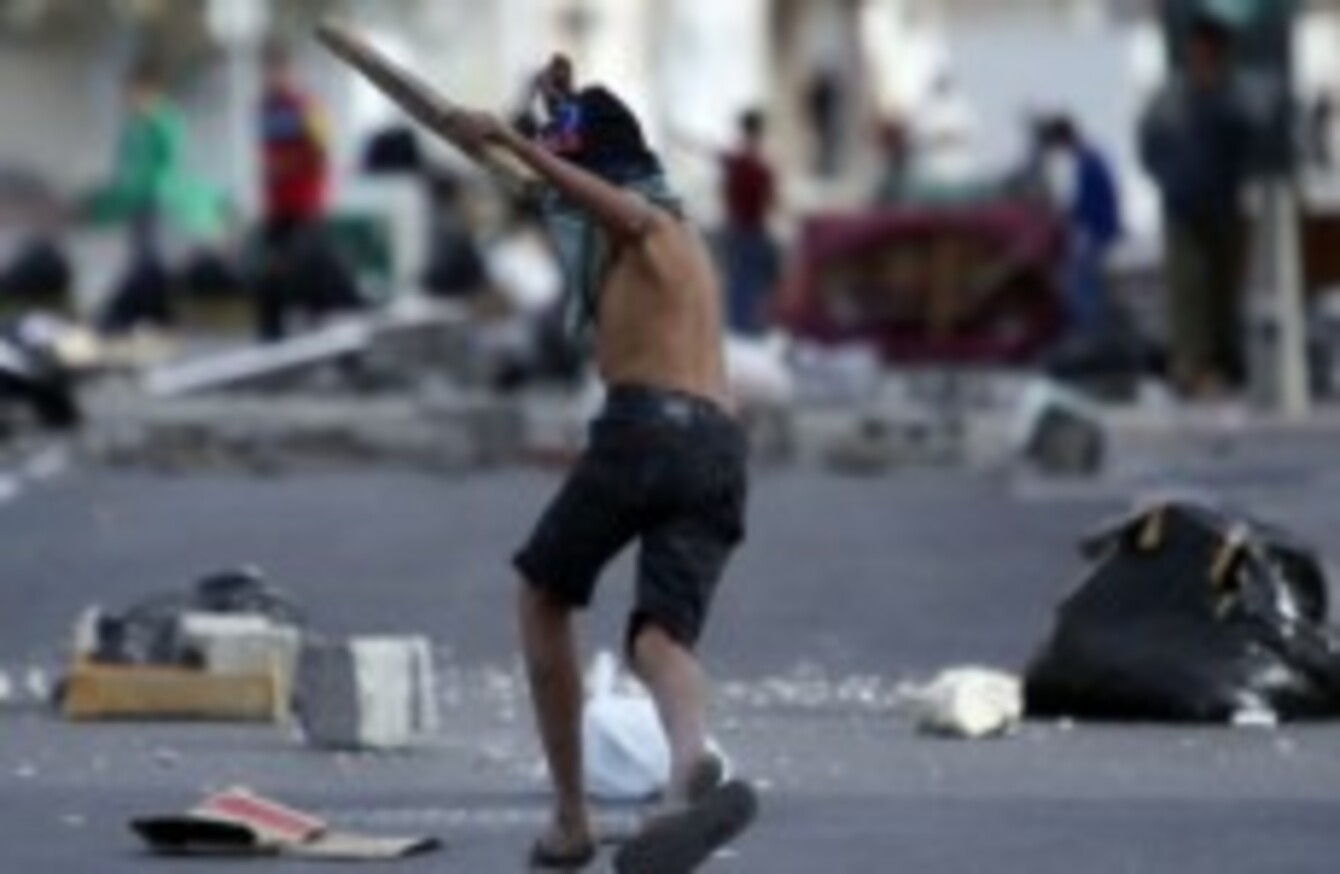 A Shia Bahraini youth holds a piece of wood in the streets of Malkiya, Bahrain, Wednesday, March 16 2011.
Image: Hasan Jamali/AP/Press Association Images
A Shia Bahraini youth holds a piece of wood in the streets of Malkiya, Bahrain, Wednesday, March 16 2011.
Image: Hasan Jamali/AP/Press Association Images
AUTHORITIES IN BAHRAIN have detained at least six prominent opposition activists today, as the crackdown on dissents widened under martial law-style rule in the tiny Gulf nation, a rights group and relatives of the arrested said.
The Bahrain Youth Society for Human Rights said those taken into custody in the pre-dawn raids include Hassan Mushaima and Abdul Jalil al-Sangaece — who were among 25 Shia activists on trial on charges of trying to overthrow the nation's Sunni rulers.
The case was dropped in a bid to calm tensions after political unrest began last month, but the latest sweeps suggests authorities have abandoned efforts at dialogue and are trying to silence the opposition leaders.
Bahrain has imposed a three-month emergency rule that gives the military wide powers to battle the pro-democracy uprising that began in mid-February in the strategic nation, which hosts the US Navy's 5th Fleet.
Increasingly, the struggle appears to be framed along sectarian lines: the Sunni monarchy and its backers using everything at their disposal to retain power, and Shias hoping their overwhelming population advantage will be their most potent weapon to disrupt the country and bring the leadership to its knees.
Sunni authorities in the region also see Bahrain as an important stand against possible expansion of influence by Shia power Iran.
The Youth Society group said the others detained include Shiite activists Abdul Wahad Hussein and Hassan Hadad and Sunni liberal leader Ibrahim Sharif, who had joined with Bahrain's majority Shias to demand the Sunni monarchy loosen its grip on power.
"I saw men in black pointing a machine gun at my husband saying just one thing: 'We are from the state security,'" said Sahrif's wife Farida Guhlam.
A senior opposition leader, Abdul Jalil Khalil, also said Abdul Hadi al-Mokhdar of Wafa was taken into custody.
"This is alarming and our priority is stop the bleeding of the country," Khalil said, adding that opposition is expecting more arrests of leaders. Al-Mokhdar and Hadad were also accused in the coup plot trial.
About 1,500 troops from Saudi Arabia and the United Arab Emirates are in Bahrain as part of a Gulf task force to help the Sunni rulers. The move, however, has brought sharp criticism from close ally Washington.
US Secretary of State Hillary Rodham Clinton told CBS News that the introduction of Gulf forces was "the wrong track."
Authorities have imposed a 4pm to 4am curfew and restricted movement around the country — limiting efforts by journalists to conduct firsthand reporting.
Parts of central Manama were under the full control of security forces on Thursday. Tanks and armored personnel carriers outfitted with machine guns watched over strategic intersections. Soldiers, wearing black ski masks and helmets, manned checkpoints and searched cars. Agents in civilian clothes patrolled wearing green vests and masks.
The remnants of the protesters' barricades — barrels, plywood and trash bins — were strewn over some streets.
Nearly all stores were closed and traffic was light. Very few people were walking the streets in the center of the capital.
- AP