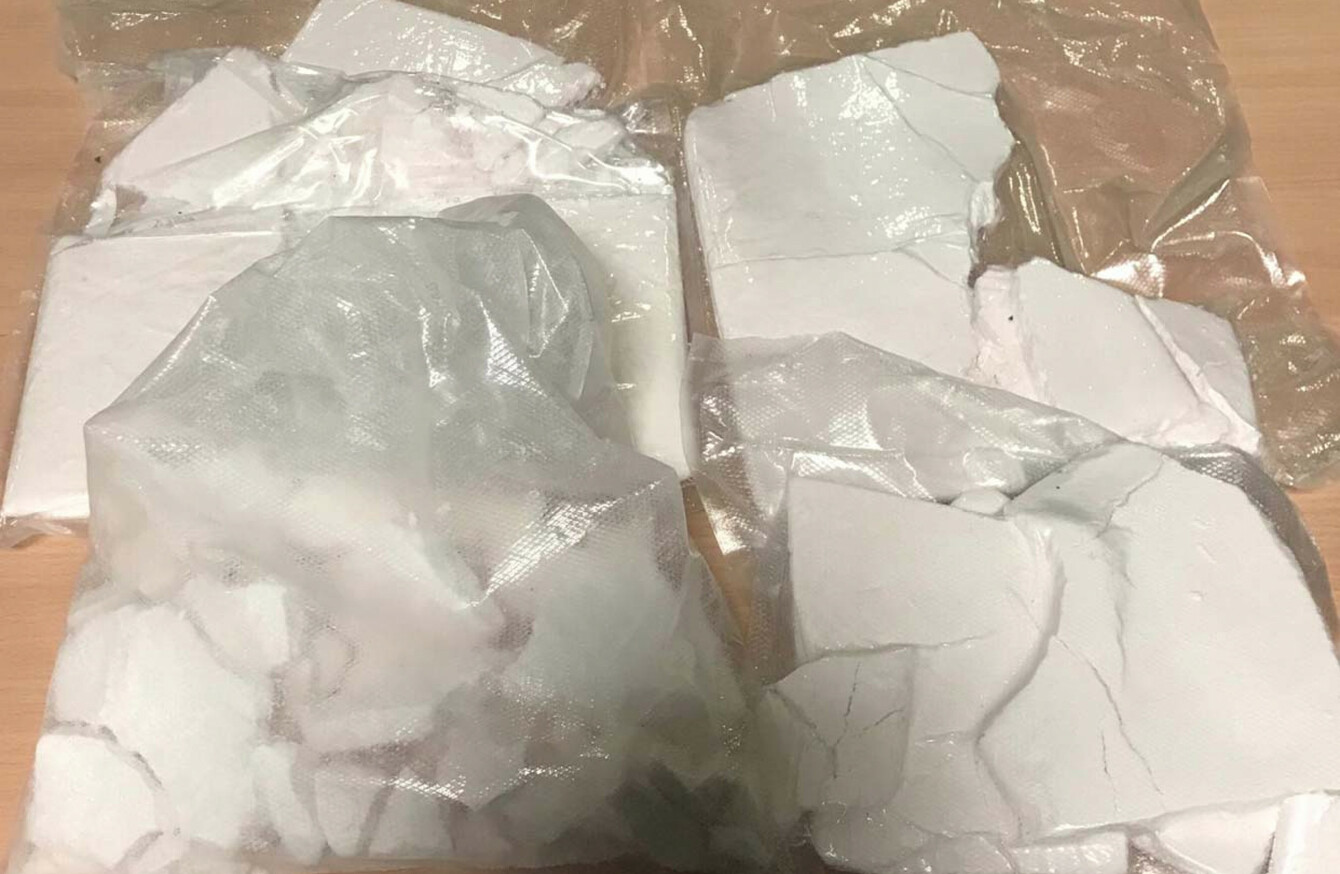 Drugs seized yesterday.
Image: Garda Press
Drugs seized yesterday.
Image: Garda Press
A GARDA DRUGS unit based in north inner city Dublin was unable to execute a raid on a suspected crack cocaine safehouse due to restrictions on overtime as sergeants fight with management in a bid to secure more resources. 
TheJournal.ie has learned that tensions between one of the drugs units within Store Street garda station and management are reaching boiling point following a refusal to grant resources to raid a premises last Wednesday morning. 
Members of the team had carried out surveillance on the premises and believed that a significant quantity of crack cocaine was being stored inside. 
However, in order to be able to carry out the action, a number of hours of overtime were needed for every member of that drug unit's subsection – something which was declined.
Store Street's drug unit is divided into two different sub-sections – both of which have seen their numbers declining in recent years. 
Garda sergeants based at the station have been involved in rows with management regarding the quality of their equipment and transport, as well as the effective curtailment of overtime in the district. In one instance, members of Store Street's drug unit were, according to reliable sources, enraged when they heard that another vehicle was being taken off the streets. 
One of the subsections is now left with two vehicles which are allegedly not fit-for-purpose – a Renault Clio and Ford Fiesta both of which are over 10 years old and, according to one source, "would have no chance of passing the NCT".
Sergeants have also been fighting for upgraded equipment for the drug unit. It has been claimed that some of the equipment as not been updated in over a decade. 
The unit at Store Street, despite the cutbacks, is still managing to make significant seizures. 
Yesterday, drugs worth €570,000 were seized by officers attached to the rowing unit.
A 34-year-old woman was stopped in the Dublin 7 area on Monday afternoon, as part of an ongoing investigation by the North Central Divisional Drugs Unit at Store Street into the sale and supply of controlled drugs in the north inner city.
During the course of a search, cannabis herb with an estimated street value of up to €20,000 and methamphetamine with an estimated street value of up to €22,000 (pending analysis) were seized.
In a follow-up operation, a search was conducted at a flat on the North Circular Road in Dublin.
Cannabis, methamphetamine, amphetamine and cocaine with a combined estimated street value of up to €528,000 (pending analysis) was seized. Two men in their 30s were arrested at the scene.
But there is still frustration among some members about being unable to carry out a crack cocaine raid on Wednesday – as the prevalence of the drug continues to increase across Dublin.
The use of against crack cocaine across Dublin has spiralled in recent months and is now one of the most abused drugs in the country.
Drug service workers on both sides of the Liffey have noticed an increase in availability and use of the drug since last summer.
"Crack-cocaine isn't new – it would come and go as a drug trend but this is more sustained use," said Tony Duffin of the Ana Liffey Drug Project.
A smokeable form of cocaine made by chemically altering cocaine powder to form crystals or rocks, crack-cocaine produces a short but intense high with effects much stronger than the powdered version of the drug.
Duffin said the rise in availability of cocaine in the capital had led to an increase in the amount of crack being manufactured.
He explained:
There was something that happened around the summer of last year – a rock of crack would cost around €50. Dealers began to make smaller rocks for €25 so people could buy them for cheaper.
Most users smoke the drug, but a smaller number inject it intravenously and it's often taken in combination with other substances.
The Garda Press Office has been contacted for comment.
With reporting by Daragh Brophy