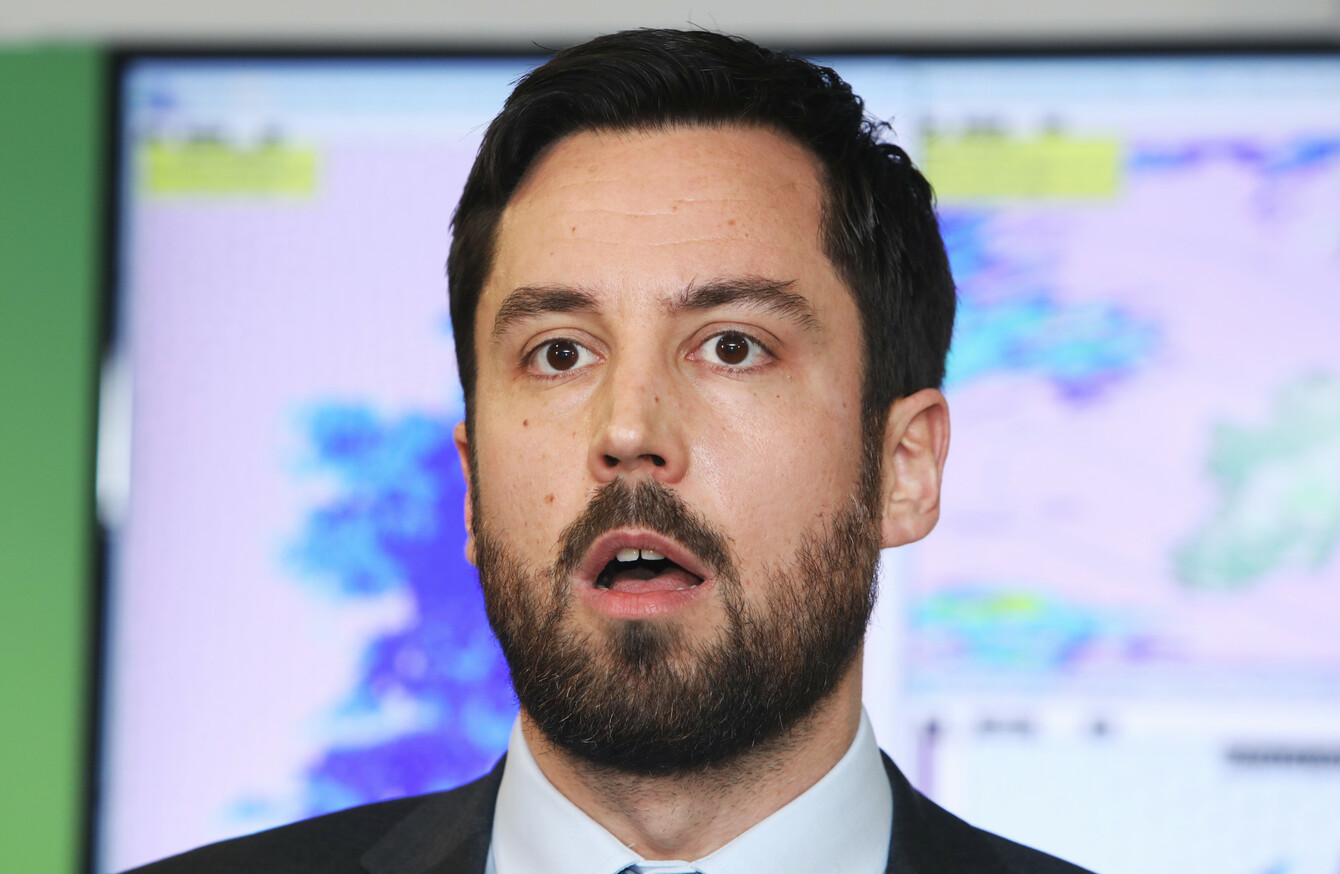 Image: Leah Farrell/RollingNews.ie
Image: Leah Farrell/RollingNews.ie
Updated at 6.50pm
THE NATIONAL EMERGENCY COORDINATION Group has outlined the plans that are in place to ensure people can get through the approaching snow storm with as little disruption to their lives as possible.
The group, which brings together various organisations and public agencies, met earlier this morning and in a media briefing afterwards, Minister for Housing, Planning and Local Government said the government is "well prepared".
The storm, which has been referred to as The Beast from the East, was named Storm Emma by Portuguese forecasters and although Hector was next on Ireland's storm name list, reporters were told officials here will stick with Portuguese name this week.
Minister Murphy said there is "an exceptionally cold weather event on our doorstep and it will have an impact on the country". This morning a Status Orange snow-ice warning was issued for seven counties in the east of Ireland.
Murphy warned that the weather will get progressively worse, with heavy snowfall and blizzard conditions on Thursday and Friday.
"It's difficult to forecast everything because you are facing nature," he said. "The closest comparison we have from the forecast at the moment is the event in 1982."
He said the NECG will be meeting every day this week and will revise its advice as the situation progresses. Murphy said the storm has the potential to be upgraded to a Status Red weather warning and if this happens it will have a "cascading effect", particularly in relation to public transport.
His advice to people is to ensure they are well prepared – put batteries in the torch, ensure there is enough fuel and basic food supplies at home and wrap up warm. He also asked people to check on vulnerable or elderly neighbours to ensure they have everything they need and are warm enough in the coming days.
Met Éireann's Evelyn Cusack said the snow showers are expected to begin tomorrow night and early Wednesday morning. Temperatures may drop as low as -6.
Although she could not give an estimation of how much snow may fall, she said it will be "a lot".
Rough sleepers
More than 100 additional emergency beds have been opened up and outreach teams will be out encouraging homeless individuals to seek shelter at night.
The Minister asked members of the public in Dublin to notify the homeless executive if they see people sleeping rough around the city.
Electricity
ESB said that it was preparing for possible power outages, and to keep an eye on its PowerCheck website for updates.
Ahead of the storm, it's advising customers to
Turn off electric cookers, ovens, irons, etc, if electricity supply is lost
Leave a light switched on so you know when power has been restored
Take extra care if using candles, oil lamps or other naked flames
Test smoke alarms with fresh batteries
Ensure adequate ventilation if using gas heaters.
Source: ESB Networks/YouTube
It warned people that electricity wires could be damaged by the snow and ice, and not to approach them.
These wires will still be live and are extremely dangerous. Never ever approach or touch electricity network wires under any circumstances.
"Snow may also cause trees and branches to fall  across or lean onto electricity lines. Please do not approach or touch any fallen wires or the tree or branch that they are touching."
It added that it had cancelled all scheduled maintenance appointments on Wednesday, Thursday and Friday to be rescheduled at a later date.
You can report incidences of fallen wires by calling the ESB on 1850 372 999.
Schools
For now, schools have not been advised to close, but this may change.
If it is upgraded to Status Red, school buses will no longer be running and schools will have to shut. This is more likely at the end of this week and in southern and eastern areas.
It will be up to individual schools to notify parents of the decision.
Roads
Sean O'Neill of Transport Infrastructure Ireland said there are "ample supplies" of salt for the roads – 120,000 tonnes to be exact.
However, he said many local or regional roads may not get salted or ploughed as the national network will be the priority.
Garda Superintendent John Ferris asked road users to be aware that these conditions will require them to slow down and to take extra time to get to their destination.
"Use common sense, use the next day or two to get your car ready – if your car is not roadworthy, get it roadworthy – use public transport, plan your journeys, particularly on Thursday and Friday when it looks like it will be very challenging on the roads," he said.
He advised drivers to keep water in their car, as well  as warm clothing and high visibility jackets and to keep an eye out for vulnerable road users.
Drivers are also advised to look at their car's manual to check what kind of safety assist features their vehicle has.
Wexford County Council said that they had "large stocks of salt and grit" and a range of specialist vehicles ready to be used to clear roads, as would be the case with other local authorities.
Public Transport
All of the transport operations have emergency plans and will be meeting this week.
Dublin Airport is not currently expecting to have to close, but this depends on the level of snow that falls on Thursday and Friday.
Equally Irish Rail and Bus Éireann are not anticipating major disruption to services if the warnings remain at Yellow or Orange levels. However, if it is upgraded to Status Red, they will have to reassess.
Irish Rail will have crews working to clear snow, but if it is falling faster than it can be cleared, services will be impacted.
Bus Éireann is working to ensure it has adequate grit. School transport services will only be suspended in the event of a Status Red Warning.
The Irish Travel Agents' Association said that those who are planning for travel abroad over the next few days are "naturally very concerned".
"Our advice to Irish holidaymakers travelling in the coming days is to keep in close contact with their travel provider or airline to establish if their holiday itineraries or flights are affected," it said.
Farming
The farming community has been advised to ensure farmyards are gritted and clear so it is safe for use for supplies coming and going, and for the family living there.
In relation to access to water for animals, pipes should be properly insulated. Farmers should also ensure there is adequate shelter for animals that are outdoors, and that all machinery is properly stored. Farmers are also advised to take particular care of their own personal safety.
For more information about preparing for the storm, visit winterready.ie.