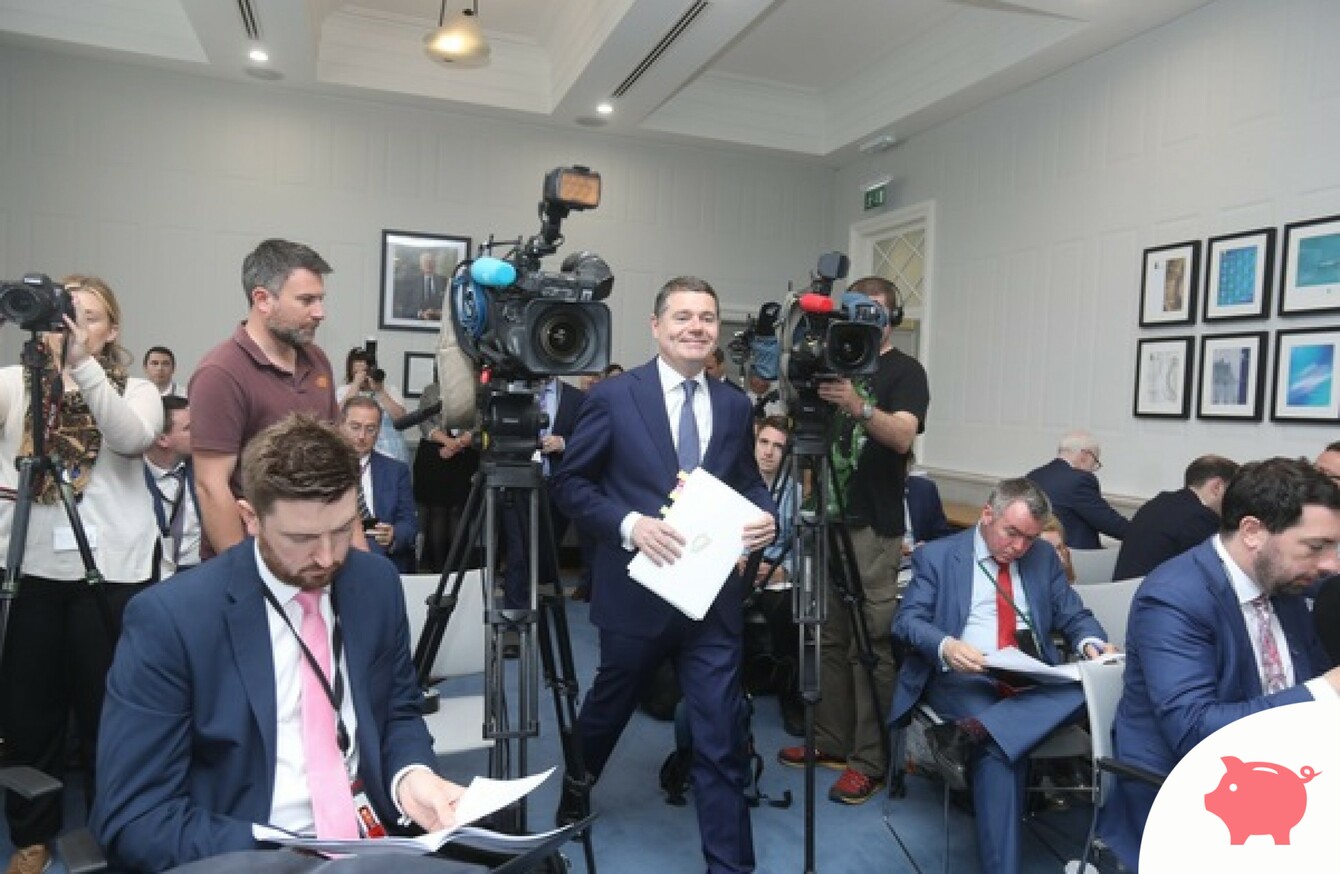 Donohoe entering the Whitaker Conference Room in the Department of Finance today.
Image: Leah Farrell/RollingNews.ie
Donohoe entering the Whitaker Conference Room in the Department of Finance today.
Image: Leah Farrell/RollingNews.ie
THE SUMMER ECONOMIC STATEMENT setting out what we are likely to see for next year's Budget has been published.
Unlike other years, Finance and Public Expenditure Minister Paschal Donohoe had to consider two scenarios when drafting today's statement: One, in which there is a real possibility of a no-deal Brexit, and the other, in which it is all relative smooth sailing after the Brexit deadline of 31 October.
Speaking to reporters this afternoon, he said the "external environment" is becoming "increasingly challenging".
Donohoe added that the "disorderly Brexit" in now a "real possibility", which is why the Irish government needs to plan for such an event.
So, what is the Summer Economic Statement?
What is actually being talked about is how much money the government has to spend in the next Budget – on the likes of tax cuts, new transport systems, better roads, and improved health services.
How much extra money do we have to spend?
Donohoe said the budgetary package for Budget 2020 is €2.8 billion, with €700 million in fiscal space (the amount of money there for tax cuts or new spending measures).
Of the €2.8bn, about  €1.9bn has already been allocated to fund capital projects and public pay. It should be noted, this is the case if there is an orderly Brexit.
Today's statement predicts a surplus in GDP in an orderly Brexit of 0.4%.
What about Brexit? Will that change this year's Budget?
The statement sets out an "orderly Brexit" would see small surplus next year, with a €300 million increase in public spending and €600 million in new taxation measures.
A "disorderly Brexit" would necessitate essentially the same budget but there would be "temporary, targeted funding" for sectors that are most affected by Brexit. 
The surplus mentioned above would also turn into a deficit "in the region of -0.5% to -1.5%" in GDP next year.
When will the minister decide what option to go with?
Speaking to reporters last week, Donohoe said he will have to make an "informed judgement" or guess as to whether there will be an orderly or crash-out Brexit in September, ahead of Budget day on 8 October.
The minister also reiterated what he said last week – that there are no plans to bring out another budget, post-Brexit.
Fianna Fáil's Michael McGrath TD and Labour leader Brendan Howlin TD are among those who have said in the past few days that the government should not rule out an emergency budget.
"It is very important that Ireland sends out a signal that we will deliver and we are able to make our own decisions and project the right kind of tone about how we set our economic policy," Donohoe said
I am absolutely certain that the right course of action for our country this year is for a single budget based on the parameters I have outlined.
#Open journalism No news is bad news Support The Journal

Your contributions will help us continue to deliver the stories that are important to you

Support us now
Are we spending any of the cash on BIG projects announced?
The National Broadband Plan and the National Children's Hospital are the two big projects mentioned in the statement today, with €200 million set aside for these two plans.
"Since the UK referendum result in 2016, a number of steps have been taken to build up the resilience of the economy so that we have the capacity to deal with adverse economic shocks. This includes building up our fiscal resources by balancing our books last year for the first time in ad decade, reducing our debt burden and establishing the Rainy Day Fund. The steady increases in public spending implemented in recent years, with a particular focus on public capital investment, play an important role in supporting resilience in the face of Brexit," said Donohoe. 
He added:
While the sensible economic and fiscal policies implemented over recent years have placed Ireland in a stronger position to deal with challenges, including Brexit, continued careful management of the economy and of the public finances is needed now more than ever in order to chart our way forward through the uncertain times ahead.
By approaching the Summer Economic Statement in this way, we will ensure that we are prepared for all eventualities so that the public finances and our people are protected in the years to come.
But it is not just Brexit the government has to worry about.
Today, economic experts warned that Ireland runs the risk of recessionary spending cuts if it continues down the path of spending.
Stephen Kinsella, Associate Professor of Economics at University of Limerick, told the Budget Oversight Committee:
"Ireland risks replaying the 2007-9 period of dramatic cuts to public expenditure on its current forecasted path of spending increases."
With the finance minister holding the nickname of 'Prudent Paschal', he runs the risk of damaging Fine Gael's perceived reputation of looking after the purse strings if his predictions of Brexit dramatically go off course.
- With reporting by Rónán Duffy