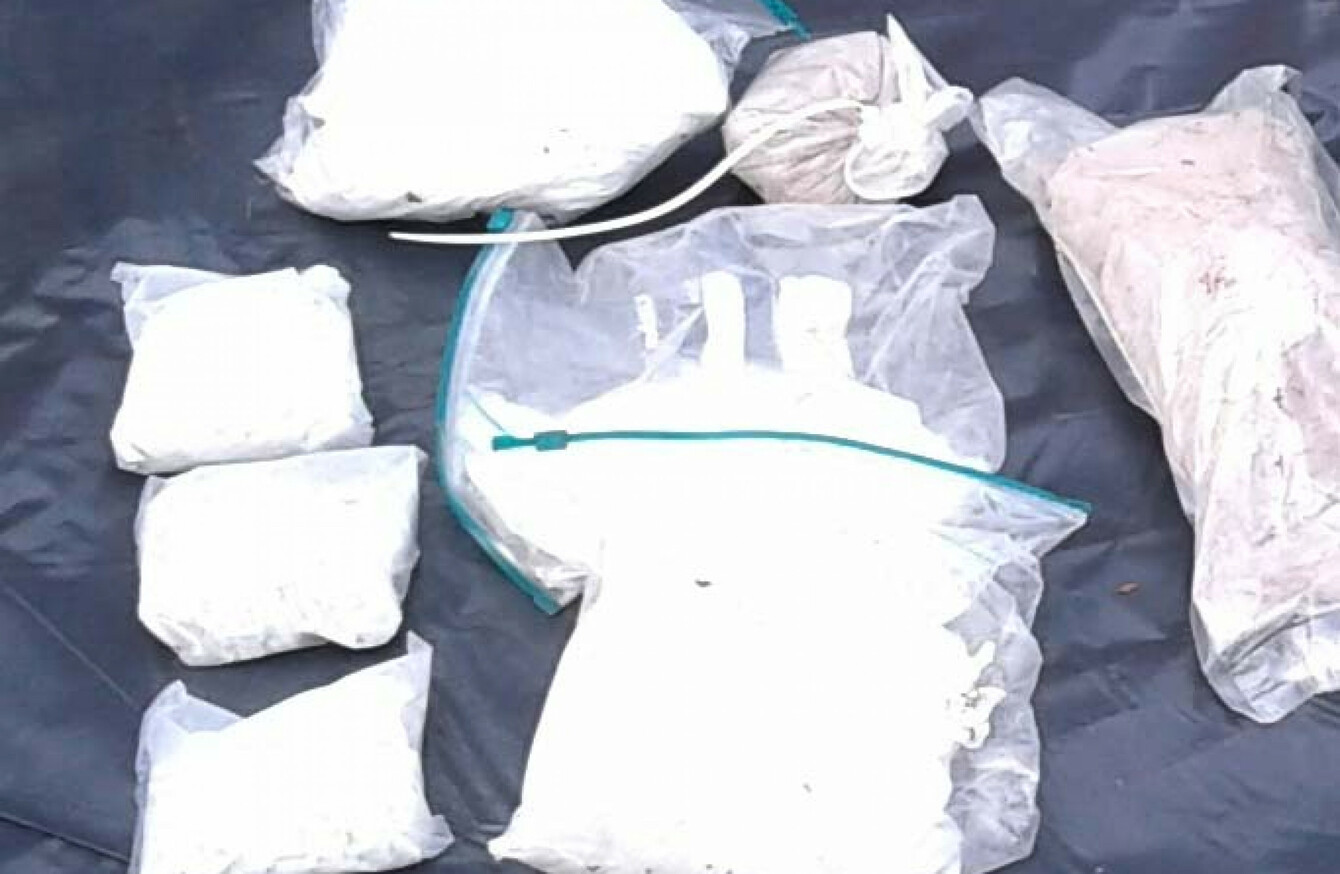 File photo of a previous seizure of a cocaine-like substance.
Image: Garda Press
File photo of a previous seizure of a cocaine-like substance.
Image: Garda Press
A SUPERMARKET SECURITY guard who was caught with nearly €10,000 worth of cannabis and cocaine has been ordered to perform 240 hours of community service in lieu of a prison sentence.
Joseph Moore (30) told gardaí that the drugs found at his father's home were for his own use. The drugs found by gardaí during a planned search of the house consisted of cocaine with an estimated street value of €7,735 and an estimated €2,142 in cannabis herb.
The court previously heard that Moore came from a hard-working family and his father was a retired civil servant who had worked for three decades in the Department of Justice.
Dean Kelly BL, defending, said his client described himself as a moron. He said Moore's father was disgusted and mortified by his son's behaviour but was still in court to support him.
Moore of Clonshaugh Drive, Clonshaugh, Dublin pleaded guilty at Dublin Circuit Criminal Court to possession of the drugs for sale or supply at Clonshaugh Drive on 5 October 2015.
Judge Karen O'Connor said at a previous hearing that Moore was fortunate enough to come from a stable family background, unlike many defendants who came before the court.
"He is a man who knows better and should have known better," the judge said.
She said Moore had come close to receiving a jail sentence, but she took a number of factors into account including his impressive work history and family support.
"He's made a serious mistake," she said. "I'm giving him an opportunity by not imposing a prison sentence." She had adjourned the case to allow a probation report be prepared.
Today Judge O'Connor ordered Moore to perform 240 hours community service in lieu of three years imprisonment.
Garda Janice Gray from Coolock garda station previously told the court that when gardaí went to the house with a search warrant, Moore's brother David answered the door.
Asked if there was anything illegal in the house, this man said "Yeah, in the shed". Gardaí found a rucksack with bags of cannabis herb in the shed.
They searched the house and found the cocaine, a digital weighing scales, and "street deal baggies", Gda Gray said.
She said the defendant told them the drugs were for his own use but he later pleaded guilty to drug dealing.
Gda Gray agreed with Kelly that Moore was open to being used by people with more "criminal guile". Kelly said these people approached him to hold drugs for them and he was getting a share of the drugs for his own use.
He said his client smoked large amounts of cannabis every day.
He said Moore had built up a debt of €70,000 in unpaid motorways tolls with eFlow by driving across the city and the M50 to visit his then partner.
Counsel said he couldn't believe this figure himself but investigated it and found that unpaid tolls could become multiples because of charges. He said Moore's father settled this debt with eFlow with a €6,700 settlement.
Kelly said his client worked as a security guard in Dunnes Stores and had a good work record. He said his father, who now works as a taxi driver, was profoundly exasperated by his son's action.
Gray agreed, adding: "I do feel sorry for his father".