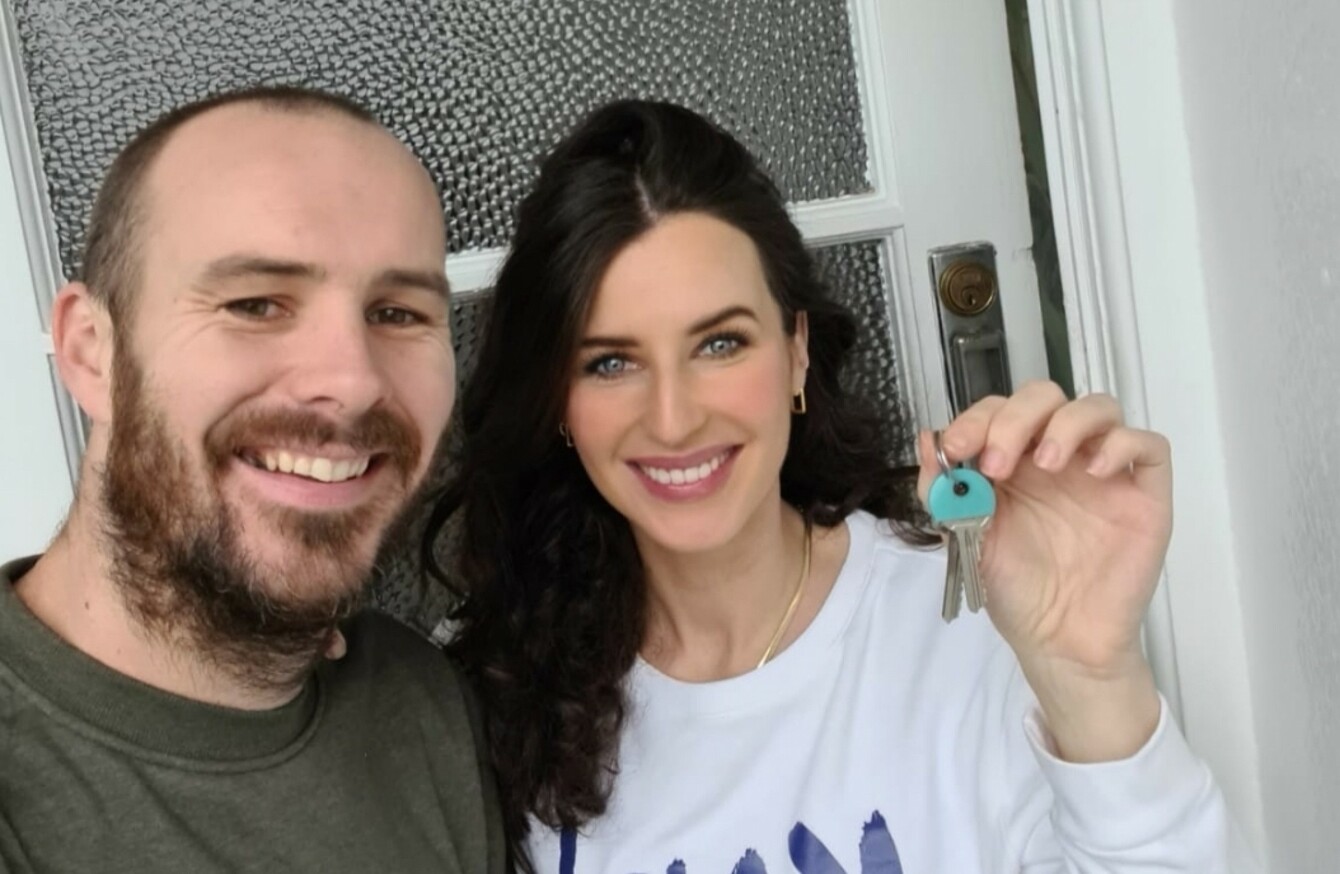 Mark and Suzie Chaloner outside their home in Blackrock, Co Cork.
Image: Suzie Chaloner
Mark and Suzie Chaloner outside their home in Blackrock, Co Cork.
Image: Suzie Chaloner
SUZIE AND MARK Chaloner moved into their first home, a three-bed 1950s house in Blackrock, Co Cork, in the summer of 2019. The couple's journey to their new place involved a couple of moves and plenty of saving, as Suzie explains:
"We had initially been renting together for five months, and then I went down to part-time in work because I was starting a Masters. I think I lasted about three months paying rent on a part time salary before we decided that moving back home again and starting to save for a mortgage would be wiser."
The couple were lucky enough to both have parents living in Cork, and they each moved back home separately. "We were asking ourselves, 'Can we survive this?' and we both figured it would be worth it in the end," says Suzie, who works in procurement for an Irish food retail group.
Starting to save
Suzie and Mark saved solidly for around two and a half years to get their funding together. With their heart set on an "older style of house" that would likely need significant amounts of renovations, the pair decided to save as much as they could manage beyond the minimum needed for a mortgage deposit. To build up their savings, they committed to cutting down on unnecessary spending – something that involved a shift in mindset for Suzie:
I have always loved buying clothes but I did my best to stop buying new stuff in general unless I really needed something. Saving really makes you look in a different light at what you buy.
When the couple were ready to apply for a mortgage, permanent tsb's offering felt like the best fit for them. "I felt they took everything into account, not just our base salary but our saving ability and our ability to upkeep repayments," says Suzie. 
Another positive factor for Suzie was that permanent tsb gave the couple three different mortgage options, allowing them to choose the one that best suited their needs. Going for a mortgage with a fixed rate for three years meant the couple could plan ahead and knew exactly what they'd be paying each month.
Even before getting mortgage credit approval, Suzie and Mark had already been in house-hunting mode for quite a while, having used an online calculator to get a sense of what they could borrow (you can try permanent tsb's Mortgage Calculator for yourself here).
"I spent a lot of time looking at Daft and just figuring out the price range of different areas, and what our priority list was. I had my heart set on somewhere in the city, maybe a terraced redbrick. Mark was the voice of reason, he'd say, 'Well how will we get a parking permit? Where are we going to park the car?'"
On the hunt
The pair viewed multiple houses – "we were even comparing notes with other friends who were trying to buy at the time" – before finally finding the place they're now living in. "Everything was great about it," says Suzie.
The size, the space to extend, the garden. It ticked so many boxes. It needed a lot of work though. Probably some people might have seen it and said 'no way', but I grew up in an old house so I could see the potential.
Although there was some competition from other buyers, the bidding didn't go "crazy high". When multiple buyers are interested in a home, each one tries to outbid the other, which can often drive the starting price up by tens of thousands of euro. But Mark and Suzie were careful to be conservative with their bidding:
"Our instinct was to increase our own bid by €5,000 when we heard that another potential buyer had put a higher bid in, but we were given the good advice to only go up by €1,500, so as not to drive the price too high. It worked out well for us in the end."
Some delays on the seller's side meant the couple didn't get the keys to their new home until March 2019, and they spent that spring and summer extensively modernising and renovating.
To keep costs down, the pair did as much of the labour themselves as they could, from pulling up insulation in the attic to removing a stairlift from the previous owner.
In the end, they ended up rewiring, and later deciding to replumb, the whole house. "That was a scary thing at the time, because it was an unexpected cost, but once it was done it was a relief," says Suzie.
Getting cashback on their mortgage was a handy boost that came at the right time for the couple. "We got that money just as we knew about the rewiring," recalls Suzie. (Read more about permanent tsb's First Time Buyer Mortgage offer here, which offers buyers 2% of the mortgage value as cashback at drawdown.)
Now that they're all moved in, with wiring and plumbing in place, plus an updated kitchen and bathroom, what's the next step for the couple? "In time we'd love to extend, and remove the wall between the back living room and the kitchen to turn it into an open plan space, but for the moment it has everything we need."
Start your journey home with permanent tsb. We know that buying your first place is a big decision, and we're here to support you every step of the way. Find out more over on our website here, or book an appointment to start your journey home today.
Calculator results do not constitute an offer of a mortgage loan, nor are the results legally binding. Calculator and calculator results are for illustrative purposes only. Cashback offer available to new applicants who receive full letter of approval within the qualifying period. Excludes tracker, buy-to-let, negative equity and applicants refinancing an existing permanent tsb mortgage. 2% cashback at drawdown is paid into the customer's mortgage paying account within 40 working days of mortgage drawdown. The qualifying period (11 January 2016 until 31 December 2021) may be extended as permanent tsb decides. Product eligibility criteria applies. Lending criteria, terms and conditions apply. Security and Insurance is required. permanent tsb plc. is regulated by the Central Bank of Ireland.