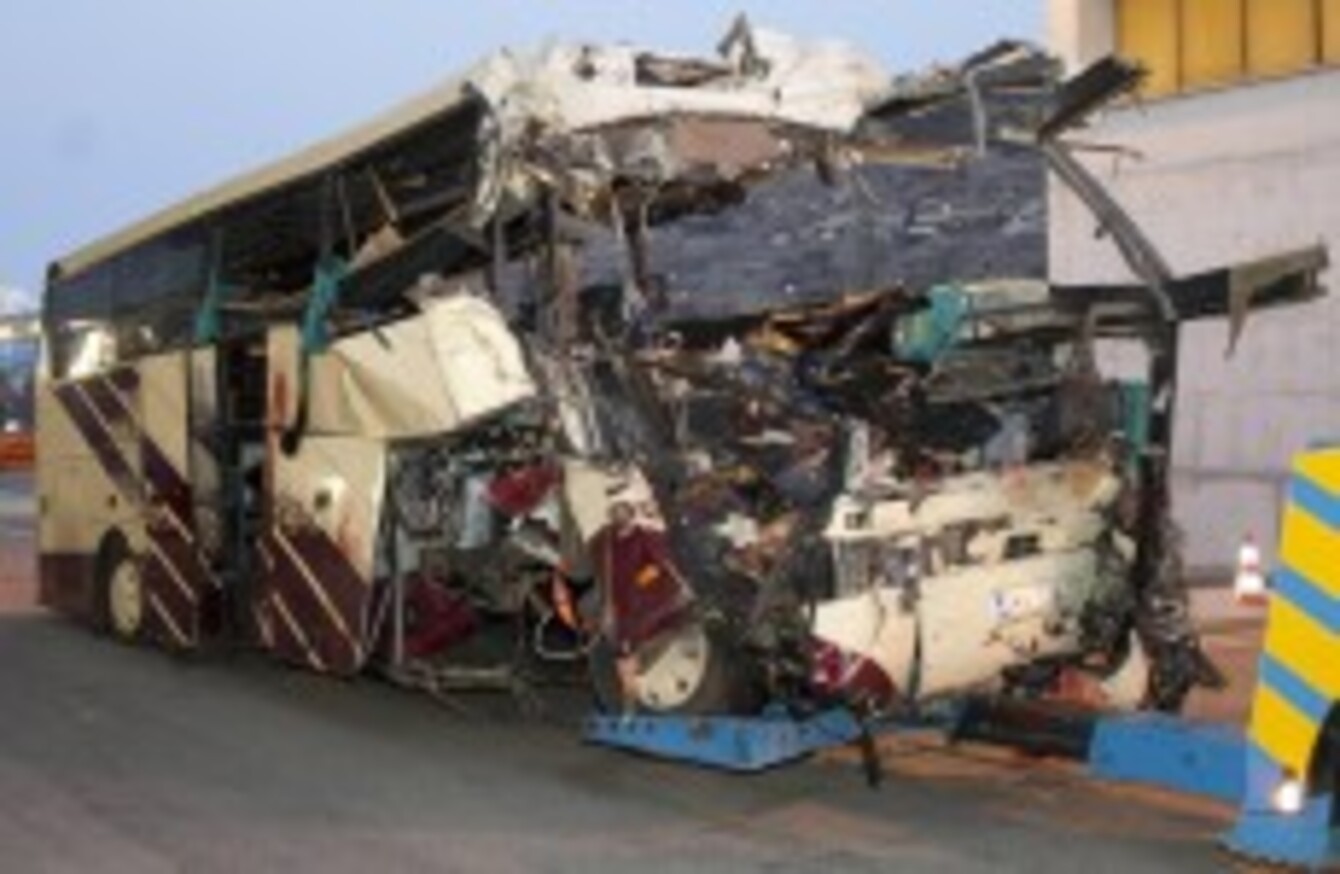 The wreckage of the tourist bus from Belgium is dragged by a tow truck outside the tunnel of the motorway A9, in Sierre, western Switzerland, early Wednesday, March 14, 2012
Image: AP Photo/Keystone, Laurent Gillieron
The wreckage of the tourist bus from Belgium is dragged by a tow truck outside the tunnel of the motorway A9, in Sierre, western Switzerland, early Wednesday, March 14, 2012
Image: AP Photo/Keystone, Laurent Gillieron
THE BODIES OF the 28 people killed in a coach crash in an Alpine tunnel on Tuesday night are being flown home today.
Of those killed, 22 were children aged about 12. Four teachers and two bus drivers also died.
Most of the victims are Belgian, but Swiss officials say the dead include seven Dutch children, reports the BBC.
The other 24 people on board, all children, were injured and airlifted to different hospitals around Switzerland. Some victims are said to be seriously injured.
The Belgian school group was returning from a skiing holiday in Switzerland when their bus crashed head-on into a concrete wall in a motorway tunnel at about 9pm on Tuesday. It was one of a group of three buses, the other two of which reached Belgium safely.
Relatives were flown to Switzerland on Wednesday, however the chaos of the crash meant that some parents were unsure if their child was alive or not.
Belgium announced a day of mourning, and the Swiss parliament held a minute of silence for the victims.
An investigation into the crash has been launched, but the cause of the tragedy is not yet clear.
Police said the bus was not speeding and everyone aboard had been wearing seat belts when it crashed inside the 2.5-kilometre Tunnel de Geronde on a highway near the southern town of Sierre, a gateway to the Val d'Anniviers tourist region. No other vehicles were involved.
Investigators were still trying to determine how a modern bus, a rested driver and a seemingly safe tunnel could produce one of the deadliest highway crashes in Swiss history.
The accident virtually shredded the front end of the bus, leaving only small, barely recognizable pieces in place. Passengers were trapped inside.
Dr Jean-Pierre Deslarzes, medical director of the local Swiss rescue service OCVS, said first-responders were traumatised because so many of the victims were children so young.
Additional reporting by the AP