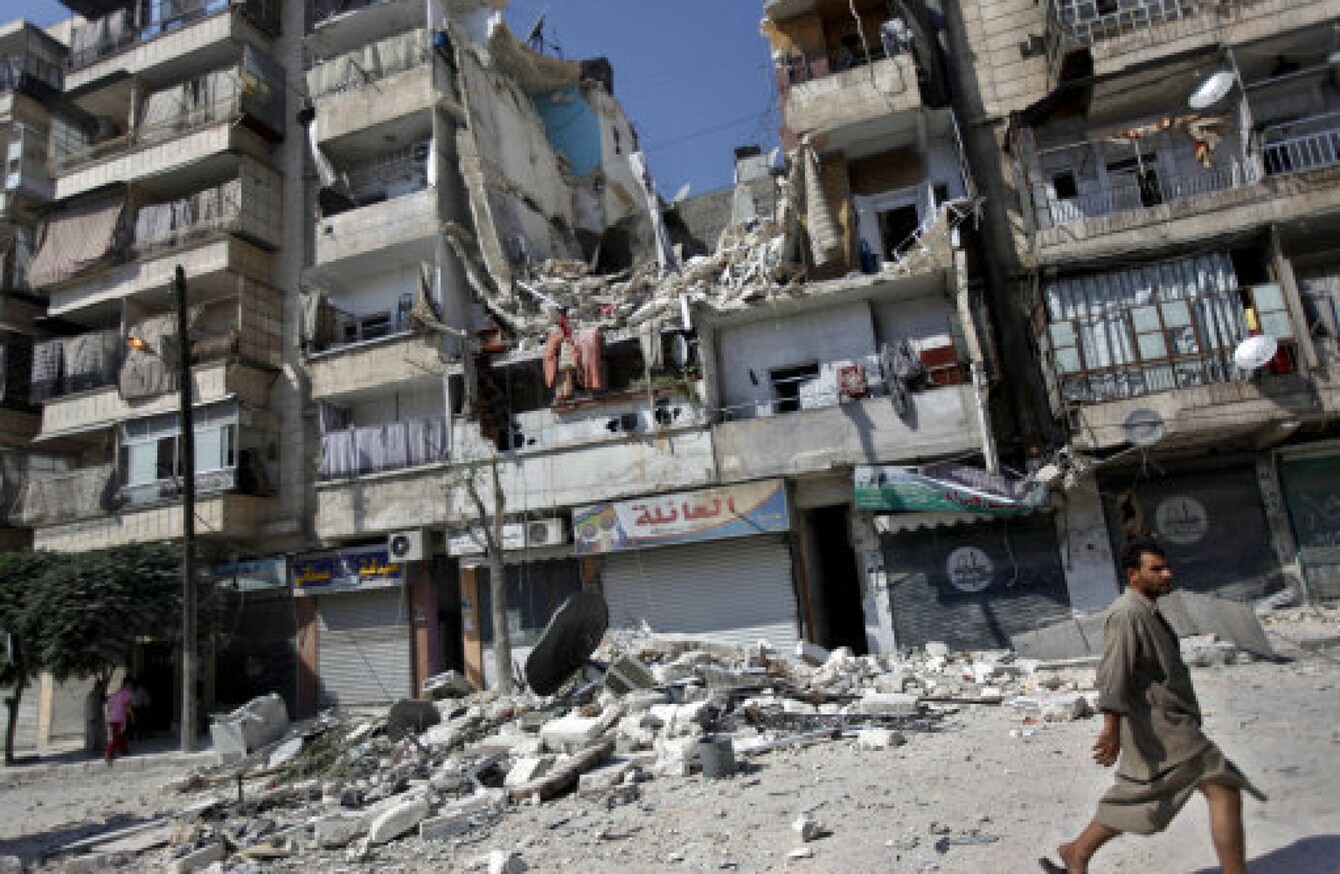 File photo of a building destroyed by an airstrike in Syria.
File photo of a building destroyed by an airstrike in Syria.
MORE THAN 60 Syrian government soldiers were killed and dozens of others injured in US-led coalition air strikes on an air base in the east of the war-torn country, the Russian army said.
"Warplanes from the international anti-jihadist coalition carried out four air strikes today against Syrian forces surrounded by the Islamic State group in the Deir Ezzor air base," the army said in a statement.
"Sixty-two Syrian soldiers were killed and a hundred others were injured in these strikes."
Syria's military also said the US-led coalition struck its base in the eastern province of Deir el-Zour, allowing the Islamic State group to advance in the fiercely contested area.
There was no immediate comment from Washington. If confirmed, it would be the first time the coalition has targeted Syrian government forces.
In a statement, the Syrian military says the airstrikes caused casualties and damage to equipment, and enabled an IS advance on the hill overlooking the air base.
The statement calls it a "serious and blatant attack on Syria and its military" and "firm proof of the US support of Daesh and other terrorist groups." Daesh is an Arabic acronym for IS.
Syrian President Bashar Assad's government views all those fighting against it as "terrorists," and has long accused the US and other rebel supporters of backing extremists.
Syria ceasefire
Russian president Vladimir Putin earlier addressed the ongoing ceasefire in Syria, saying that Moscow is holding to its part of the agreement.
However, he accused the rebels of using it to "regroup" and called for more transparency from Washington.
"We see attempts to regroup among these terrorists, to switch one label for another, one name for another and keep their military capacity," he said in televised remarks while on a trip to Kyrgyzstan.
#Open journalism No news is bad news Support The Journal

Your contributions will help us continue to deliver the stories that are important to you

Support us now
"This is what we are seeing and that is sad," he added, saying Washington is facing a "rather difficult problem… to separate the opposition (to Syrian President Bashar al-Assad) from terrorists".
He said Washington apparently "has the desire to keep the capabilities to fight the lawful government of President Assad," calling it a "very dangerous path".
"I would like us to be honest with one another and that is how we can move toward our mutual goals (to fight terrorism and achieve peace in Syria)," he said.
I don't really understand why we have to hide any agreements, but we will of course refrain from revealing any details until our American partners agree to this.
Russia accused the United States of refusing to share details of the closed-door agreement on Syria with the UN Security Council yesterday, which had to cancel its urgent meeting that was supposed to endorse the deal.
"They don't want to make it public because the world community… will understand who is really not abiding to what," Putin said of the deal, in reference to "regrouping" rebels.
- © AFP 2016 with reporting from AP