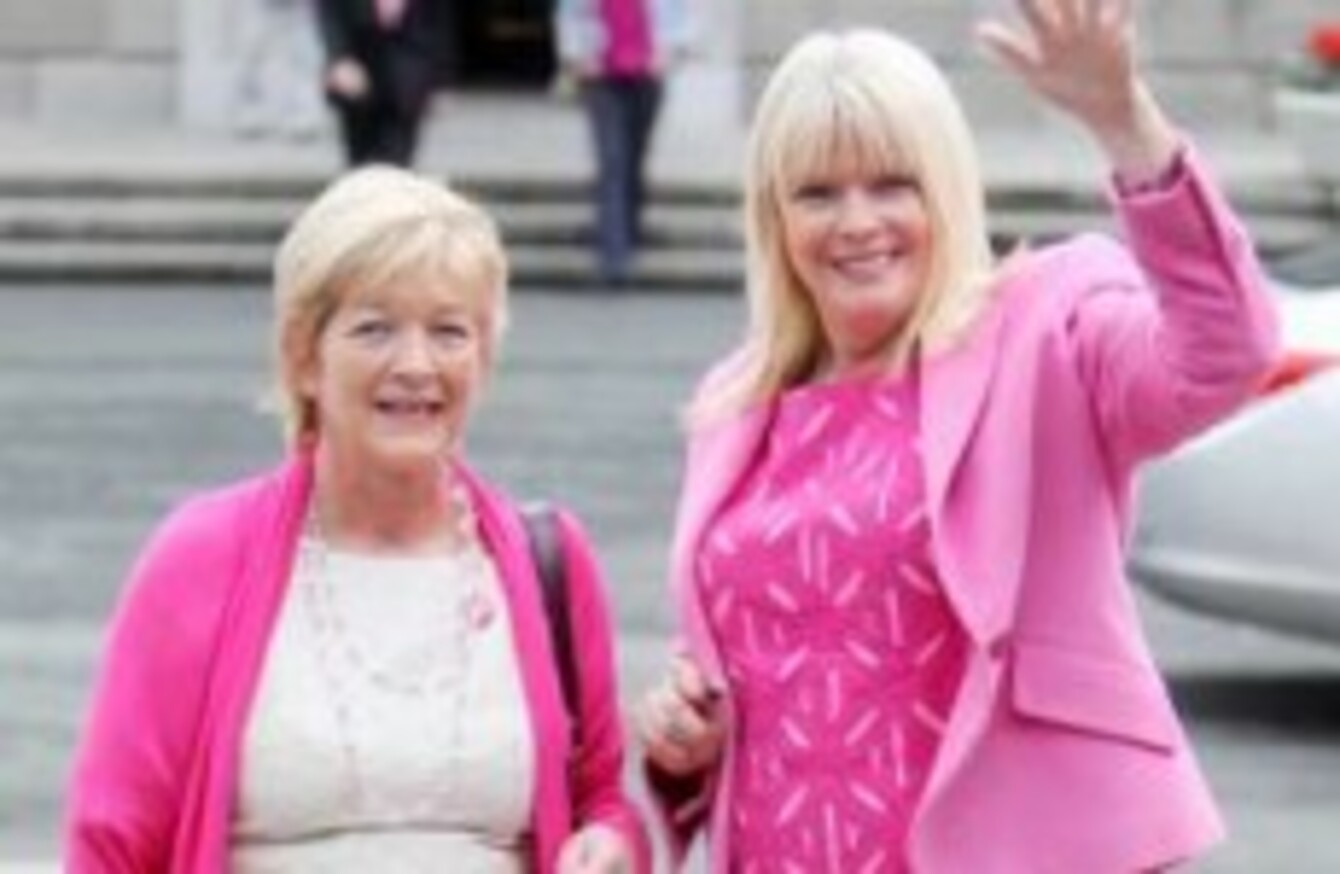 Anne Ferris and Mary Mitchell O'Connor are two of only 25 female TDs in the Dáil, out of a total 166
Image: Leon Farrell/Photocall Ireland
Anne Ferris and Mary Mitchell O'Connor are two of only 25 female TDs in the Dáil, out of a total 166
Image: Leon Farrell/Photocall Ireland
LABOUR TD ANNE Ferris says we must change the culture and the way that candidates are selected for election to correct the gender imbalance in the Dáil.
The TD for Wicklow / East Carlow is adding her voice to calls to help facilitate more women's entry into politics.
Speaking at the Parnell Summer School in Wicklow, Deputy Ferris said what 'say' women have depends on their representation.
She pointed to an Oireachtas study, carried out in 2009, which outlined the five things women need changed before they can contribute more fully to politics.
They are confidence, childcare, cash, culture and candidate selection.
Failures
Deputy Ferris says the consequences of neglecting those 5′Cs' are that in the last Dáil, 47 per cent of Irish women had no female TD to represent them, while 100 per cent of Irish men did have a male TD to represent them.
Anne Ferris says that creates a situation where comments, like those directed at her fellow TD Mary Mitchell O'Connor this summer, can freely be made.
In the infamous  'Miss Piggy' incident, Independent TDs Mick Wallace, Luke Ming Flanagan and Shane Ross commented on the colour of Deputy Mitchell O'Connor's clothing.
Consequences
Women make up 50 per cent of our population, but they are represented in the Dáil by a group of female politicians who comprise just 15 per cent of the total number of deputies in the current Dáil.
Anne Ferris quoted research that for women to exert a substantive influence on the decisions taken by the legislature, it must reach a critical mass of at least one third of the seats present.
Deputy Ferris wondered, in her speech, whether the under-representation of women might account for certain historical injustices in this country such as the Magdalene Laundries, and the sexual abuse of children by priests.
Legislation
Labour's Ms Ferris has, perhaps not surprisingly, applauded the government's legislative initiative to introduce controversial gender quotas.
The new rules will force parties to choose 30 per cent female candidates in the next election, rising to 40 per cent after 7 years.
For her part, the deputy says she will work to increase the number of women on State Boards.  Under the Programme for Government, women should make up 40 per cent  of all State Boards.
She singled out the upcoming presidential election as one that does offer a fair breakdown of female to male candidates, but added that it wasn't enough that this should be the exception, rather than the rule.
Last week, in a piece she wrote for TheJournal.ie, Fine Gael TD Mary Mitchell O'Connor said the Dáil is nowhere close to providing equality in representation.
The Dun Laoghaire representative said the fact that the Dáil has only 25 female TDs out of a total of 166 a 'shocking indictment' of our system.
She went on to outline statistics that showed on 15 per cent of candidates in the last election were women, while there were no women candidates at all in four constituencies.