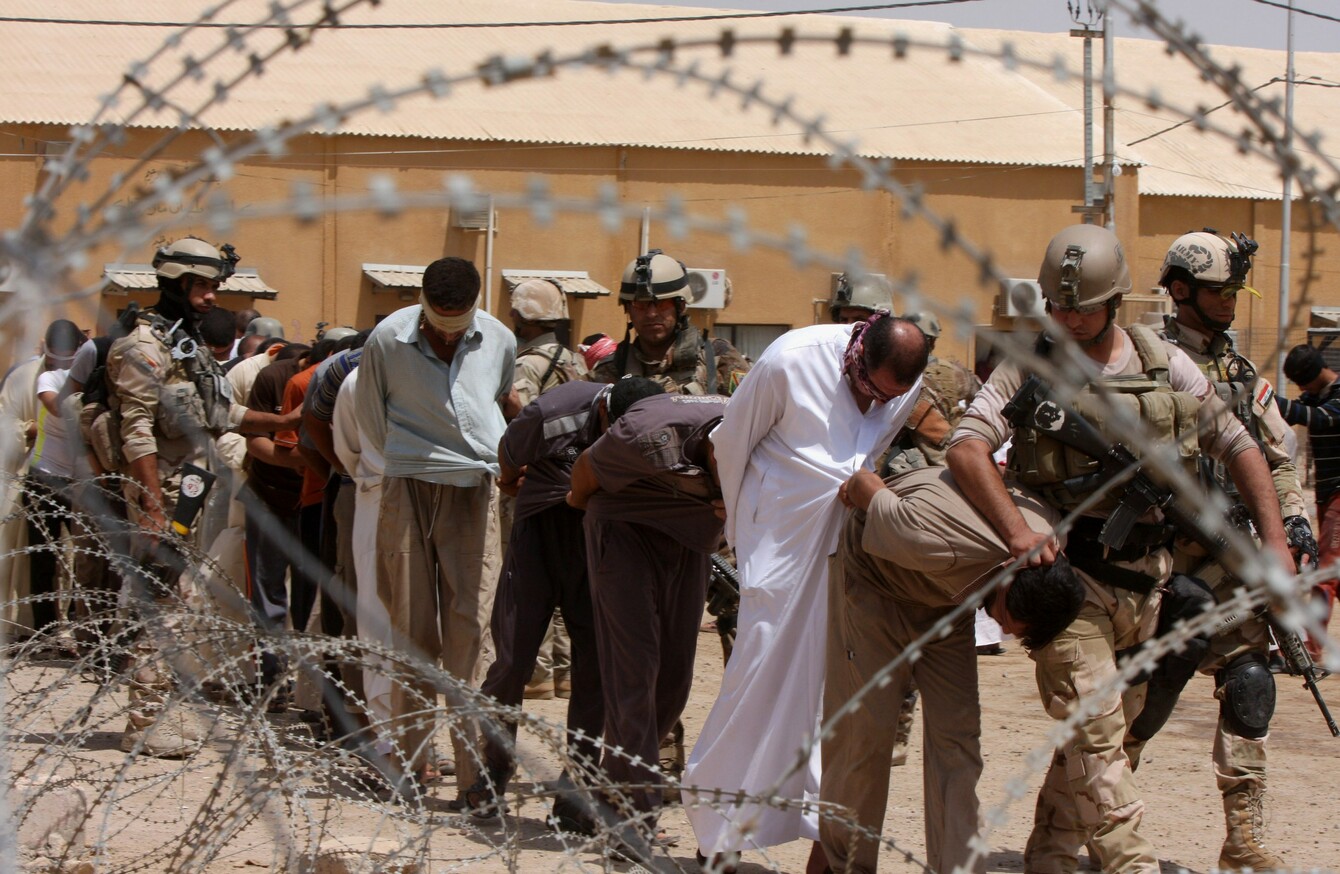 File photo of suspected al-Qaida members being led away to detention centers in Iraq.
Image: AP/Press Association Images
File photo of suspected al-Qaida members being led away to detention centers in Iraq.
Image: AP/Press Association Images
OVER 1,000 PRISONERS are being held in "horrendous conditions" without charge in a part of Iraq due to the authorities lacking the resources to properly investigate them, according to a human rights group.
Amnesty International said yesterday that it had gained access to a centre holding 683 male "terrorist suspects" in the town of Amiriyat al-Fallujah in the Anbar Governorate west of Baghdad.
The detainees were described as being cramped into several rooms in disused warehouses being used as makeshift detention facilities.
The conditions were described as "inhumane and degrading" by Amnesty's Secretary General, Salil Shetty.
"The detainees are squeezed into a space of less than one square metre each, sitting in a crouching position day and night, unable to stretch or lie down to sleep and are rarely allowed outside for fresh air," said Salil Shetty.
It was a truly shocking sight – hundreds of human beings packed together like sardines in a tin and held in inhumane and degrading conditions for months on end.
The men, none of whom have been charged according to Amnesty, were arrested when their towns were liberated from Islamic State rule by the Iraqi army.
The organisation said that they were "plucked off the streets or taken from their homes" on suspicion of having colluded with IS "often merely because they had remained in towns and villages under IS rule".
Some have been held for months on end without any progress made on their cases.
Innocent
Donatella Rovera, Amnesty's senior crisis response adviser, said the centre – run by Iraqi anti-terrorism forces – had only four investigators to process cases and was overwhelmed.
Amriyat al-Fallujah is in the western province of Anbar, where security forces have been battling the Islamic State group since 2014.
#Open journalism No news is bad news Support The Journal

Your contributions will help us continue to deliver the stories that are important to you

Support us now
Military operations have displaced huge numbers of civilians in the province. Thousands of Sunni men have been detained on suspicion of terrorist activities and held incommunicado.
"Not even one of them has been formally charged. They are there for months and months because the local authorities don't have any capacity to investigate these cases," Shetty said.
"Even the authorities themselves said they don't even know how most of those people have ended up there – they think that most of them are innocent.
Those arrested on suspicion of links to IS must either be promptly charged with recognisable criminal offences and tried in fair proceedings or released.
Amnesty criticised the Iraqi criminal justice system, arguing that strengthening the justice system should be one of the priorities in Iraq, where serious rights abuses continue to go routinely unpunished.
- With reporting from AFP