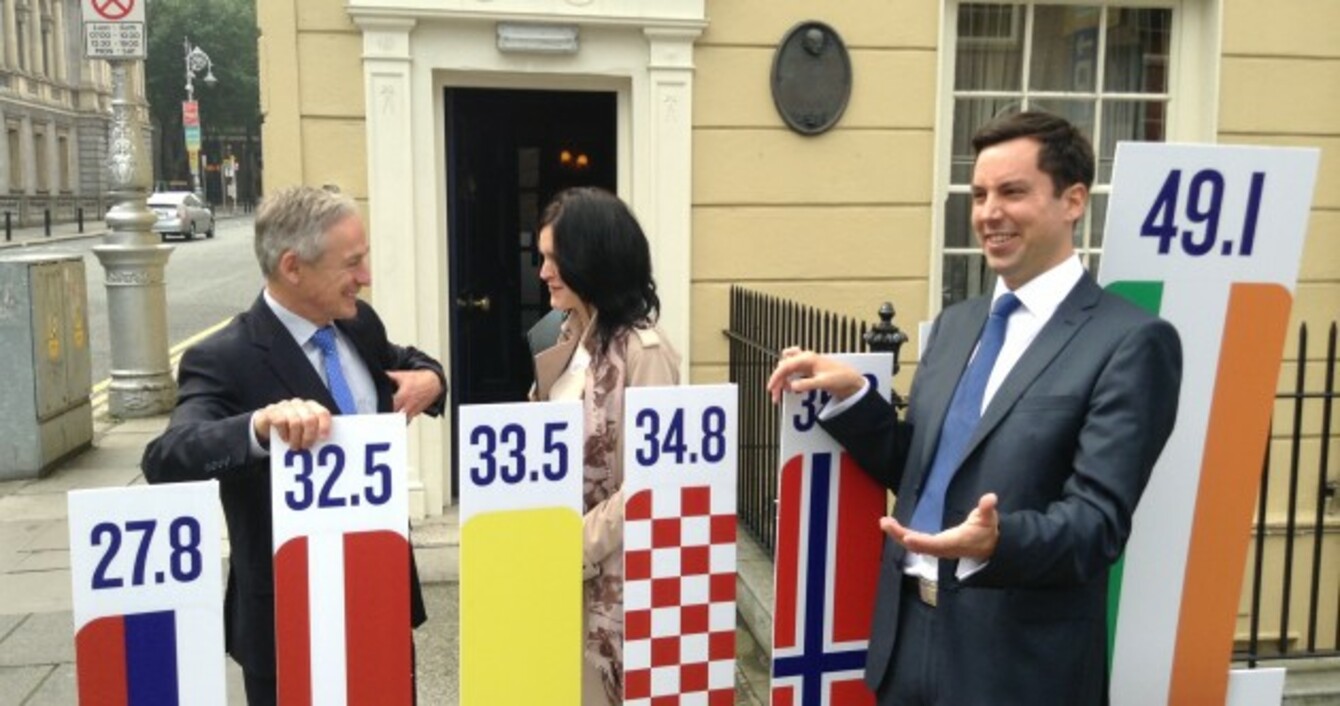 Richard Bruton and Eoghan Murphy at another Fine Gael Seanad referendum event this week
Image: Hugh O'Connell
Richard Bruton and Eoghan Murphy at another Fine Gael Seanad referendum event this week
Image: Hugh O'Connell
EVERY WEEK, TheJournal.ie casts its eye over events inside and outside Leinster House that have got people talking.
As the saying goes: 'You win some, you lose some.' So here are our winners and losers from the past seven days:
The 5 winners of the week are…
1. Angela Merkel
The German chancellor is perhaps at her most powerful now as she led her party to its best result in over 20 years in the German elections last Sunday. 'Merkelism' is here to stay but at least she's a fan of Enda Kenny.
2. Patrick Honohan
The Central Bank governor does himself a great credit by appearing before the Oireachtas Finance Committee without a sheaf of documents and a cadre of advisors. He sat alone and spent hours talking with TDs and Senators being open and honest about banks not doing enough on mortgage arrears and taking a significant stance on the issue of strategic default which he described as a 'phony concept'.
3. Micheál Martin
The Fianna Fáil leader deserves credit for doing a live radio phone-in with listeners on Radio 1 on Friday. Though there was nothing new from the former minister it is good to see our politicians prepared to engage with the electorate in this way. Will the other leaders follow suit?
4. Michael Lowry
With almost 400 complaints to the Standards in Public Office Commission over undisclosed land he owns in England, Michael Lowry may have been worried but he got a clean bill of health when the ethics watchdog dropped its investigation into the matter this week.
5. The main political parties
The redrawing of the European constituency boundaries sees Dublin remain a three-seater, a proposal put forward by three of the four main political parties. Quite how it stands to benefit Labour given it falling poll numbers is not clear but the junior coalition partner, Fine Gael, and Sinn Féin all wanted it that way, and they got it.
… and the 5 losers of the week are…
1. The murky business of appointing a new clerk
The extraordinary intervention of the Ceann Comhairle during the Order of Business on Wednesday morning exposed the murky affair that is appointing a successor to Dáil clerk Kieran Coughlan. Seán Barrett hit out at leaks that are "an attempt to blacken my good name".
2. Patrick Honohan
While he had some impressive rhetoric on mortgage arrears, the Central Bank's top man was all over the place when it came to explaining to TDs and Senators why the Central Bank has not done more about the Anglo Tapes. Here is explaining why he hasn't listened to all of them:

Honohan's backtracking on Thursday evening says it all.
3. Senators
The Irish Independent's analysis of Senators' voting records over the past year did not make good reading for many of them – one in four were missing each time a vote was held. But particularly those in Fianna Fáil and independents who are arguing for retention of the upper house but missed the most votes.
4. Government ministers who won't answer questions
When Richard Bruton and Alan Shatter appear before the media it's a sure bet that the media will want to ask about matters other than those they wish to talk about and yet when this happened on Monday the two ministers were not at all keen. So controlled is access to the government ministers the least we in the media can expect is a little better than this.
5. Mary Lou McDonald
The Sinn Féin deputy leader's most unparliamentary language was uncalled for:

Like politics? Then why not 'Like' TheJournal.ie Politics on Facebook to keep up to date with all that's happening in and outside of Leinster House.